Zooey Deschanel Looks Almost Unrecognizable Without Bangs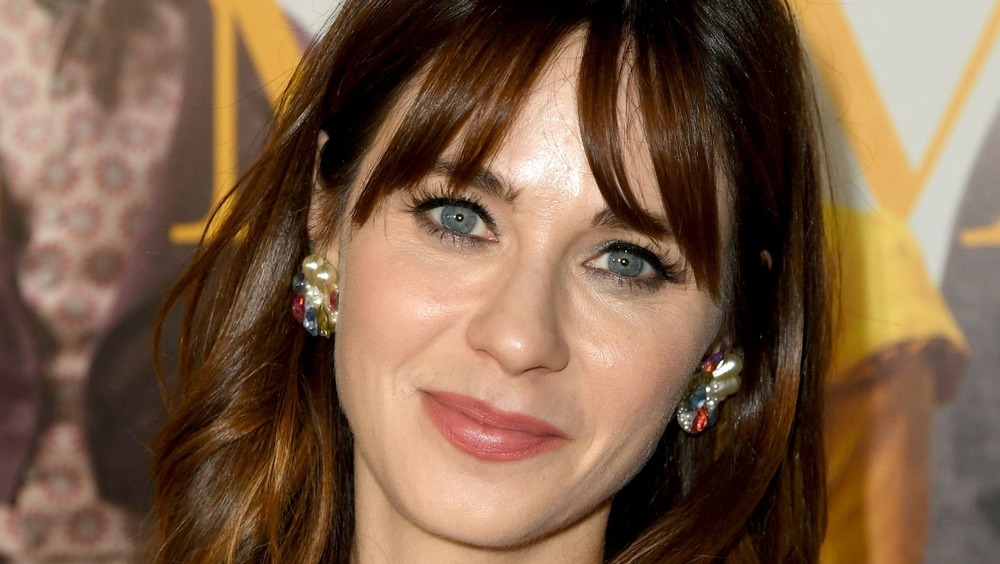 Kevin Winter/Getty Images
Zooey Deschanel is well-known for many reasons. Some fans know her as Jessica Day in New Girl, while others may be more familiar with her work in 500 Days of Summer. Of course, Deschanel has also made headlines in the past few years thanks to her seemingly oddball romantic pairing with Property Brothers star Jonathan Scott. More than anything, however, people recognize the actor for her signature feature: her bangs!
Even those who are less familiar with Deschanel's work can almost instantly recognize the actor thanks to her iconic look. Throughout her career, Deschanel has rocked long, brunette hair with blunt bangs that look effortlessly casual yet put-together. Over the years, her bangs have become a staple for her quirky and cute persona — and Deschanel herself is very aware of it. 
In 2013, the actor penned a piece for Glamour in which she talked about her iconic bangs and even acknowledged that people know her as "the girl with bangs." While both Deschanel and fans love the New Girl star's signature style, people have joked over the years about what her forehead looks like or what she's hiding underneath her bangs. Well, Deschanel is definitely in on the joke — keep scrolling to see how unrecognizable she looks without her signature blunt bangs!
Zooey Deschanel has a message for all the 'doubters' when it comes to her bangs
Fans have wondered what Zooey Deschanel looks like without bangs, as the actor has almost always maintained the same hairstyle: long brown locks with blunt bangs. On March 26, 2021, the New Girl star shared a surprising selfie sans bangs, fully showing off her forehead. "For all the doubters..." she hilariously captioned the tweet, also adding "proof I have a forehead" to the image itself. 
Needless to say, fans definitely have some thoughts about Deschanel's selfie. "She could go undercover with this look!" one Twitter user joked in reference to how different the actor looks without her bangs. Another fan was also shocked to see Deschanel without her signature hairstyle, tweeting that they "can't even recognize" her without bangs. 
While some fans were shocked by how different Deschanel looks without bangs, others couldn't help but crack jokes. "Clearly photoshopped," one fan quipped in response to her selfie. "Everyone knows that you're hiding something behind that fringe." Another fan also joked about how monumental it is for Deschanel to share a picture without her bangs, tweeting "The last piece of the doomsday prophecy: 'The sky shall darken and unholy relics shall surface once @ZooeyDeschanel reveals her sacred fore temple.'"
Something tells us that Deschanel's selfie won't bring about the apocalypse — but it definitely is shocking nonetheless!