Selena Gomez Hooking Up With The Weeknd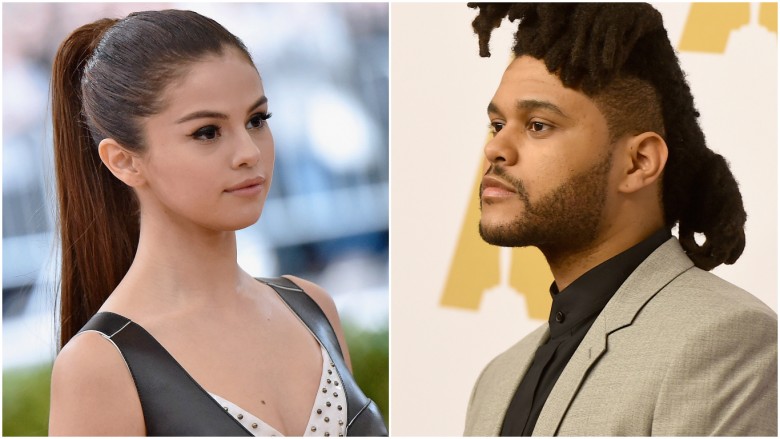 Getty Images
Selena Gomez's love life is seeing a Revival. The "Same Old Love" singer is reportedly over Justin Bieber and moving on with The Weeknd.
TMZ nabbed photos of the former Disney star, 24, and the "Starboy" singer (real name: Abel Tesfaye), 26, getting very affectionate. On Jan. 10, 2016, the pair went to dinner together at celeb and paparazzi hotspot Giorgio Baldi in Los Angeles, where Gomez was photographed hanging all over Tesfaye. The quasi-couple can be seen holding hands, wrapping their arms around one another, and at times even full-blown making out.
A spy told E! News, "They were [at the restaurant] for three hours! Just the two of them. They came out and were so happy. They were hugging and kissing. His driver waited for them and her driver pulled up shortly after." The witness continued, "They were super affectionate. Selena was all over him. Hugging him, kissing. She looked amazing so incredibly happy and in love." Another source told People, "It was a romantic dinner date in the rain. They acted like a couple. They ordered pasta and shared the food. She seemed very into him—she was smiling a lot. They left holding hands."
Insiders told Us Weekly the pair headed to Gomez's home after the date, with one source noting they're working on new music together. "[Gomez] really likes him," the source said, "and they are just getting to know each other better. A source close to the singers told E! News the romance is very new and "isn't serious right now."
As Nicki Swift previously reported, Tesfaye split from his girlfriend of two years, model Bella Hadid, in November 2016. The pair cited scheduling conflicts for the breakup, but before you think Hadid, 20, is sobbing over her ex, a source told Us Weekly she "has very much moved on" and is dating other guys herself.