Drake And Jennifer Lopez May Be Getting Serious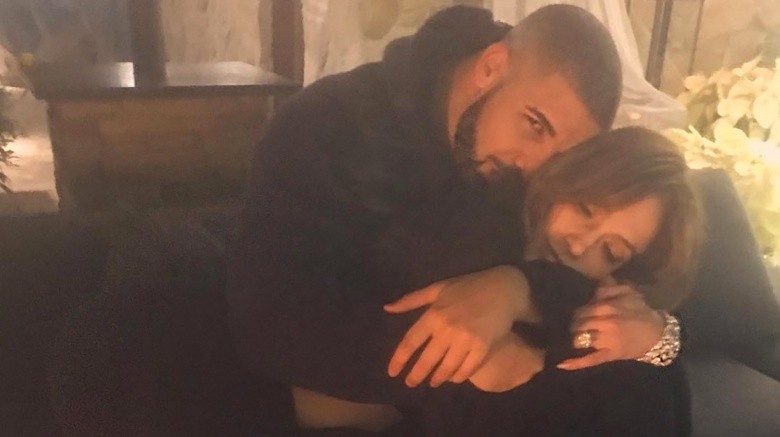 Drake and Jennifer Lopez are getting increasingly serious with their highly-publicized romance.
A source told E! News the 30-year-old rapper dropped a cool $100,000 on a necklace for the 47-year-old triple threat—and that he's totally head over heels for the mom of two. Us Weekly (via the Daily Mail) reported that the Tiffany Victoria necklace is comprised of pear-shaped and round diamonds and platinum, boasting 16 carats. Lopez reportedly wore the piece to Drake's performance on New Year's Eve, though it was unclear until this week that he supposedly purchased the hot bling for her. According to one source (via the Mail), "It's still going really well. They talk all the time!"
"[Drake is] completely falling for J. Lo," a source told E! News. "He has always had a crush on her growing up, so the fact that this is all coming to life is pretty cool for him. He really likes her though. They laugh and get along perfectly." The insider added, "The age gap is not an issue for him, because he digs an older woman. J.Lo has always been into younger men, so it's a good combo...[They're] taking things as slow as they could, but a relationship may be in the works between them. He treats her like a queen and loves her work ethic and family values. This is the first girl besides Rihanna in a while that he is really into. Drake is looking for a relationship and something solid."
The necklace wasn't the only piece of jewelry from Drake that J-to-the-L-O wore to welcome the New Year. As Nicki Swift previously reported, the stunner was also seen wearing Drake's gold chain throughout the night. Looks like this collaboration is a lucrative one!