Donald Trump's Mar-A-Lago Wedding Speech Goes Off The Rails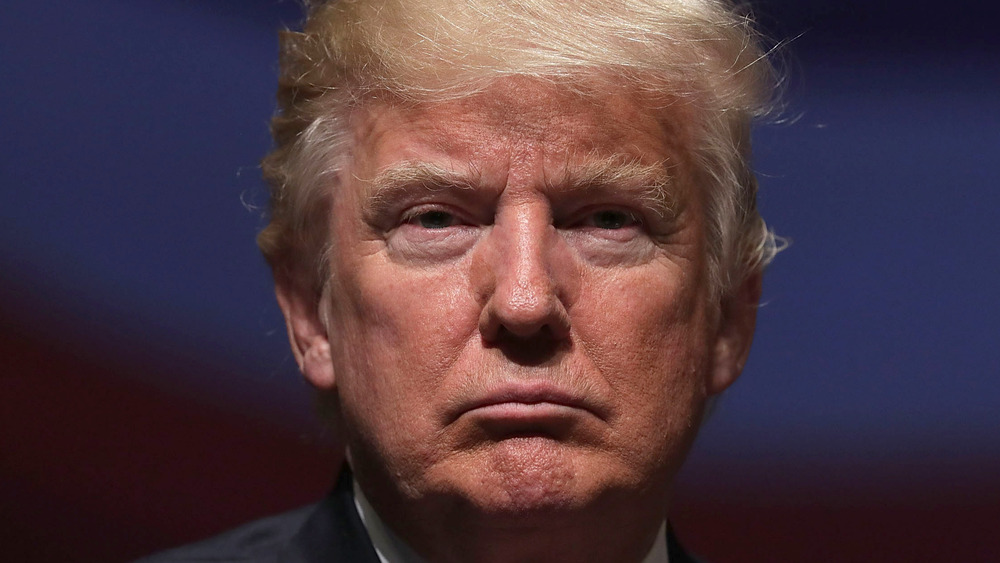 Alex Wong/Getty Images
It's been a minute since we've heard from Donald Trump. The former president has been lying low since leaving office in January 2021. Trump's journey from loudmouth president to quiet private citizen began in November 2020 when the presidential election was called for his opponent, Democratic candidate Joe Biden.
Trump spent months contesting the election. He tried to stir doubt throughout his fan base, claiming there had been significant election fraud in crucial swing states. Though he took some of the cases to court, Trump's claims never got anywhere in a legal sense. The former president's campaign to overturn the election culminated in the Capitol riots in January 2021. Trump and his children (minus Barron and Tiffany) held a rally in front of the White House that quickly turned into an attack on the Capitol building, which left two dead and countless others injured.
With a PR crisis on his hands and several failed legal cases at his feet, Trump had nowhere to turn. He remained so quiet toward the end of his presidency, in fact, that instead of attending Biden's inauguration, he jetted off to his Florida resort, Mar-A-Lago, while "My Way' by Frank Sinatra played in the background.
Upon landing in his adopted home state, Trump joined the rest of his fam — Jared and Ivanka, Don Jr., and Eric — who also absconded to Florida. Either way, aside from Eric's Twitter outbursts, the entire family remained relatively quiet until March 2021, when Trump attended a wedding in Mar-A-Lago and, well, went off the rails during his impromptu speech. Here's what we know.
Donald Trump went rogue with his wedding toast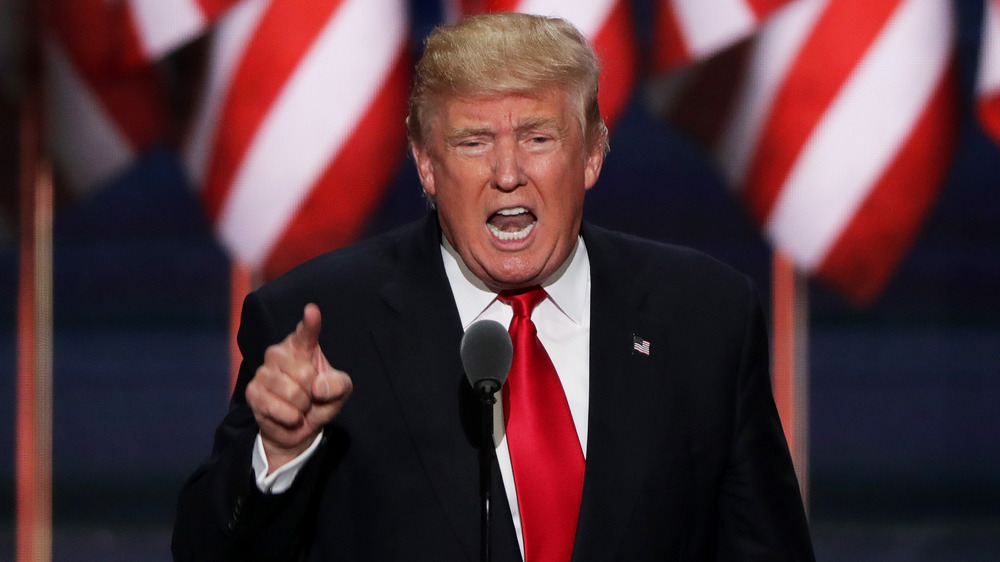 Alex Wong/Getty Images
Donald Trump might have spent the first few months of 2021 out of the spotlight, but the former president has firmly taken center stage again after giving an impromptu wedding toast. Trump crashed a wedding at Mar-a-Lago's home base, where he very graciously offered to toast to the bride and groom. It should have been a special treat for John and Megan Arrigo, and it probably would have been if Trump had not made the whole thing about himself and his failed political career, per TMZ.
"We were ready to make a deal [with Iran], they were ready to do anything, they would have done anything," Trump said during his speech. "And this guy goes and drops the sanctions, and then he says we'd like to negotiate now," he continued. Here, Trump either misspoke or did not truly understand what he was talking about, as President Joe Biden has not ended any sanctions with Iran.
Trump further attacked Biden by criticizing his handling of issues at the U.S.-Mexico border. The amount of migrants seeking refuge in the U.S. by way of Mexico has increased since Biden took office, per BBC. "The border is not good. It's the worst that it has ever been," said Trump. "What you see now, multiply times ten," Trump added, with his usual dramatic flair. "What's happening to the kids, they're living in squalor. They are living like nobody has ever seen. There's never been anything like this."
What a romantic visual for your wedding guests.
Twitter had some thoughts about Donald Trump's speech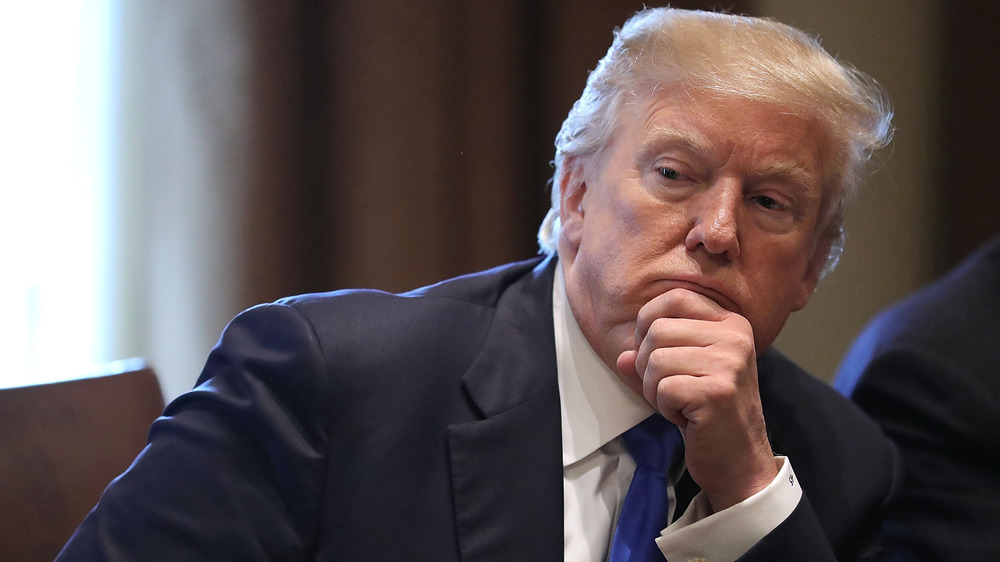 Chip Somodevilla/Getty Images
The Twitter-verse popped off when Donald Trump unceremoniously crashed a wedding to talk about himself. It goes without saying that Twitter was pretty divided on Trump's antics. "Well, it did make the wedding memorable, right?" wrote one user, who went on to place the blame squarely on the happy couple. "Also, by 2021 if you are paying to have your wedding at Mar-a-Lago, you are all aboard the Trump grievance train."
Others found the whole thing to be humorous. "The gag of Donald Trump attempting to turn every room he's in into a campaign rally is so ridiculous and sad it's almost like he's in on it. This wedding couple and he gives a speech where he continues to talk about election fraud and doesn't even know them by name," one user tweeted. "You book a wedding at Mar A Lago you expect Trump to come out ranting and raving incoherently like a crazy uncle," wrote another, which summed up Trump's energy pretty well.
The overall feeling, though, seemed to be that the whole thing was a little odd. One New York-based politician summed it rather accurately when he wrote: "I'm sorry, but who the hell would allow Donald Trump to give a speech at their own wedding?"
To be fair, a former president crashing your wedding and giving a toast can be pretty freaking exciting. There's no word yet on how the bride and groom felt about the whole thing, but we can imagine it made for a pretty memorable wedding day.