What We Just Learned About Quavo And Saweetie's Breakup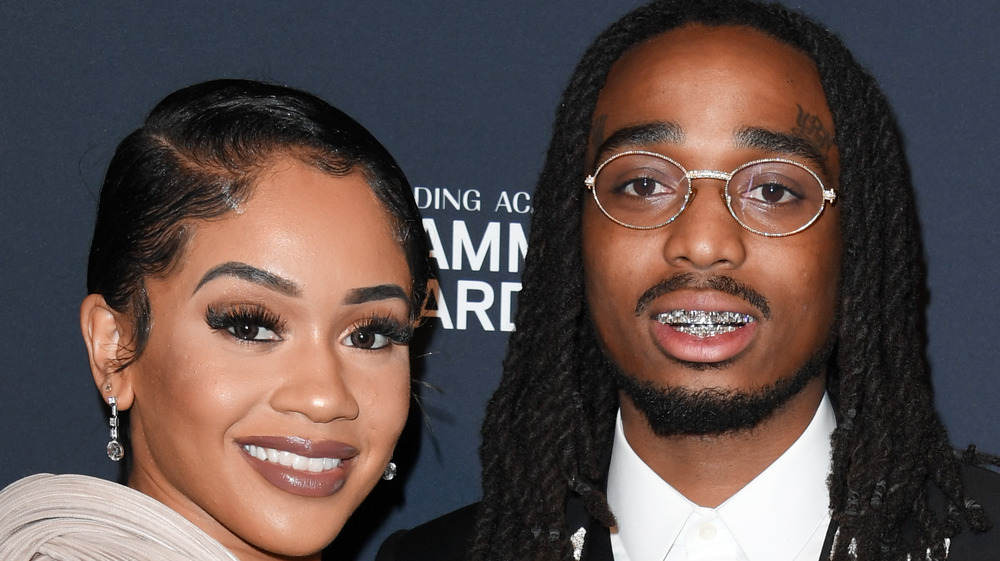 Jon Kopaloff/Getty Images
We can all agree that breaking up isn't the easiest thing to do, especially when you're a celebrity in the public eye. For former rap couple Quavo and Saweetie, their split has become a trending topic across social media platforms. In March 2021, Saweetie confirmed the end of her two-year relationship with the member of the Migos via Twitter. "I'm single," the "Back To The Streets" crooner wrote. "I've endured too much betrayal and hurt behind the scenes for a false narrative to be circulating that degrades my character. Presents don't band aid scars and the love isn't real when the intimacy is given to other women."
The news came as a shock to Saweetie's fans, considering the couple shared intimate photos a month prior on Valentine's Day. However, Saweetie claims that she was emotionally unavailable prior to the relationship's end. She added in a follow-up tweet, "I emotionally checked out a long time ago and have walked away with a deep sense of peace and freedom. Excited for this new chapter of elevation."
Although the former lovers engaged in a shady Twitter exchange — ultimately ending in Saweetie telling Quavo to "take care" — new details have come out about their split. Read on to find out what we know of their breakup.
Saweetie and Quavo had a physical altercation before their split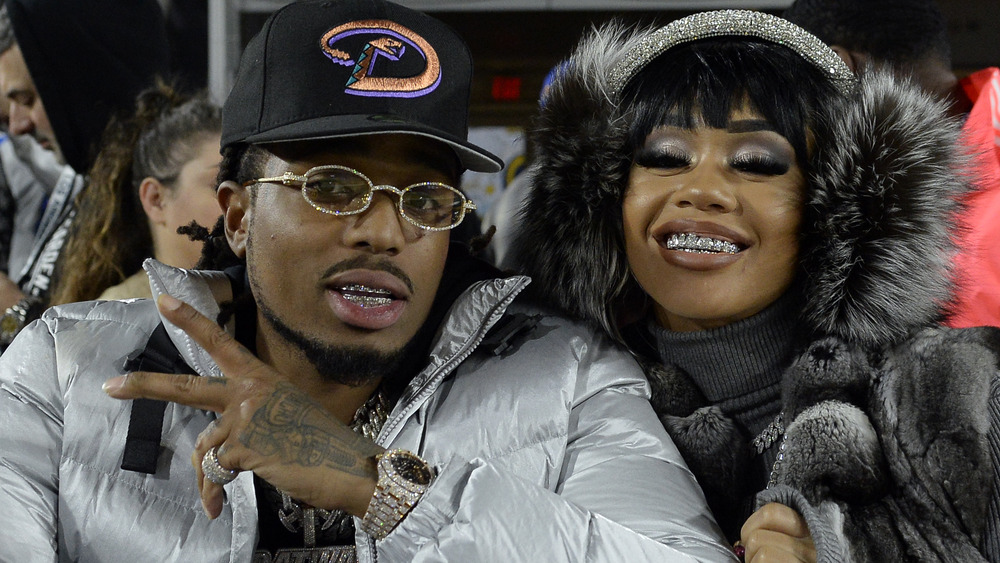 Kevork Djansezian/Getty Images
From their loving exchange in their GQ interview to Saweetie revealing how she knew the "Workin Me" rapper loved her, Saweetie and Quavo were once rap's "it" couple. However, eyebrow-raising details have surfaced after a leaked video of Saweetie and Quavo having a physical altercation in an elevator in a Los Angeles apartment building a year before their split.
In surveillance footage obtained by TMZ, Saweetie takes a swing at the Migos rapper before they begin fighting over an orange Call of Duty suitcase. Saweetie remains on the floor of the elevator with Quavo occasionally looking at her from time to time. The Bay Area native is seen limping off the elevator after getting off of the floor. Twitter users sounded off on the incident, with one userwriting, "I don't like the way quavo yanked saweetie inside that elevator at all... it's not sitting right with me." Another wrote, "That's Quavo and Saweetie business. Mind yours." Saweetie and Quavo have yet to address the video, as of this writing.
If you or someone you know is dealing with domestic abuse, you can call the National Domestic Violence Hotline at 1−800−799−7233 or TTY 1−800−787−3224. You can also find more information, resources, and support at www.thehotline.org.