Why Andrew Yang Was Just Hospitalized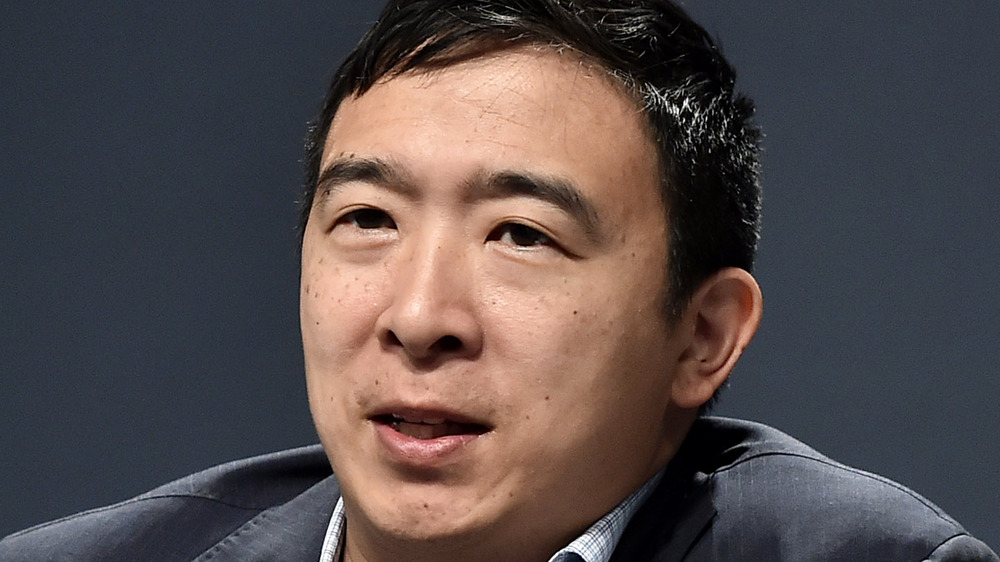 Steven Ferdman/Getty Images
Tech entrepreneur Andrew Yang announced his bid to become New York's next mayor via Twitter in January 2021 — and has since become a front-runner to succeed Bill de Blasio, according to Politico. His leading status does not come as a big surprise, considering the Democrat achieved national stardom during his 2020 presidential campaign. Though Yang was unsuccessful — he decided to suspended his campaign in February 2020, per The Atlantic, after it became clear that now-President Joe Biden and Senator Bernie Sanders were leading — he still stayed relevant. In fact, his die-hard fanbase, know as the #YangGang, continued to grow.
Now, Yang is working hard to be the next mayor. So hard that his team released a rap video, which includes rhymes about his failed presidential campaign and COVID-19. On top of that, he greeted fans and posed for photos ahead of the game between the Yankees and Blue Jays on April 1, 2021, per New York Daily News. Unfortunately, one day later, he was admitted to the hospital. Keep scrolling to find out why Yang was hospitalized and what this means for his campaign.
What was the reason for Andrew Yang's hospitalization?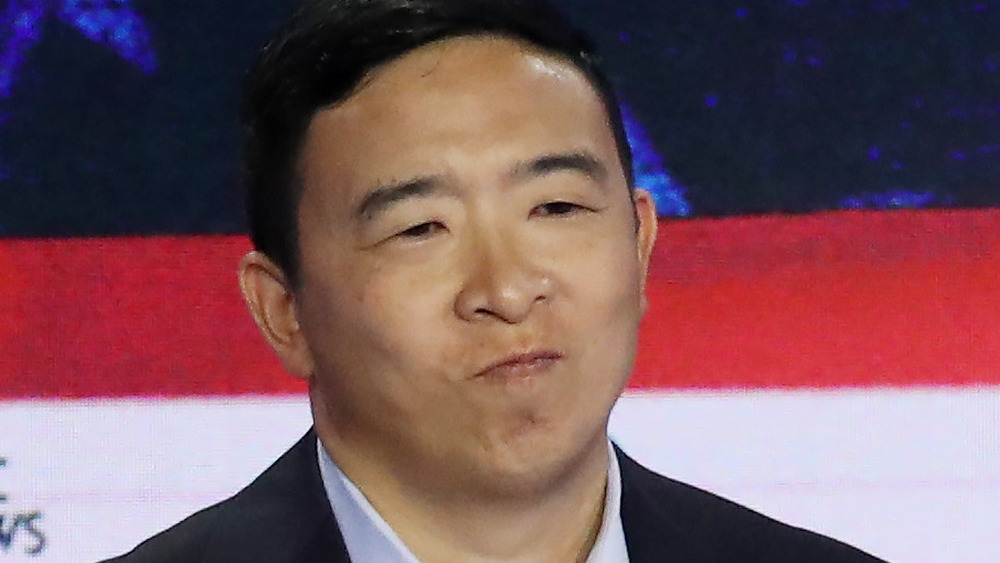 Drew Angerer/Getty Images
Andrew Yang was hospitalized on April 2, 2021 with an apparent kidney stone, according to his team who released a statement (per the New York Post). "After experiencing abdominal pain this morning, Andrew Yang visited an emergency room where he was diagnosed with what appears to be a kidney stone," the statement read. "His public events for the day are canceled, but he looks forward to getting back out on the trail in the days ahead."
The New York City mayoral candidate's wife Evelyn also provided his followers with a health update. "In the hospital with Andrew where we had our babies. Andrew is doing well on meds, with the best care team ever," she wrote on Twitter, before making light of his hospital stay. "We are joking about how this kidney stone is our third baby. Apparently it's the closest men can get to labor." Evelyn ended her tweet by thanking everyone for all their well-wishes.
Yang, himself, later thanked the hospital staff for their care and his wife for standing by his side, as well as confirmed he's been discharged. Based on the photos he shared, he appears to be in good shape. Yang wrote, "Thank you to the team at Mt Sinai West for the excellent care! And thanks Evelyn for keeping me company as I experienced my first (and hopefully last) kidney stone. Have been discharged and will now proceed to drink lots of water for the rest of the day."