Padma Lakshmi Has A Surprising Connection To Mariah Carey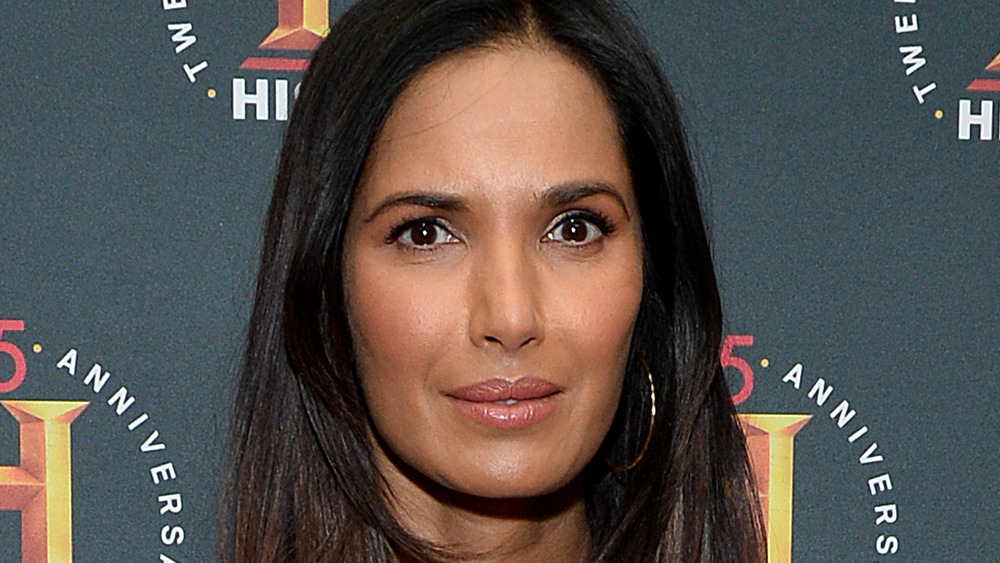 Noam Galai/Getty Images
Most people know Padma Lakshmi for being the host of Top Chef, Taste The Nation, and for writing cookbooks. But Lakshmi has also dipped her toe into acting, with almost 20 credits to her name. Many of those roles were bit parts, but her plan was to never be known for cooking or anything to do with food. As she told Terry Gross on NPR's Fresh Air, "I never intended to have a career in food. I didn't know anybody who did, so it never crossed my mind. I always loved to cook. You know, I was a theater major and an American lit major. And afterwards, I modeled because I started doing it for the money, and it allowed me to pay off all my college loans, which were quite significant. And then I started auditioning." 
Eventually, she landed a role that would not only be talked about for years to come, but would bring her closer to one of the most well-known divas in the entertainment business: Mariah Carey. 
Padma Lakshmi teamed up with Mariah Carey for an infamous movie bomb
Way back in 2001, Padma Lakshmi actually starred opposite of Mariah Carey in arguably one of the worst movies ever made, Glitter. Even Lakshmi agrees. "God, I cannot get away from this film," she said during an appearance on Watch What Happens Live. "So rate it as a film. I think it's like a 5. I don't think it's as bad as people say. You know, I don't think it was Citizen Kane."
In the movie, she plays another pop star, Sylk, with let's just say... not the greatest voice. Carey plays her backup singer, Billie, who turns out to be behind one of her most popular tracks. Cue all of the drama — and, likely, a performance that Lakshmi would like to forget. That being said, maybe she could pull some strings and get Mariah to come guest judge on Top Chef? That would be an ideal Bravo crossover. 
During an appearance on the YouTube series Hot Ones, Lakshmi once again spoke about the movie. "The best thing about Glitter is standing next to Mariah Carey while she sings acapella," Lakshmi said. "She's a freak of nature," Lakshmi added, comparing her to Michael Jordan. "These people have these Olympic talents." 
Padma Lakshmi takes this chapter of her career seriously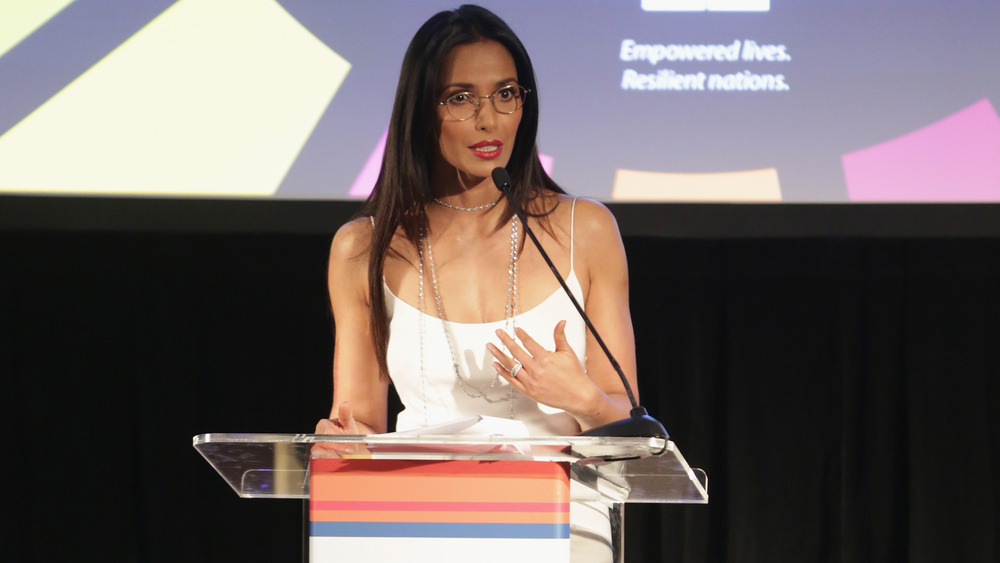 Cindy Ord/Getty Images
Although she's now living the dream as a celebrity cookbook author and surrounding herself with delicious food, Padma Lakshmi's career is much more varied than that. In 2020, she was named a U.N. General Ambassador, where she focuses on food activism. "We talk about microloans and about getting food or supplies or education to people in need. But often the reason these people are in need of those things is a cultural reason at the local level that discriminates against certain bodies of the population," Lakshmi explained to Artful Living. "In many third-world countries, this shows up as a product of misogyny, chauvinism and a lack of equal rights for women — property rights, hereditary rights, things like that. And so it's really looking at very hard-nosed economic development through this lens of equality."
She might not ever win a Grammy or an Oscar (though who is to say!?), Lakshmi has become a prominent voice in the world arguing for change, especially when it comes to equality and food security. Let's just hope she never has to sing for her supper.