What Billie Eilish Has Been Hiding For Months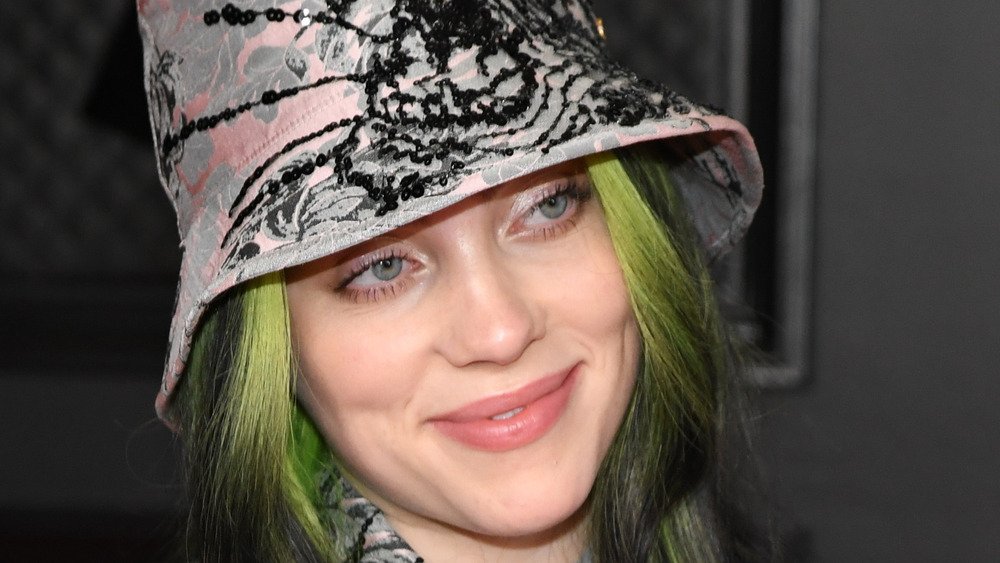 Kevin Mazur/Getty Images
Throughout her career, Billie Eilish has allowed fans to follow along on her jouney to become famous. Vanity Fair has tracked the singer's rise to fame in an annual interview from 2018 until 2020 (so far). In February 2021, Apple TV+ released the documentary, Billie Eilish: The World's a Little Blurry, which gave fans a glimpse into Eilish's life and success. The singer also regularly documents her life on Instagram, where 80.5 million fans (as of this publishing) follow her.
But naturally, Eilish has kept some matters private. For example, on March 17, 2021, the singer who has been known to have colorful hair announced via Instagram that she went fully blonde. She posted a selfie showing off her new platinum locks on Instagram with the caption, "pinch me." Fans were shocked, especially because just a few days earlier on March 14, Eilish didn't have blonde hair at the Grammys, according to Us Weekly, and fans theorized that she was hiding her new hair color under a wig, which she confirmed on TikTok in March.
Finally, on April 3, Eilish revealed the truth about her hair — and it was a more covert operation than you thought.
Billie Eilish's new look took a long time
On April 3, 2021, singer Billie Eilish answered fan questions in an Instagram Stories Q&A. Naturally, some fans asked her about her new platinum blonde hair. According to People, the artist revealed that her new look took six weeks to accomplish. Eilish also posted a photo of her enduring the "first round" of the transformation back in January, in which Eilish has two toned hair: blonde on the top and red on the bottom.
Another fan asked if the bleaching process damaged her hair, Eilish revealed that her hair felt "healthier than it's been in a longgggggg time," according to People. And so far, most of the singer's fans love the change. One wrote on Twitter, "billie eilish invented blonde hair." Another added to the Twitter discourse, "obsessed w billie eilish's blonde hair"
On the other hand, some Eyelashes and Avocados (her fandom's names) didn't approve of Eilish's blonde transformation. One fan wrote in a tweet, "I love Billie Eilish, but I honestly preferred her black and green hair to platinum."