Inside DMX's Relationship With Kanye West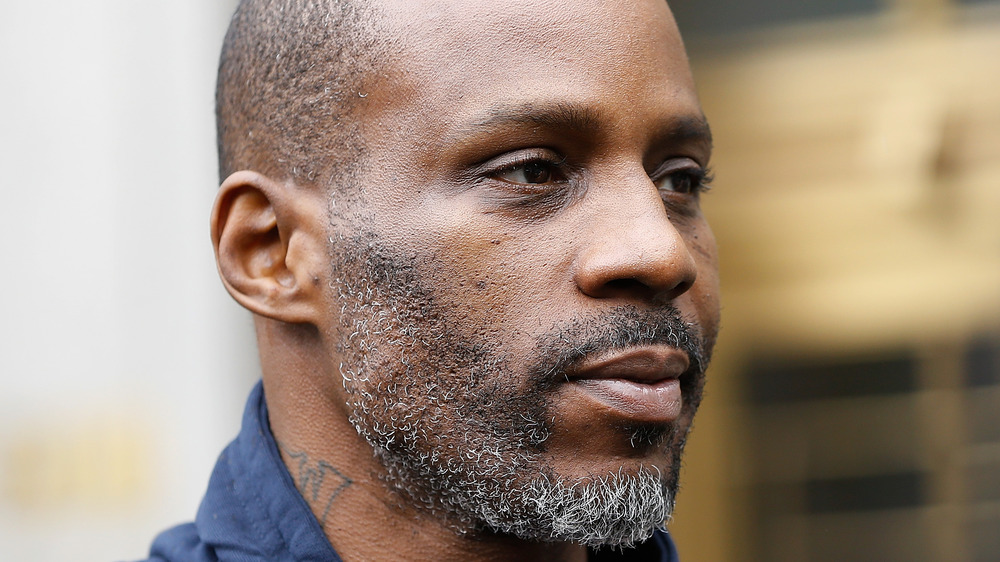 John Lamparski/Getty Images
Rapper DMX (real name is Earl Simmons) suffered a heart attack on April 2, 2021, per TMZ. DMX was taken to a hospital near his home in White Plains, New York. On April 3, 2021, the outlet reported that the rapper had "some brain activity" and was in a "vegetative state." 
Considering the fact that DMZ has been in the music business for decades, it's no surprise that he's racked up quite an impressive list of famous friends and collaborators over the years, including fellow rappers like Snoop Dogg and Kanye West. After news broke that DMX had been hospitalized, Snoop Dogg took to Instagram to send him well wishes, writing, "prayers for my dogg" alongside a photo of him hugging DMX. While, at the time of his hospitalization, Snoop Dogg and DMX had an upcoming collaboration, DMX and West have worked together in the past. 
Here's what you need to know about DMX's relationship with Kanye West.
DMX led a powerful sermon at Kanye West's Sunday Service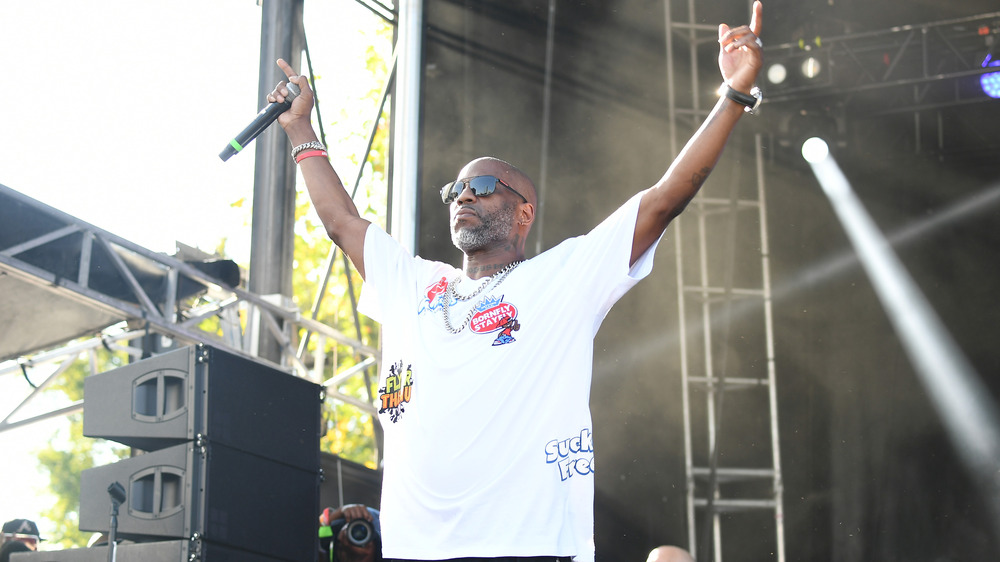 Paras Griffin/Getty Images
In March 2019, DMX was invited by Kanye West to deliver a powerful sermon at his Sunday Service, per Billboard. "I wouldn't call it a church service. There's no word," DMX said of the experience to GQ. "Yeah. It's joyful, which God says to do. We about to make a joyful noise. I enjoyed it. It was moving. I didn't know what to expect, though. I didn't know what to expect," the rapper elaborated. Kim Kardashian West posted a video of the lively sermon. DMX has always been open about his faith, even recording two gospel songs, "Lord Give Me a Sign" and "Head Up," per Hypebeast.
DMX had shown his support for West in the past when he was put under observation at a Los Angeles-area hospital in 2016. In fact, the "Ruff Ryders' Anthem" rapper used his first-ever Instagram post to give him a shout-out. "I want to give a special shout out to Kanye," DMX said in the video. "Let him know that my prayers are with him, my family's prayers are with him. A reminder that when God is for you, who can be against you? No one, and nothing. Stand strong, Brother. God is in your corner."
Will West return the favor and show his support during DMX's fight for his life? Only time will tell.