Who Is Bryson DeChambeau's Girlfriend, Sophia Phalen Bertolami?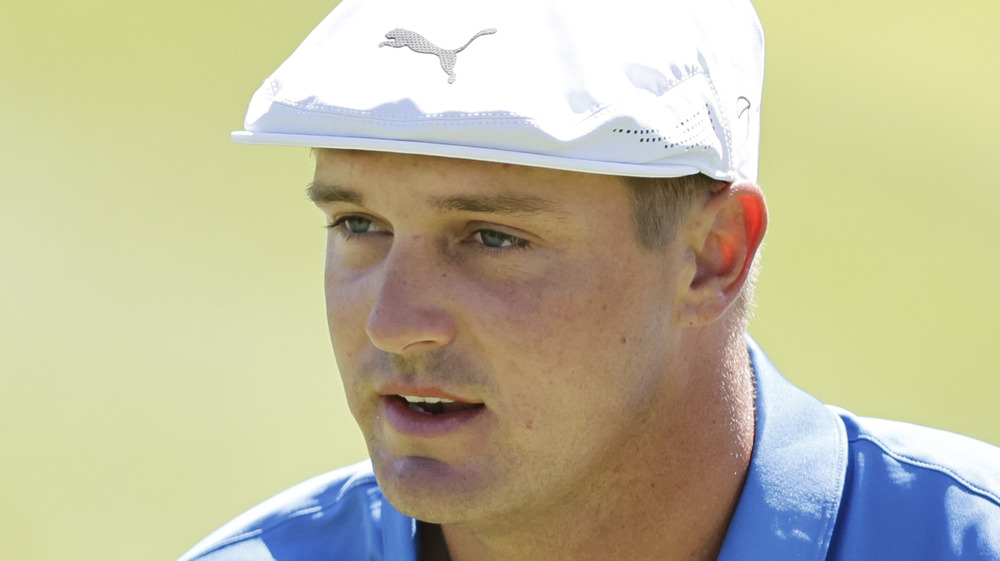 Michael Reaves/Getty Images
While PGA golfer Bryson DeChambeau gears up for the 2021 Masters tournament April 8 through 11, we know he has a special someone who will be rooting for him. His girlfriend, Sophia Phalen Bertolami, has been his cheerleader since the two started dating sometime before the Ryder Cup in 2018 (per FanBuzz). While DeChambeau is quiet on social media about his personal life, Bertolami has posted a few photos of him or the two of them, often with congratulatory messages. She first shared a photo of the two of them in a cozy helicopter while en route to the 2018 U.S. Open in June 2018, with the simple message, "Hello Hamptons."
But while DeChambeau's golf star is rising, with eight PGA Tour wins and winning the 2020 U.S. Open and the 2021 Arnold Palmer Invitational (via FanBuzz), Bertolami isn't just standing around watching and waiting. The two are well matched, both at 27 years old, and both moving up in their respective worlds. Bertolami is a multihyphenate in the making, with interests from modeling, swimsuit designing, and art, to pursuing a medical career, not to mention a huge Instagram following of 60.5K followers as of this writing. Let's delve deeper and see what this beauty is up to.
Sophia Phalen Bertolami is more than just a pretty face
While Sophia Phalen Bertolami has plenty to offer in the looks department, Bryson DeChambeau is not interested in her for her appearance alone (at least we hope not). There's a very smart cookie behind those model looks! Yes, she is an Instagram model with more than 60K followers, and she has designed her own line of swimwear with La Isla for their "large cup" bikini collection, but she's also a college graduate who is pursuing a career in medicine.
According to The Scottish Sun, Bertolami received her degree in kinesiology and nutrition in 2014 from Chapman University in Orange, Calif. She then became a nursing student on the other side of the country, at Belmont University in Nashville, where she studied pharmacology. Last year, she announced her acceptance to Vanderbilt University Medical Centre (per GolfMagic). "Words can't express how truly excited I am to begin my residency program at Vanderbilt University Medical Center this July!" she wrote on Instagram in May 2020. "Although today would have technically been our graduation date, I am beyond grateful for every single person working on the frontlines and for everyone staying home."
Bertolami also has a fan of her own, whom she takes care of: her enormous pet pig Stella. While Bertolami adopted Stella back in 2013 thinking she was a mini pig, she grew to a massive 1,100 pounds! Fortunately, Bertolami loves her all the same.