The Truth About The Jimmy Fallon TikTok Controversy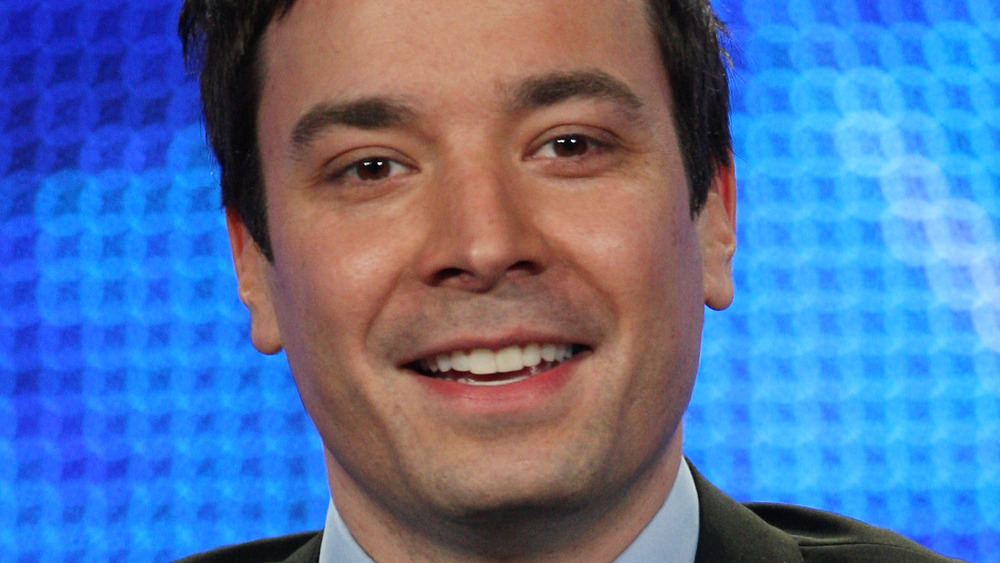 Frederick M. Brown/Getty Images
Jimmy Fallon found himself embroiled in controversy after a March 2021 segment he performed on The Tonight Show Starring Jimmy Fallon alongside TikTok superstar and influencer Addison Rae went viral on social media for all the wrong reasons. The two-and-a-half minute long clip, which can still be seen on YouTube and has been viewed more than 3.1 million times, saw Rae teaching Fallon a number of dances that have been made famous on the popular video sharing site.
The clip began with Fallon standing behind Rae in the New York City studio as he held up a sign that read, "Addison Rae teaches Jimmy 8 TikTok dances." Fallon then repeatedly switched cards to say the names of each dance as Rae showed him the moves while the late night show's band performed. Around halfway through, Fallon dropped the cards and both left the stage, only to return wearing hoodies as they danced together. 
But the segment did not exactly go down the way the two had hoped and quickly became marred with controversy, putting the duo in some hot water. Keep reading to find out what really went down.
How Jimmy Fallon addressed the controversy
Jimmy Fallon and Addison Rae's TikTok dance video received serious backlash after several viewers pointed out that the two failed to give any credit to the people who created the moves, many of whom are young, Black dancers. Speaking on the April 6, 2021 episode of The Tonight Show Starring Jimmy Fallon, Fallon addressed the controversy and said, "We recognize the creators of those dances deserve to have their own spotlight." He then spoke virtually to Mya Nicole Johnson, Chris Cotter, Dorien Scott, Fur-Quan Powell, Camyra Franklin, Adam Snyder, Nate Nale, Greg Dahl, and Keara Wilson, who all explained the origins of their dances and were given the opportunity to perform them.
Rae previously addressed the controversy while speaking to TMZ in late March 2021. She told a paparazzo it was "definitely not her intention" to suggest that she created the moves she taught Fallon and said those who did create them were given credit on YouTube. "It's kind of hard to credit during the show, but they all know that I love them so much," she explained. "I mean I support all of them so much. Hopefully one day we can all meet up and dance together." Rae added that she "had so much fun" on the show, stating, "I'm very grateful and thankful." Props to Fallon for listening to the feedback and giving so many talented up-and-coming dancers such a big platform to show off their moves.