The Surprising Thing Camilla Parker Bowles Was Just Photographed Wearing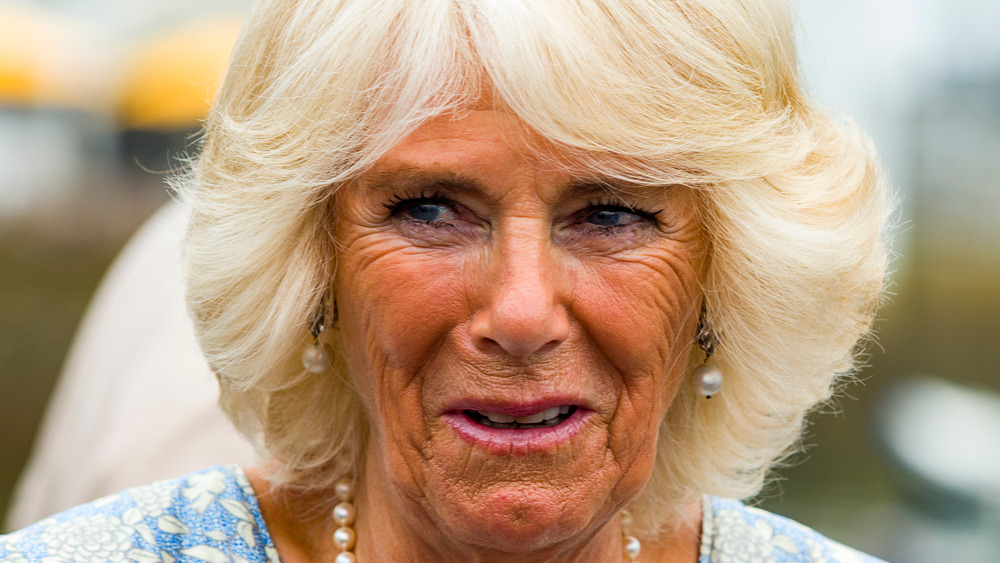 Shutterstock
We all know by now that the queen has some pretty strict dress code rules that all members of the royal family are supposed to follow. Like, no flashy nail polish, for example, and no bare legs. Which is why a recent picture of Camilla Parker Bowles — that would be Prince Charles' wife — had some of us scratching our heads for a moment, like, Wait, did the queen okay this ensemble?
As it turns out, Camilla has not gone completely rogue (even though that would be kinda fun to watch), and her surprising accessory makes more sense in context. 
The Duchess of Cornwall was photographed on April 7, 2021 visiting the Wightman Road Mosque in London to hear about the London Islamic Cultural Society's efforts to support the community during the pandemic, according to People. The Duchess' outfit looked incredibly chic, from her animal-print face mask and modest white headscarf down to her... fuzzy slippers?
The duchess had some fun with style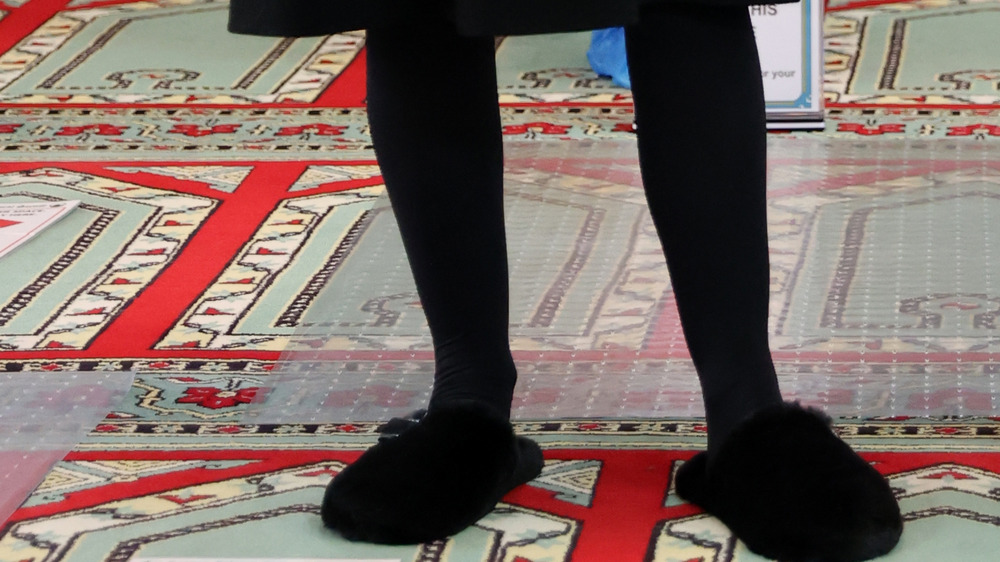 Chris Jackson/Getty Images
Camilla Parker Bowles had changed from her heeled boots into the slippers in accordance with mosque rules, as it's appropriate to remove your footwear in a mosque. Camilla opted for fuzzy black slippers in particular — a fun fashion choice, which we applaud. Why opt for boring when you can make a statement?
People reported that the furry footwear, complete with a cute bow, is from U.K. brand Pour Moi, and is shockingly affordable. The style the duchess is sporting, called the Diamante Trim Slipper, costs around 30 bucks. Maybe she saves her fanciest slippers for padding around the palace.
Like the rest of the royal family, Camilla has been photographed supporting British communities during the pandemic like on this visit, and has gotten her vaccine "jab," overcoming a fear of needles. While the royal family has been at a low point, popularity-wise, following Prince Harry and Meghan Markle's interview with Oprah Winfrey, the Duchess of Cornwall seems to have escaped some of the most direct scrutiny (mostly). And hey, supporting local volunteers and children during a pandemic is objectively a good thing. And so are fuzzy slippers.