Inside Jinger And Jeremy Vuolo's New Book
Jinger and Jeremy Vuolo had fans on their feet on April 7, 2021 after they teased that they had an exciting announcement on the way. Many fans assumed they were having a baby, while others thought the announcement might have to do with their podcast or may be a new book. It turns out the latter was right.
The Vuolos took to their Instagram account to hold a Live session on April 8, 2021 and announced that their new book, In The Hope We Hold, is dropping on May 4, 2021. "It was kind of a surreal experience just seeing the story of our lives on paper," Jeremy said about the writing process. "And things that Jinger and I had talked about that had defined us in our relationship in many ways and actually putting that on paper. It was a pretty remarkable experience," he continued. "So we're excited." 
The book promises to give fans a genuine look into the reality stars' life and relationship. According to a press release obtained by Nicki Swift, Jeremy and Jinger "open up about the early days of getting to know one another, their long-distance relationship, and the many sleepless nights of their time as new parents." They also share how God has helped them persevere through any obstacles they face. "Our desire has been to glorify God in everything we do," Jinger said.
Jinger and Jeremy also teased that the new book is so revealing that fans will hear some never-before-told stories. 
Jinger and Jeremy Vuolo are excited to share inside tales about their lives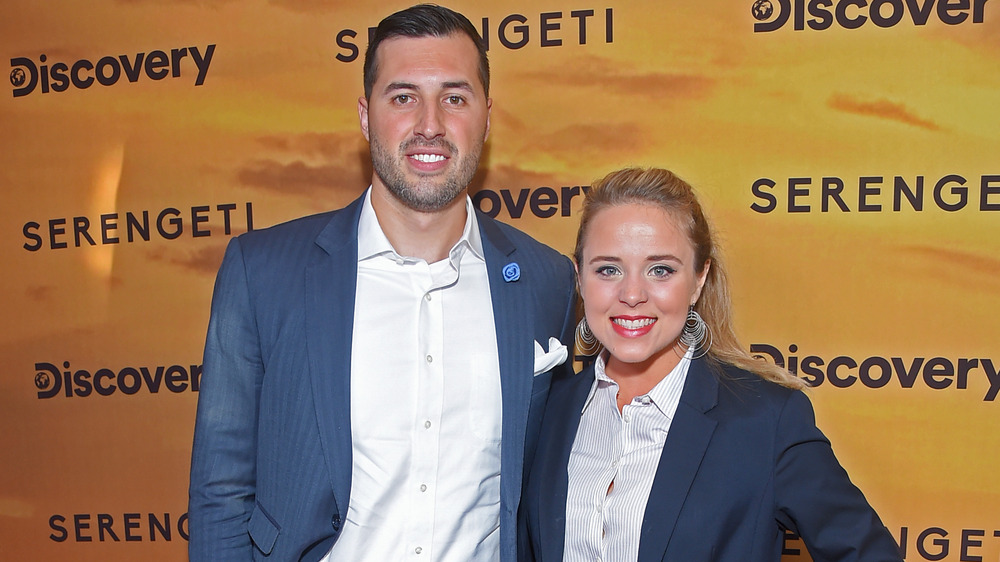 Shutterstock
Jinger and Jeremy Vuolo are promising quite the revealing book. In fact, some of the stories they wrote in In The Hope We Hold are so intimate that their own families were not aware of them before reading the book. "It kind of just walks through our journey through life," Jinger said in the Instagram Live. "And so it starts with our childhoods and talk[s] about how I grew up," she continued. "We hope to just give some amazing stories that you guys haven't heard — some that you might know about — but then some that definitely you haven't heard."
Jeremy then chimed in, confirming that the stories are definitely unique. "As we let our families read some of the stories, they were saying, 'Man, we didn't know that about you guys,'" he said, with a grin on his face.
Jinger and Jeremy Vuolo are clearly excited to have their fans get a deeper look into their daily lives, and fans certainly are too. The comment section under the video quickly filled up with positive notes from fans expressing how eager they are to get their hands on the new project. "Looking forward to reading your book!" one fan exclaimed. Another said they already pre-ordered it. An additional fan was happy to see the Vuolos doing so well. "You guys look absolutely amazing so good to see those beautiful faces!!!" they exclaimed.