Ryan Lochte And Fiancee Expecting Baby Boy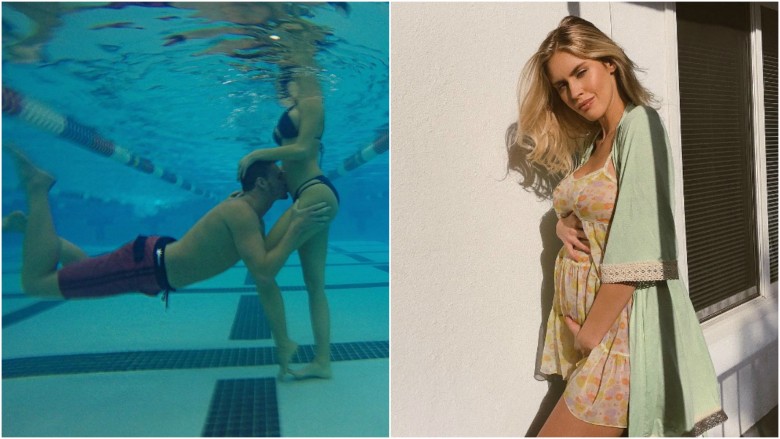 Swimmer Ryan Lochte and fiancée Kayla Rae Reid have revealed the sex of their baby. "It's a boy!" Lochte, 32, told Us Weekly. The pair announced they were expecting in December 2015.
The troubled Olympian said mom-to-be Reid is "doing amazing! She just finished her first trimester and everything. Now she's starting to get her energy back...I felt the baby kick and I freaked out. I was like, 'What? This is—oh, my gosh!' She's like, 'Calm down, Ryan.' I'm like, 'This is awesome!'"
He told CBS News he was hoping for a boy. "I always wanted more than one kid, and I definitely wanted a boy first so if we have a girl, the boy will be the big brother and take care of his sister so it's working out perfectly," he said.
As far as following in his Lochte's athletic footsteps, the gold medalist told CBS News, "He's going to know how to swim, but I'm not going to push him into anything. But I know one thing I learned in life is anything I do, I want to put 110 percent in it, so I'm going to teach him that in anything he does, he'll have to put in 110 percent, not half-a** it. He can pick any kind of sport he wants. I really want him to play a sport and be active. I think that's a really important thing in children, is to be active."
He added, "I'm definitely going to be a loving dad. I'm going to spoil my child with so much love and that's where the baby's going to get spoiled," he gushed. "I know what to do and what not to do from talking to other parents and my own parents, so I'm excited to change diapers, to dress up my kid in the same outfits as me, and this is going to be so much fun. It's going to be awesome."
Lochte and Playboy Playmate Reid, 25, reportedly met in January 2016 and got engaged in October 2016, but they aren't rushing to the altar for a shotgun wedding. "We want something unique," Lochte said of their impending nuptials. "We still have time. We wanna focus on the baby first, and then definitely get into the whole wedding and everything. I want to be a part of, like, every decision. I wanna help pick out the cake—well, especially the cake because I want to eat it all. But [I want to] help pick out the flowers and everything," he told CBS News.
That doesn't mean they're not excited to get married. "From the very first time I met her, everything has like, clicked," Lochte told USA Today.