Travis Barker Just Took This Huge Step In His Relationship With Kourtney Kardashian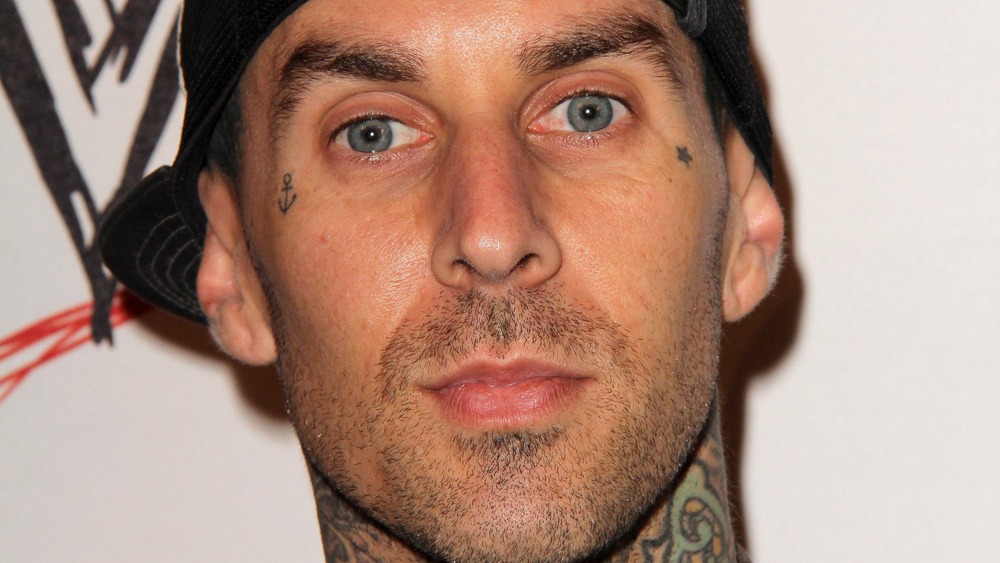 Shutterstock
Travis Barker and Kourtney Kardashian only have eyes for each other! They are not afraid to put their love on full display and have been a couple since late December 2020, according to People.
Kardashian and Barker have known each other for years. "They've been friends for a long time but it's turned romantic," a source told the outlet. "Travis has liked her for a while."
The Blink-182 drummer opened up about his relationship with the reality star on a March 4, 2021 episode of The Drew Barrymore Show, and explained why it's easier to date someone who also has kids. "I'm spending time with a woman who's a great mom, who's a great friend and you don't have to worry about any of those things," he said. "It just comes natural — it's like a maturity thing."
And now, Barker just made a bold statement about his relationship that has everyone buzzing. Keep reading for more details.
Travis Barker's latest tattoo is an obvious ode to Kourtney Kardashian
If you're in a relationship with someone, why not get a tattoo to show your love? Travis Barker did exactly that, and Kourtney Kardashian's name appears on his chest, as she showed off on her Instagram account on April 9, 2021. That's one way to keep your girlfriend close to your heart!
This isn't Barker's only tattoo for his love. Just a few weeks ago, he showed off some brand-new ink (that he did himself): "You're So Cool," written on his forearm, a song title from the movie True Romance. And many internet sleuths deduced that the tat was written in Kardashian's handwriting. 
Body art isn't Barker's only skill — he recently braided Kardashian's hair. The Keeping Up With The Kardashians star shared his handiwork on her Instagram stories (via People), and it's clear she's a fan of his skills.
When Barker isn't styling hair and getting inked, he's hitting the slopes. Barker and Kardashian have been spending time with their respective kids in Utah, and he might have to trade in his drums for a snowboard. This casual run down a slope definitely earned him respect with his kids, Atiana, Landon and Alabama.
It seems like Kardashian only has eyes for Barker. A source told Life & Style, "It's the most normal relationship she's ever been in. There's no jealousy or petty behavior. Kourtney and Travis are both independent with their own interests."