Inside The Latest Conor McGregor Drama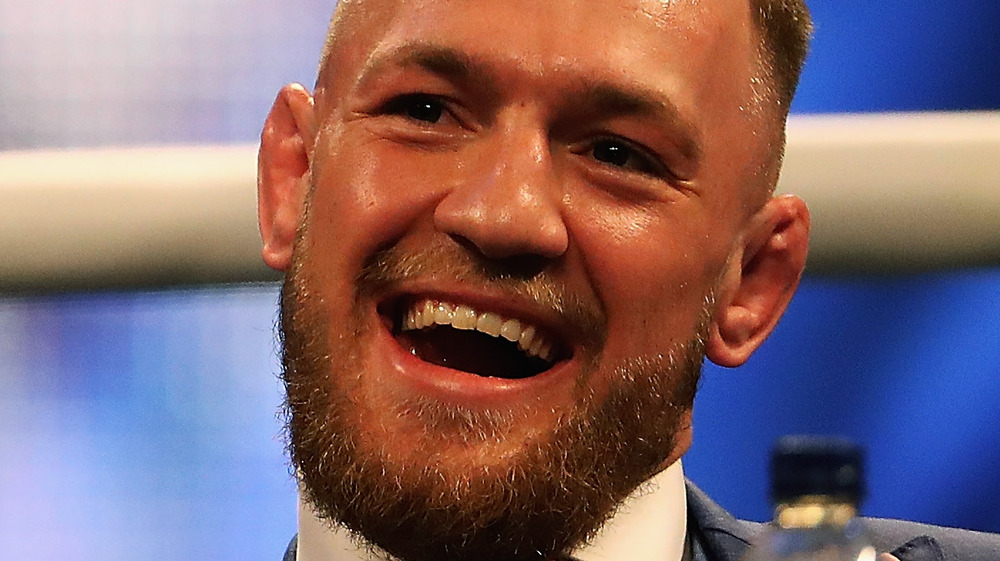 Matthew Lewis/Getty Images
Conor McGregor has always been a controversial fighter, and he shows no signs of slowing down. His latest feud is with mixed martial artist Dustin Poirier, who he was supposed to fight for the third time on July 10, 2021, per MMA Junkie. McGregor has pulled out of the fight, however, after Poirier accused him of swindling a charity.
In the lead-up to their January 2021 scrap in the ring, McGregor repeatedly promised in public, per TMZ, that he would deliver $500,000 to Poirier's nonprofit, The Good Fight Foundation, for underprivileged youth in Louisiana. On April 12, 2021, Poirier decided he would call the boxer out on Twitter over the money.
Poirier wrote, "That's a fun prediction! ... You also predicted a donation to my foundation and you and your team stopped responding after the fight in January. See you soon. July 10th Paid In Full!" 
He went on to accuse the Irish fighter of "ghosting" the foundation, as TMZ reported. But how did McGregor respond? Check it out below.

Conor McGregor called Dustin Poirier an 'inbred hillbilly' over the accusations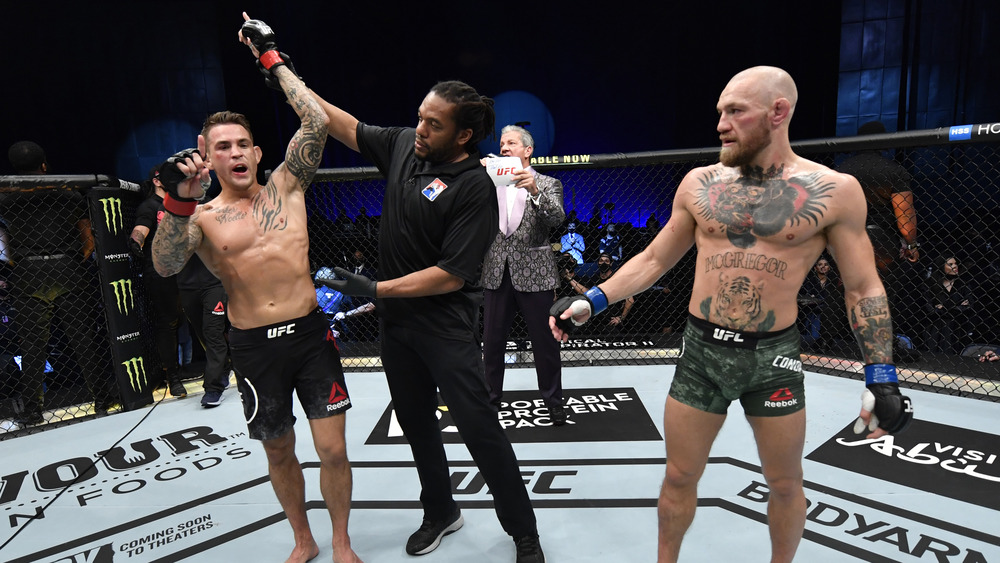 Handout/Getty Images
On April 11, 2021, Conor McGregor admitted that he never donated to Dustin Poirier's foundation, but insinuated that he didn't trust the non-profit with his money.
"A donation, not a debt," the Irish fighter declared on Twitter. "We've been awaiting the plans for the money that never came. I do with all my donations. Know where it's going dot for dot. Otherwise it goes walking. ... You took the McG over the belt, shows I was right."
Poirier insisted in a follow-up tweet that his team had in fact sent McGregor plans for how the donation would be spent. "100% never a debt," the MMA champion replied. "You offered, we accepted, and like I said your Team never responded to our emails regarding the process of where funds would be put to work! July 10th you will taste defeat yet Again."
Poirier has been praised for his philanthropy over the years, per TMZ. In June 2020, he even received an award from the UFC for his "exceptional volunteer and charity work." McGregor has also made numerous charitable donations, per the Daily Star.
Eventually, McGregor claimed that he was pulling out of the fight altogether, calling Poirier an "inbred hillbilly" in an explosive tweet. "500k with no plan in place. Ye hang tight. Fool," he wrote. "You must be new to money. The fight is off btw. I'm going to fight someone else on the 10th."