The One Thing Betty White Said That Left The Proposal Cast In Tears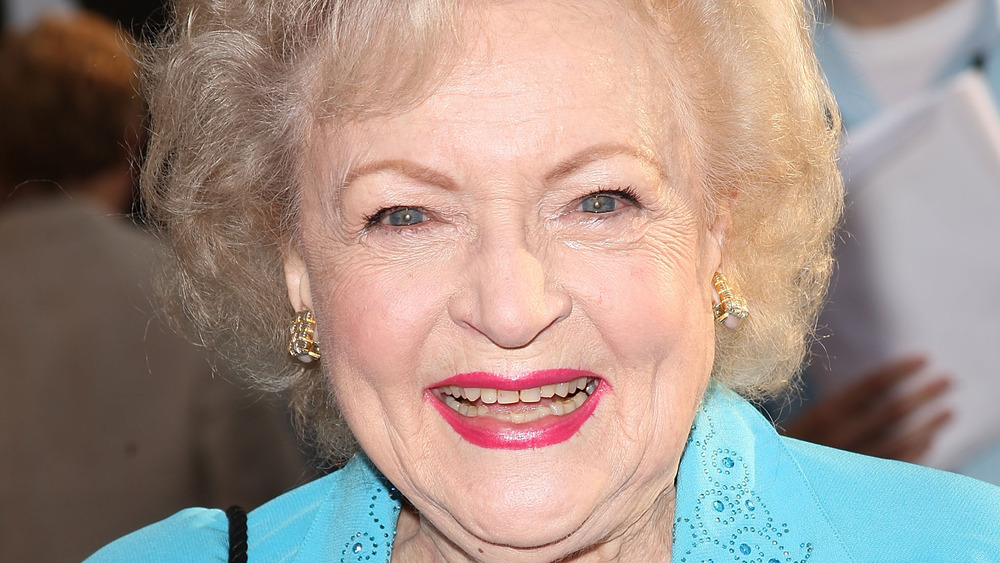 Jason Merritt/term/Getty Images
Screen icon Betty White is no doubt a national treasure. The Golden Girls alum has been dubbed "America's grandma" by fans and critics alike, while audiences are more than ready to ring in her 100th birthday in 2022, per Cheat Sheet. Her secret to success? "Just looking at the positive side and not dwelling on the downside. Takes up too much energy being negative," White told People in 2021 on her 99th birthday. "Also having a good agent who keeps me busy all the time."
And boy, does her agent keep her active! The beloved actor made her film debut in 1945 per IMDb, and starred in The Mary Tyler Moore Show before landing her own short-lived eponymous series The Betty White Show. White then went on to appear in The Love Boat and Mama's Family, later becoming a fan favorite on Golden Girls in 1985. The hit series concluded in 1992, with White starring in series Hot In Cleveland and The Bold and the Beautiful. Of course, White has also made a large dent in the film industry, and most memorably played Sandra Bullock's lovable grandma in 2009's The Proposal. 
So what did White famously do on set of the romantic comedy starring Bullock and Ryan Reynolds? Keep scrolling to find out!
Betty White called working on The Proposal "the most fun" she's ever had on set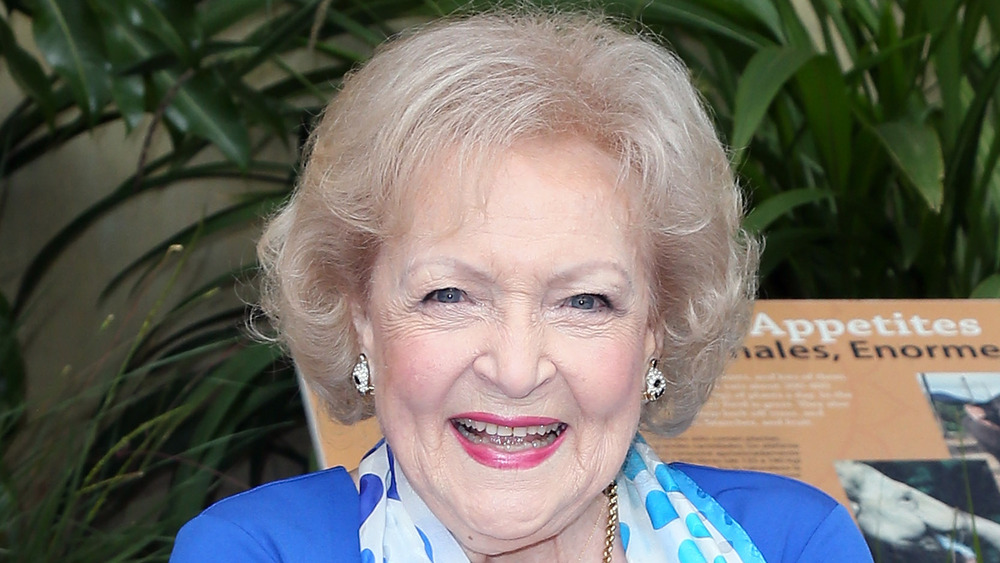 David Livingston/Getty Images
Betty White is apparently just as sweet offscreen as the characters she plays! Per Fame 10, White was "the most popular person on set" of 2009 hit film The Proposal. Costar Sandra Bullock recalled White receiving a standing ovation on her last day of filming. "Grown grips with ZZ Top beards crying because Betty is leaving," Bullock explained. "Betty turns around and says, 'I want everyone to know that this is the most fun I've ever had on a film set.' Everyone was crying." 
In fact, White was unsure to even join The Proposal cast in the first place. Reportedly, White was worried the project would require a lot of time away from her "beautiful baby" golden retriever dog. Thankfully, White agreed to sign on to the film once it was confirmed her dog could accompany her. It was all worth it too, since costars Bullock and Ryan Reynolds are even still close with the legendary star. Per Entertainment Tonight, Reynolds called White "the funniest person on the planet" in a mock feud video for White's 99th birthday in 2021. Bullock and Reynolds also try to "out do" one another for White's annual celebrations via Twitter.
Seems like this Proposal made the cast and crew friends for life!