What Nikki Haley Just Revealed About Her Plans For Running For President In 2024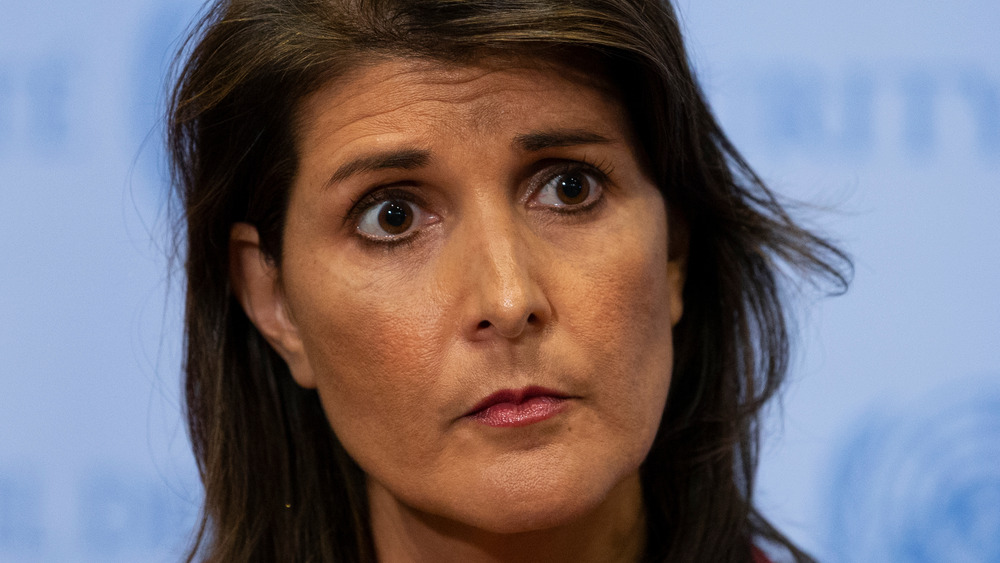 Shutterstock
Nikki Haley is one of the Republican party's most high-profile contenders for the 2024 election, per CNN, but her plans to run may depend on Donald Trump. Haley's relationship with the former president has gone through some public ups and downs. She was appointed as UN Ambassador by Trump in 2017 and when she left the administration a year later, Haley seemingly remained on relatively good terms with him.
After the deadly Capitol building riots on Jan. 6, 2021, however, his ally changed her tune. Haley spoke out about the man she had previously considered a "friend" to Politico, declaring that he "let us down" by paving the way for an attempted insurrection. "He's not going to run for federal office again," the politician stated at the time. "I think he's lost any sort of political viability he was going to have. I think he's lost his social media, which meant the world to him. I mean, I think he's lost the things that really could have kept him moving."
But Trump's popularity with Republican voters has bounced back, according to Forbes, so 2024 presidential hopefuls like Haley have to consider the possibility of him running again.
Nikki Haley has changed her mind about Donald Trump again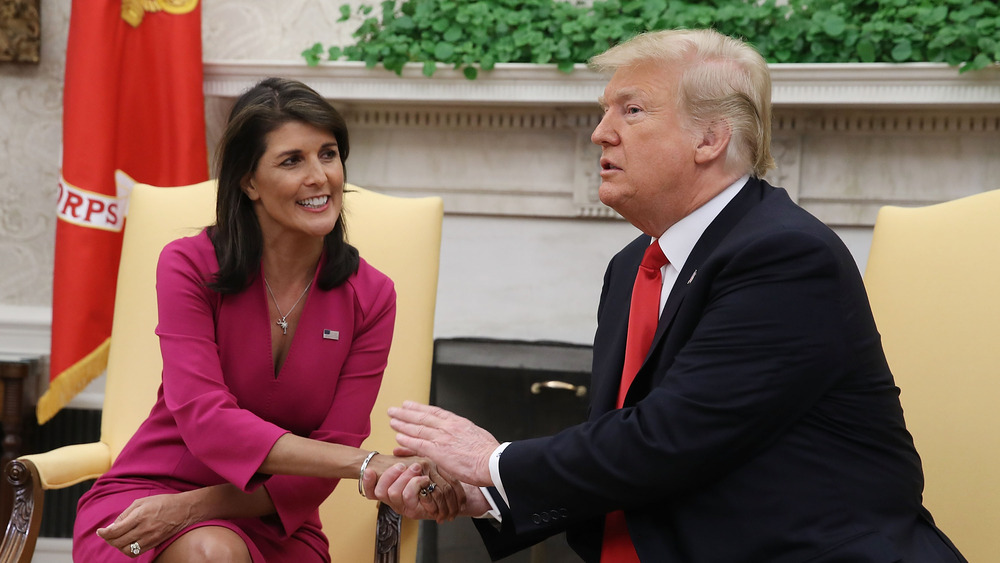 Mark Wilson/Getty Images
In a sharp contradiction to her previous statements, Nikki Haley has now revealed that she would support Donald Trump if he ran for president in 2024. During a press conference on April 12, 2021, Haley also told the Associated Press that she would call off her own campaign to support his campaign. "I would not run if President Trump ran, and I would talk to him about it," the Republican explained. "That's something that we'll have a conversation about at some point if that decision is something that has to be made."
Recalling her time in the White House, Haley insisted that she had a "great working relationship" with Trump. "I appreciated the way he let me do my job," she said. "I thought we did some fantastically great foreign policy things together, and look, I just want to keep building on what we accomplished and not watch it get torn down."
She also defended Trump's recent comments about Republican leaders like Sen. Mitch McConnell, per CNN. "I think former President Trump's always been opinionated," Haley argued. "Just because he left being president, that's not going to stop. But I think what he also talked about were all the successes that he had in the administration. And I think that's what Republicans are uniting on."
Despite Haley's sudden praise of the former president, she confirmed to the Associated Press that she has not spoken to him since Jan. 6, 2021. Trump has not yet publicly confirmed whether he will run for president again.