The Real Story Behind A Viral Photo Of Queen Elizabeth Laughing Next To A Uniformed Prince Philip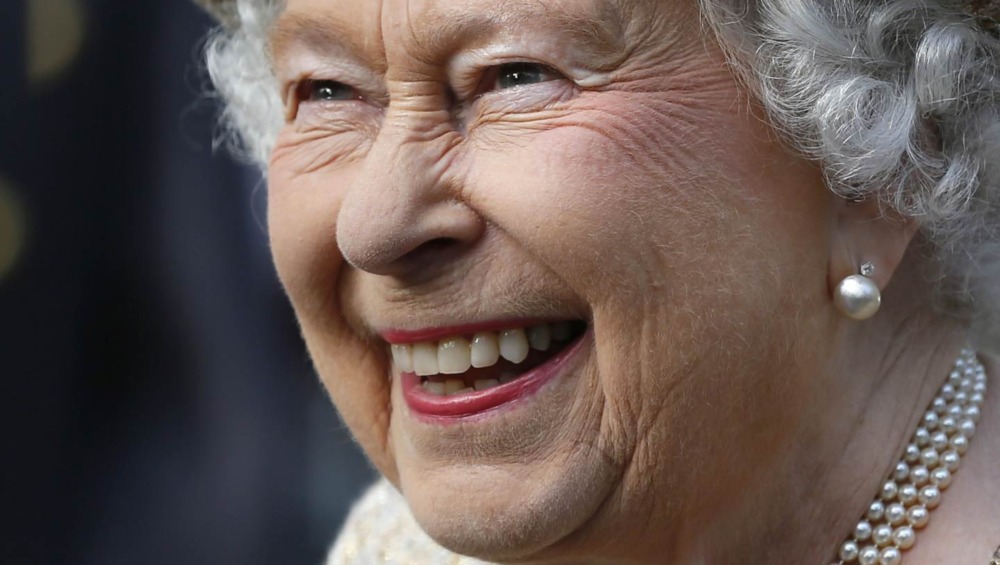 Wpa Pool/Getty Images
Queen Elizabeth II lost her "strength and stay" of 73 years when her husband Prince Philip died on April 9, 2021. She, along with the rest of the royal family, is observing a two-week period of mourning. The queen is slowly resuming royal duties and hosted a ceremony for her former aide Earl Peel on April 13. Peel officially stepped down as Lord Chamberlain and turned in his royal wand and office insignia, according to the BBC.
Philip's funeral will be held on April 17, 2021 at St. George's Chapel in Windsor Castle. The duke will receive a funeral procession, but the service will be more private due to COVID-19 restrictions. Close friends and family members will be in attendance, but Meghan Markle will be absent due to her pregnancy.
In light of Philip's death, people are taking a look back at some of their favorite moments of the Duke of Edinburgh's life and his decades-long relationship with Elizabeth. In particular, the internet is absolutely buzzing over a viral photo of the queen laughing at the duke in uniform. Keep reading for more details.
The reason for the viral photo isn't what you might think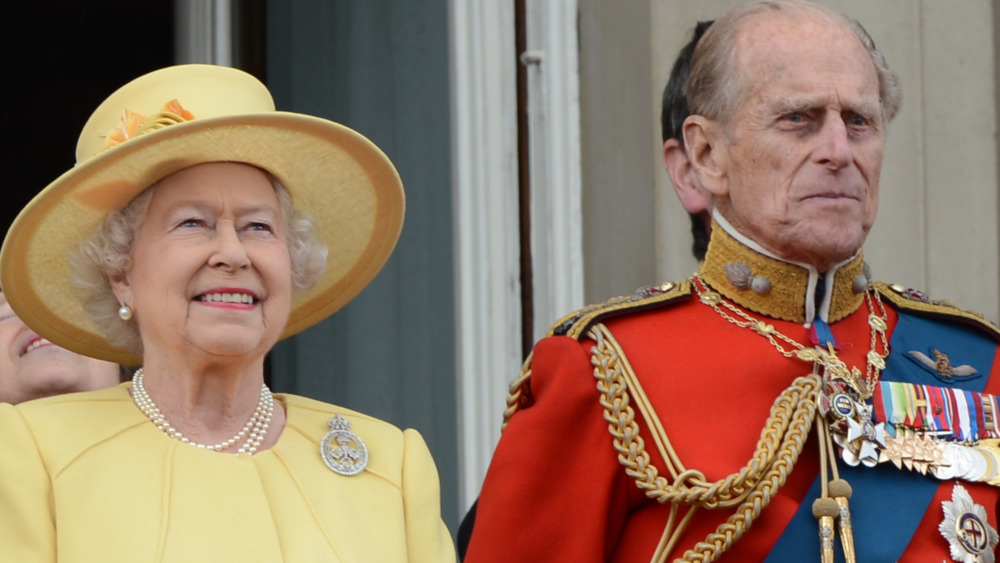 Shutterstock
Queen Elizabeth II rarely cracks a smile in public, so it's a big deal when she shows emotion. A 2003 photo shows Elizabeth smiling at Prince Philip in uniform, and it made the rounds on social media with a caption saying he "pranked" his wife when he dressed up as a palace guard, according to People. This reportedly made her laugh when she realized it was Philip under the big hat. Though it's an amusing story, it's not the truth.
According to Windsor Star (via Snopes), the queen laughed because a swarm of bees interrupted the ceremony and stung a former sergeant major. A beekeeper removed the insects, per the Edmonton Journal (via Snopes). Philip has worn the uniform to numerous royal engagements, so Elizabeth would not be surprised to see him dressed like that.
The queen is dealing with her husband's death the best she can and was prepared for it due to his health issues, according to her former press secretary Charles Anson. "She would have thought about this moment several times, and her way would be to remain as steady and as calm as possible," he told People. "That comes naturally to her through her temperament and her experience."