Inside Queen Elizabeth's Relationship With Prince Andrew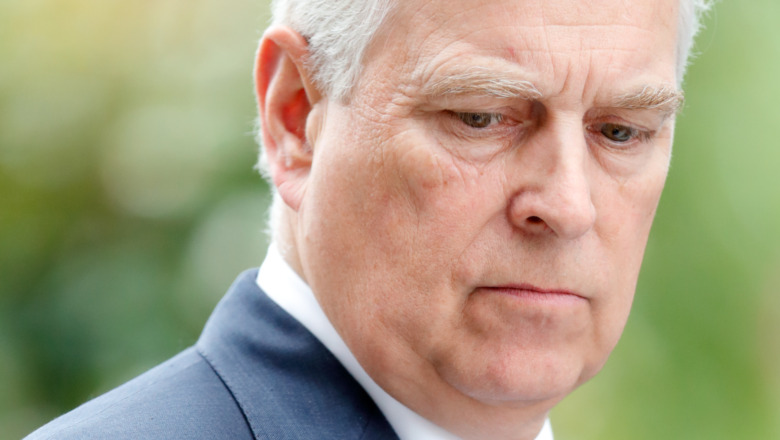 Max Mumby/indigo/Getty Images
If The Crown is any indication, Prince Andrew was blatantly dubbed Queen Elizabeth II's favorite child. Despite being a fictionalized Netflix drama, actor Josh O'Connor, who plays Prince Charles, previously told Town & Country, it is "based in some reality." Therefore, its dramatized scripts do carry some authenticity. During Season 4, Episode 4, aptly called "Favourites," Queen Elizabeth (Olivia Colman) wonders whether she has a favorite child after learning Margaret Thatcher (Gillian Anderson) favors her son. When mentioning the absurdity of the idea, Prince Philip (Tobias Menzies) calls her out, claiming her favorite is clearly Andrew. 
But is that really the case, or was The Crown simply sensationalizing Andrew's recent controversies surrounding Jeffrey Epstein? According to several sources and royal experts, The Crown may have surprisingly gotten that family dynamic correct. During a profile piece in honor of the Duke of York's 60th birthday, The Telegraph revealed a note the queen sent rightafter Andrew was born, which may have forecast his special place in her heart. Addressed to her cousin, she wrote: "The baby is adorable....All in all, he's going to be terribly spoilt by all of us, I'm sure." 
Elizabeth's third child, Prince Andrew, was born a decade after Prince Charles and Princess Anne, and was known as her and Prince Philip's "love child," per The Sun. Prior to his birth, rumors swirled that Elizabeth and Philip were experiencing a "rough spell" in their marriage. But royal experts say that when Andrew joined the family, it showed the "re-booting of her marriage," which began her "special relationship" with him.
Queen Elizabeth II took 18 months off from her royal duties to care for Prince Andrew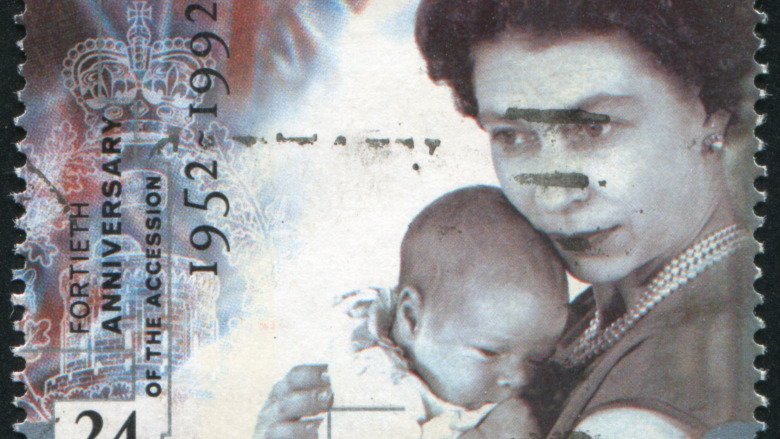 Shutterstock
It's believed that after Prince Andrew was born, Queen Elizabeth II was more settled into her role as the monarch and therefore had more time for him. She even took an extended maternity leave of 18 months to care for her newborn — a stark difference in parenting compared to Prince Charles and Princess Anne, who she sometimes would not see for months, per CheatSheet. The queen reportedly taught Andrew how to read the alphabet and tell time (per Yahoo News!), and even drove him to school and attended his sport matches, per The Telegraph. "She was able to give him more attention and Andrew was someone with whom she has had a particular affinity," royal commentator Richard Fitzwilliams noted.
Despite a slew of controversies surrounding Prince Andrew — the press labelled him "Randy Andy" and "playboy prince" — ELizabeth's devotion and closeness to her third child never faltered. A former palace aide told the Daily Mail that, whenever she hears that Andrew is in Buckingham Palace, "she'll send him a handwritten note, and he always goes to see her" (via Vanity Fair). "If he's in jeans, he'll change into a suit. And he always greets 'Mummy' in the same way—bowing from the neck, kissing her hand, and then kissing her on both cheeks. It's a little ritual that she adores. Believe me, he can do no wrong." And it even seems a little FBI investigation surrounding Andrew's relationship with convicted pedophile Jeffrey Epstein could not hinder the queen's bond with him.
Queen Elizabeth II was photographed with Prince Andrew following his controversial BBC interview about Jeffrey Epstein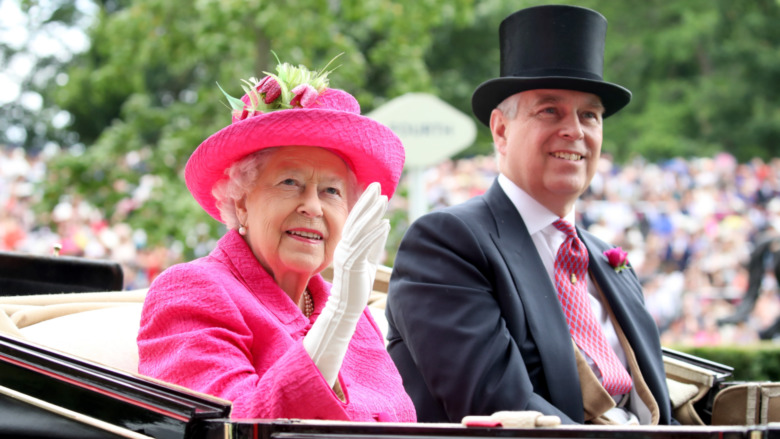 Chris Jackson/Getty Images
Royal fans were shocked to see Queen Elizabeth II photographed riding horses with Prince Andrew shortly after he gave a train wreck interview on the BBC, per Vanity Fair. Andrew was widely criticized for not only defending his relationship with Jeffrey Epstein, but also as he appeared to lack "empathy" or show "remorse," per NBC. Following the interview's November 2019 broadcast, Andrew announced he would be stepping back from royal duties. In a statement he said: "I have asked Her Majesty if I may step back from public duties for the foreseeable future, and she has given her permission." Even when news broke of Andrew's controversial relationship with Epstein back in 2011, Vanity Fair reported that the queen, showing total disregard for the situation, "summoned" her son to Windsor Castle for a private ceremony, in which she bestowed upon him the "Knight Grand Cross of the Royal Victorian Order."
The Duke of York has kept fairly quiet ever since his dis-engagement with royal duties and alleged sexual assault to a minor. However, following the passing of his father Prince Philip on April 9, 2021, Andrew gave his first television interview in which he expressed "support" for his mother. "I feel very sorry and supportive of my mother, who is feeling it, I think, probably more than everybody else," he said. 
While we can speculate as much as we want about Elizabeth's relationship with Andrew, it's no secret that a mother's love can push through all kinds of adversities.