The Masked Singer: Fans Think Yeti Is A Famous R&B Singer
Season 5 of The Masked Singer introduced viewers to a new wildcard contestant, Yeti, during its April 15, 2021 episode. The hit show on Fox continues to have the panelists — Nicole Scherzinger, Jenny McCarthy, Robin Thicke, and Ken Jeong — guessing who is underneath the costumes week after week, as well as the public. Yeti made their performance debut on Wednesday night and sang a rendition of New Editions "If It Isn't Love." While it might not be clear whether they sing professionally, they sure do have some impressive vocals.
In their first clue package, Yeti was captured on ice while holding blocks of wood. They stated they only "come out of hiding for a mammoth reason." Their appearance on The Masked Singer is to be a "wild force to be reckoned with." Too many Yeti's become "monsters" where they are from, but they had "a secret weapon" to avoid such a fate. "A village of warrior women were always there" to show them the way. Yeti described having these "motivators and teachers" in their corner as "golden."
The panel's guesses were all over the place for Yeti. McCarthy said singer Ray J, while Scherzinger assumed it might be Justin Bieber. Jeong went for a wild guess and believed it could be actor Taran Killam. Despite all of the panel's different guesses, fans think they have figured it out who Yeti is already. Keep reading to find out who.
Viewers are confident that Yeti is R&B singer Omarion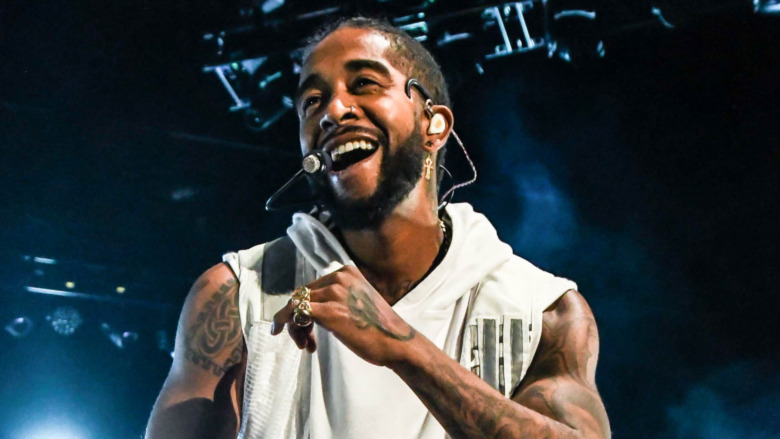 Shutterstock
The panel suggested a whole range of names for Yeti and each said a different celeb for who they think might be under the mask. However, some viewers believe they already know who Yeti is from the voice alone. In fact, fans are fairly confident that Yeti is someone the panelists did not even think to mention: R&B singer Omarion.
"The Yeti is definitely Omarion... I heard it from the first note!... #TheMaskedSinger," one user tweeted. "The Yeti is Omarion from B2K! I know that voice from anywhere! #TheMaskedSinger," another person shared. "The Yeti is Omarion. I knew instantly as soon as he started singing #maskedsinger," remarked a third viewer.
Aside from the voice sounding like him, Omarion has a single titled "Ice Box," which could be why Yeti was captured in an icy setting during their clue package. He was also born in Inglewood, Calif., which could be the reason why they were holding blocks of wood in their hand. Yeti had some moves on them, and as we know — so does Omarion!
As of this writing, Yeti has yet to be unmasked and currently remains in the competition, meaning fans will have to keep their eyes peeled and stay tuned to find out if their guess is correct.