Why Everyone Is Talking About James Franco And Anne Hathaway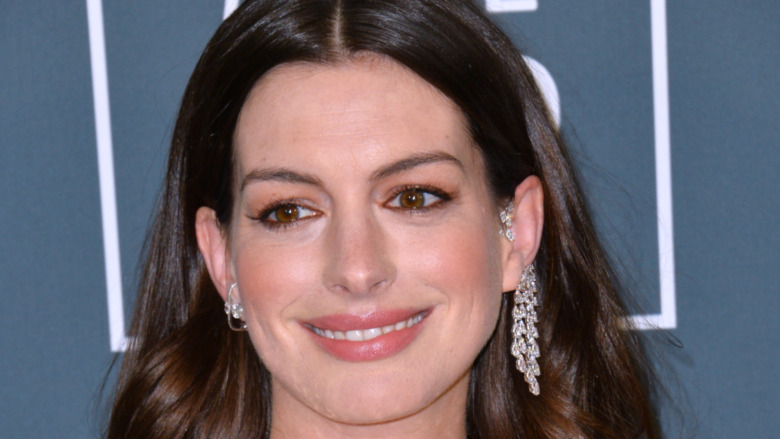 Shutterstock
James Franco and Anne Hathaway made Oscars history in 2011 for their incredibly awkward attempt at hosting.
The Hollywood Reporter called the night "one of the worst Oscar telecasts in history" and questions were raised about Franco's sobriety, as the actor seemed so lethargic compared to Hathaway. "People said I was under the influence," Franco later told David Letterman (via Today). He defended his lack of enthusiasm by blaming his co-host and the contrast between them. "I love her, but Anne Hathaway is so energetic, I think the Tasmanian Devil would look stoned standing next to Anne Hathaway," Franco added.
In 2019, Hathaway told People TV that she originally turned the gig down. "James is the one that convinced me to do it," the Les Miserables star revealed, before comparing the event to being pranked by Franco. "When all the dust settled, I was just like, you gotta be kidding me," Hathaway stated, adding, "Your first instinct is usually the right one." She also joked that "all the reasons why I turned it down came true." 
Now Oscars writers have revealed the process behind Franco and Hathaway's underwhelming hosting gig – and why exactly they bombed so hard.
Anne Hathaway and James Franco's attitudes clashed
Kevin Winter/Getty Images
Many critics of that disastrous Oscars night pointed out the strange chemistry between Anne Hathaway and James Franco.
"It was like the world's most uncomfortable blind date between the cool rocker stoner kid and the adorable theater camp cheerleader," David Wild, one of the 2011 Oscars ceremony's main writers, told The Ringer in a 2021 interview.
Their unofficial first choice had been Justin Timberlake, but he thought it was "too early for him," so producers went for Franco and Hathaway instead. Writer-director Jordan Rubin described how the contrast between their attitudes was clear from the start. "Anne made herself readily available," he said. "I went to her house and worked on the script and she was on a bunch of conference calls and responding to emails and was a great collaborator."
Franco, on the other hand, was hard to contact as he was simultaneously pursuing a master's degree in New York and teaching a course in Los Angeles, as well as attending classes at Yale. "[Hathaway] showed up ready to play and committed 110 percent," Rubin recalled. "And he was a great guy but often looked like he had just woken up from a nap."
Wild also remembered a specific moment in rehearsals that sparked friction between the two hosts, after Hathaway tried to give Franco some advice. "Again, this is a memory, but [Hathaway] was like 'Maybe you should try that,' and he was like 'Don't tell me how to be funny,'" he shared.