Inside Queen Elizabeth's Relationship With Sarah Ferguson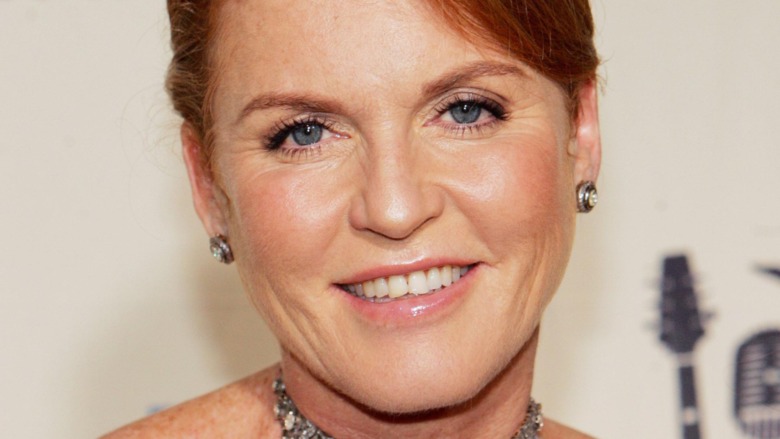 Shutterstock
Every woman who marries into Queen Elizabeth II's family must contend with the monarch and each has had seemingly different relationships with the queen. Before there was Kate Middleton and Meghan Markle, who married her grandsons, Prince William and Prince Harry, respectively, there was Princess Diana and Sarah "Fergie" Ferguson, who married the queen's sons, Prince Charles and Prince Andrew. While Diana sadly did not live long enough to really develop a post-divorce relationship with Elizabeth, Fergie did. And it's complicated, to say the least. 
Much like Diana, Fergie did not grow up in an aristocratic family, but she was around the queen as a child. Her father, Major Ron Ferguson, ran the Guards Polo Club for Prince Philip, and growing up, Fergie would actually play tag with her future husband, Prince Andrew, per PopSugar. Fergie was also friendly with Diana, who invited her to Ascot Week at Windsor Castle with the queen in 1985. It was that visit that sparked her adult relationship with Prince Andrew. They married shortly thereafter and welcomed two children, Princesses Eugenie and Beatrice. But did the queen approve?
Sarah Ferguson scandalized the royal family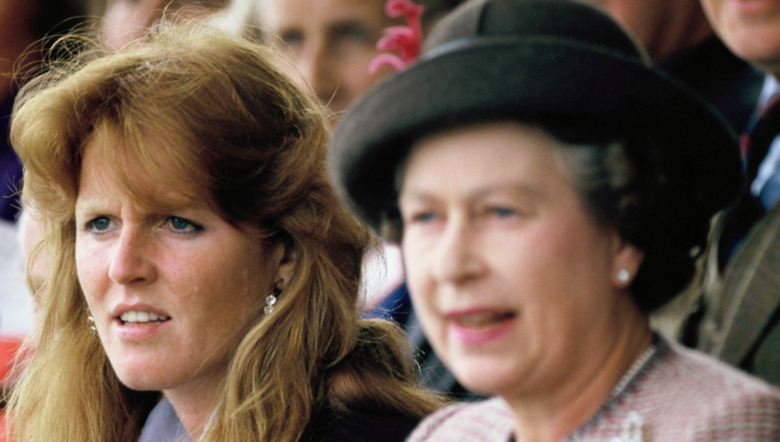 Georges De Keerle/Getty Images
Sarah "Fergie" Ferguson wrote in her autobiography, My Story, that she and Queen Elizabeth II bonded over their shared love for horses. She added, "In private I called her mama... When she waved me to sit next to her in the car or at church, I felt favored and blessed." Unlike Princess Diana, who had a strained relationship with the queen, Fergie was the apple of the monarchy's eye. Diana once said that Prince Charles had even asked her to be more like her friend, via The Express. 
Things took a turn once she and Prince Andrew decided to divorce, however, much to Elizabeth's chagrin. Fergie wrote that the queen asked her to reconsider, to no avail. It was when Fergie was photographed with a new partner, sunbathing topless and kissing in front of little Eugenie, no less, that the queen started to turn on her, per E! News. Once the split was finalized, Fergie lost her royal titles and was uninvited to family events. Even on Christmas, Fergie's daughters would spend the day in the main house with the family, while Fergie was relegated to spending the day alone in a cottage on the Sandringham estate. 
Scandal ensued when Fergie took "regular" jobs like being an ambassador for Weight Watchers and other brands, and speaking pretty frankly about her life. The queen was reportedly scandalized by what she felt was uncouth behavior. 
Sarah Ferguson and Queen Elizabeth II take daily walks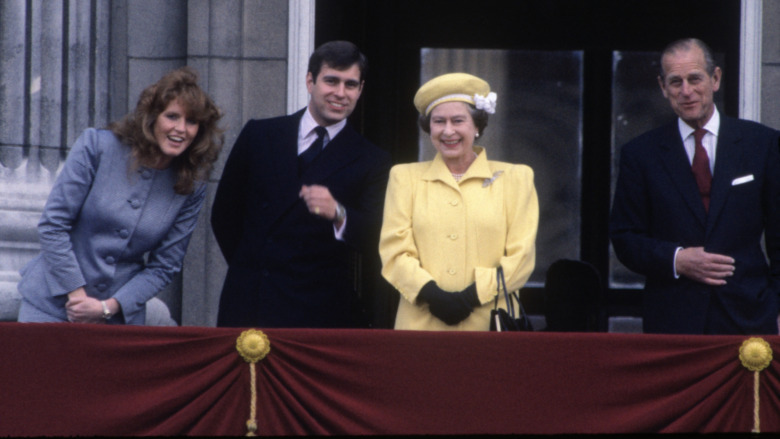 David Levenson/Getty Images
Because they technically did not have to given her lack of royal titles, Sarah Ferguson was not even invited to Prince William and Kate Middleton's wedding, even though she remains close to Prince Andrew. She was, however, invited to Prince Harry and Meghan Markle's nuptials, which is a telling sign about the dynamics of the family. Per Express, Fergie has even been seen at some royal events, and even chatting and laughing with the queen. 
In her March 2021 interview with Oprah Winfrey, Meghan noted that it was Fergie who taught her, on the fly, how to curtsy before she went in to a royal family gathering, so she is obviously around more than she used to be (via Hello!).  Fergie likely will not attend Prince Philip's funeral on April 17, 2021, given that the prince did not seemingly want anything to do with Fergie after the scandals of the aughts (and because the number of attendees will be limited die to the coronavirus pandemic), but the former Duchess of York has reportedly been taking daily walks, per the Daily Mail, with the queen in the wake of his death at Windsor, so maybe there is hope for this relationship yet.