The Real Reason Mom Producers Weren't Happy With Allison Janney's Big Hair Change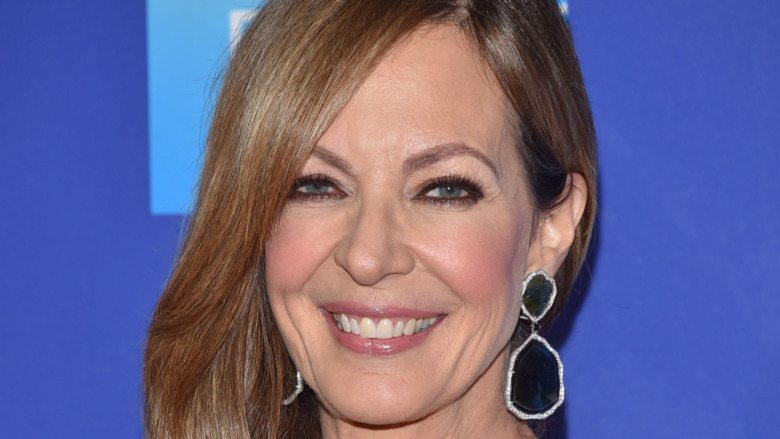 Shutterstock
When you think of Allison Janney, her signature brown, side-swept hairstyle may come to mind. Janney has rocked this style for years and in countless movies, not to mention throughout several seasons on her hit show, Mom. As it turns out, she may have been deceiving us this whole time!
On April 14, 2021, Janney joined Jimmy Fallon for virtual interview and talked about her hair, ending filming on Mom after eight seasons, and what's next on her horizon. Janney admitted to having mixed feelings about the show ending, from "everything [making her] cry" to feeling "excited" about the end of its run. Overall, Janney acknowledged that it was an "emotional rollercoaster ride" and everyone was "really sad" to see the show wrap up.
During the last few weeks of filming, Janney also admitted to walking in with a hairstyle that shocked the show's producers, to say the least. Keep reading to learn why Janney's big hair change really rocked the boat and what secret she'd been hiding about it the whole time.
'Mom' producers were shocked by Allison Janney's short, gray hairstyle
Throughout her eight years starring on Mom, Allison Janney's hair looked pretty much the same throughout: long, brownish-blonde, and parted to the side. So, naturally, when Janney showed up to set with a short, sleek, gray hairdo, the show's producers freaked out a little bit. 
"The producers see me like this and they're like, 'What have you done?! How are we gonna do...? You should have asked us before you did this to your hair,'" Janney explained during her interview on her April 14, 2021 interview on The Tonight Show Starring Jimmy Fallon. 
As it turns out, the producers' shock was unnecessary, as Janney revealed a big secret: she'd been wearing a wig since Season 1! "I'm like, 'Guys, I've been wearing a wig since Season 1, but nobody knew it.' So, everybody in the world knows it now," she explained.
Though Janney is happy to put her days of wearing a wig behind her, she did take the beloved wig along with her, along with some other relatable keepsakes. "That wig is coming with me, and a few pairs of sweatpants because my character Bonnie loved to be comfortable, as does Allison Janney," she told Fallon. 
As for whether or not Janney's wig or sweatpants will make a public appearance again, only time will tell.