The Real Meaning Behind Chrishell Stause's Tattoos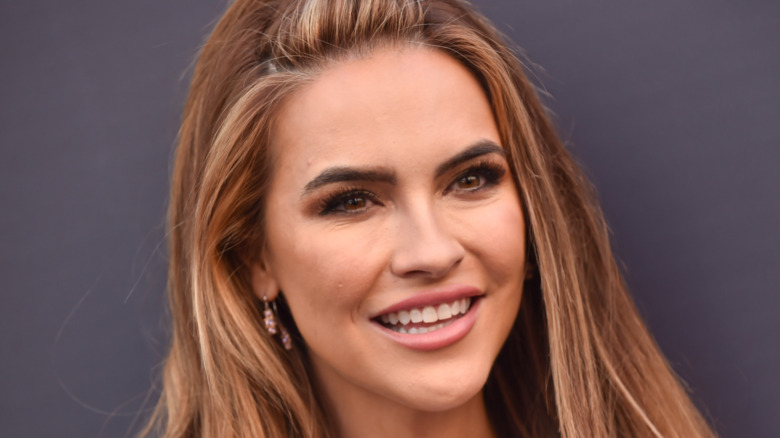 Shutterstock
Selling Sunset star Chrishell Stause is opening about her ink and took to Twitter to talk about her body art after a fan gushed over the former soap opera actor. "I couldn't resist saying this. Love this picture & Pretty eyes. But I do have a question. Do you have a tattoo on your ankle & what is it a picture of[?]" one Twitter user wrote to the reality star on April 15, 2021, besides a photo where a little bit of ink can be seen on the real estate agent's ankle. 
"Well since you asked so nicely (flattery will get you everywhere), My ankle tattoo says 'Aspire to Inspire,'" Chrishell wrote in response to her fan's inquiry. "Sadly my tattoo artist was inspired by tequila at the time so it's hard to read," she joked. In addition to Chrishell's ankle art, she has a few other tattoos with equally special meanings and funny stories behind them. Keep scrolling to learn more about Chrishell's ink.
Chrishell can be a thrill-seeker when it comes to her tattoos
Although getting a tattoo is a major decision for some people, considering it is permanent, Chrishell Stause chooses to commemorate good times often on a whim. While speaking with Soap Central in 2016, she revealed she once got tatted without seeing the design before going under the needle. "I do have that streak in me where I like to live in the moment. I mean, for God's sake, I got a tattoo blindfolded once, so I definitely think I can relate to her," Chrishell told the outlet, explaining how she saw herself in her former Young & Restless character Bethany Bryant, who was often described as a "wild child" at the time. 
Elaborating on her experience, she said she got the tattoo "On a dare," adding, "I blindfolded myself and picked one off the wall. My friend and I did it together and called it Kamikaze Tattoo. I don't know if that's a public story, but yeah! I have a Sagittarius tattoo and so does she, and she's a Gemini and I'm a Cancer. So in a nutshell, yes, I can relate to Bethany!" Despite having a zodiac sign that's not hers in ink on her body, she admitted, "it could have been so much worse. You should have seen what was next to it. Not good!"
There's no doubt that getting a tattoo while blindfolded is a risky move, however, it seems to have worked out for the reality star. "It was a live-in-the-moment thing, and now it's a memory," she continued. "So I can relate to not taking things so seriously. It was fun, and I don't regret it. Even to this day, it's one of my most fun memories to tell, because other people cannot possibly fathom that somebody would actually do that." Anyone down for a round of Tattoo Roulette? Chrishell might be riding solo with this one.