Kenny Chesney's Net Worth: How Much Is The Country Superstar Worth?
Shutterstock
Kenny Chesney is arguably one of the most successful artists in country music. The 53-year-old singer-songwriter got his start in the industry when he moved to Nashville after graduating from college. Chesney shopped around for record deals before finally landing one at Opryland Music where he met record executive Troy Tomlinson. "I was attracted to the songs, because I thought that he painted great pictures in his lyrics, particularly for someone who had not been around the typical Music Row co-writes," Tomlinson recalled to Hit Quarter (via The Boot). "I thought that he sang very well too, but more than anything, there was a kind of this 'I-will-do-it' look in his eyes. I was really drawn in by the fact that he was so set on being successful in this business."
Chesney's determination has brought him much success and money as a country artist. He has released nine No.1 albums and sold out dozens of tours with his tour in 2019 earning over $10 million in ticket sales, according to Billboard. Additionally, Chesney's popularity on tour has won him four Entertainer of the Year awards in his career (via East Valley). All these accolades and album sales mean that Chesney has earned quite a fortune for himself. Scroll down to find out just how much he's worth.
Kenny Chesney earns more than you might think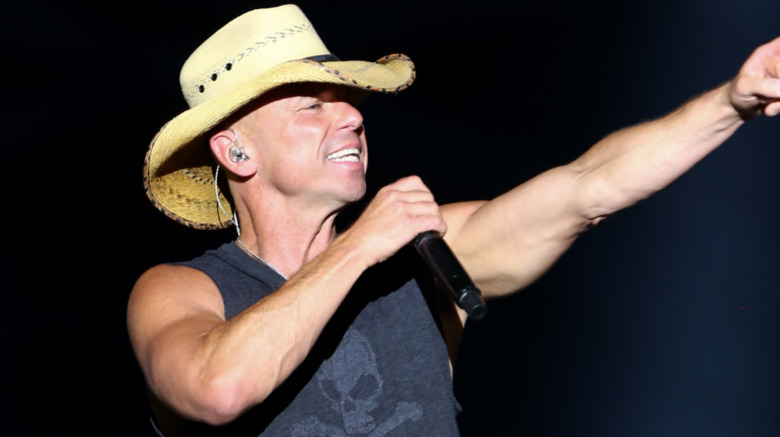 Shutterstock
Per Celebrity Net Worth, Kenny Chesney is worth a whopping $180 million. He earns his money primarily through record sales and touring revenue, and it has clearly paid off. Chesney has sold over 30 million records and millions of singles, per Sony Music. Chesney's appeal has made him one of the most profitable artists in touring history and it certainly helps that he enjoys being out on the road.
"Every time, I want people to have the best night of their lives," Chesney told The Boot in 2015 about how he approaches touring. "I take that very seriously. I've heard enough stories about people planning their summer around coming to see us, and when you know that, you wanna always give 'em more and better, trying to think what else? But, you know, these songs are the reason people come — and I don't ever want to take away from the music."
Besides earning his big bucks through his music, Chesney has also made investments in property. He bought an 11,143 square foot estate in Franklin, Tennessee in 2010, per Variety, for $9.2 million. With all the money Chesney's making, it seems like this star continues to make music and tour with his "No Shoes Nation" for years to come.