Here's What We Know About Justin Bieber In The Friends Reunion Special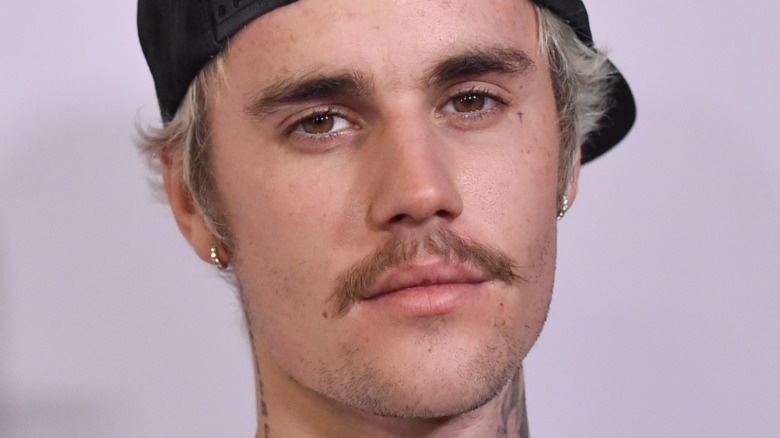 Shutterstock
Finally, the long-awaited Friends reunion special is in the process of filming during spring 2021, and fans can't wait to see who and what will be in it. Of course, the main cast's six actors have returned — Jennifer Aniston, Courteney Cox, Lisa Kudrow, Matthew Perry, Matt LeBlanc, and David Schwimmer. But the classic '90s sitcom was not only famous for its regular cast, but its many in-jokes and its stellar roster of guest stars, like Julia Roberts, Bruce Willis, and Brad Pitt, just to name a few.
In 2020, the HBO Max reunion special delayed filming due to the COVID-19 pandemic, postponing its original March filming date. A year later in March 2021, fans rejoiced when Schwimmer told Andy Cohen on SiriusXM (via Page Six) that the special was set to finally film in April.
As the Friends reunion shoots footage, reports of cameos have started to surface, including one very unexpected pop star who will appear in the special: Justin Bieber. Here's what we know about his surprising cameo.
Justin Bieber's cameo reportedly includes a classic 'Friends' outfit
On April 18, 2021, The Sun reported that pop star Justin Bieber will reportedly make a small cameo in the Friends reunion special, which has been filming in April 2021. According to the publication, the singer filmed scenes wearing the character Ross' infamous "Spudnik" Halloween costume from a Friends Season 8 episode, "The One with the Halloween Party."
As "Spudnik," Ross dressed up like a potato with a makeshift antenna on his head as a pun on the Soviet Russian satellite Sputnik, which launched into space in 1957. It was truly a costume that only Ross could come up with — and one that Bieber will reportedly revive for the Friends reunion special.
An unnamed source told The Sun, "Justin was honoured to be involved and didn't mind sending himself up wearing a ridiculous costume. It was all run like a military operation to keep details under wraps, and Justin nailed it."