Inside Bruce Willis And Julia Roberts' Friendship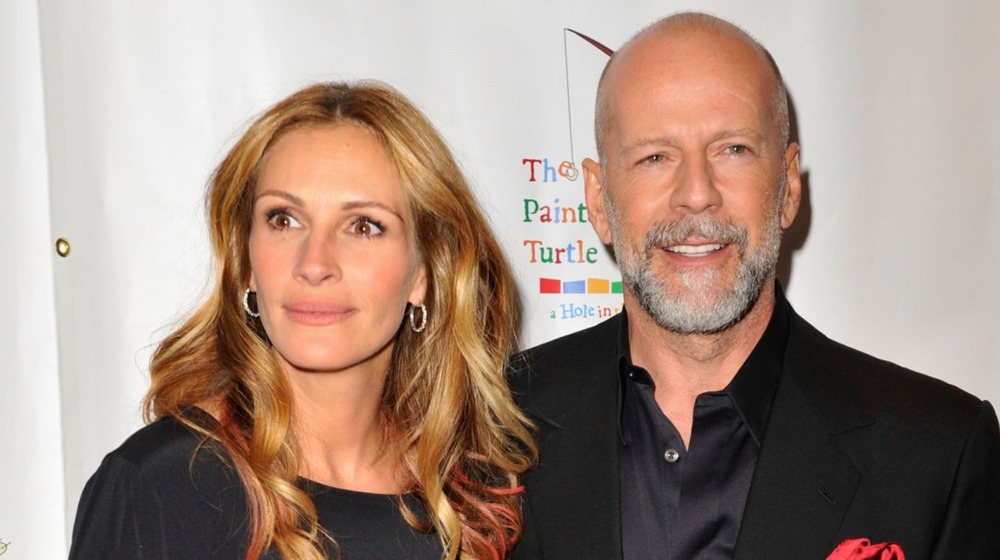 Kevin Winter/Getty Images
Bruce Willis and Julia Roberts are good friends, and the two Hollywood legends have been for years; in fact, Willis was the only celebrity invited to the 2002 wedding of Roberts and Daniel Moder at her New Mexico ranch (via Female First). In a 2000 Rolling Stone interview with Willis, his Sixth Sense co-star Haley Joel Osment said, "He introduced me to Julia Roberts. What boy doesn't want to meet her?"
In 2000, after Willis's divorce from Demi Moore, romance rumors circulated about his relationship with the Erin Brockovich star. The buzz surrounding the pair of superstars grew so loud that Roberts spokeswoman had to issue a denial about the rumor in The Guardian, which reported, "A spokeswoman for the Erin Brockovich star denies there is any hint of romance between the two, insisting Julia is still seeing Benjamin Bratt and that she and Bruce are 'just friends.'"
A friendship between Roberts and Willis makes sense. Aside from spectacular careers, they both appear grounded in their lives. Roberts and Willis both seem like they take their work seriously, but they don't take themselves too seriously. Keep reading to learn more about the friendship between Willis and Roberts!
1992 movie "The Player" made fun of Willis and Roberts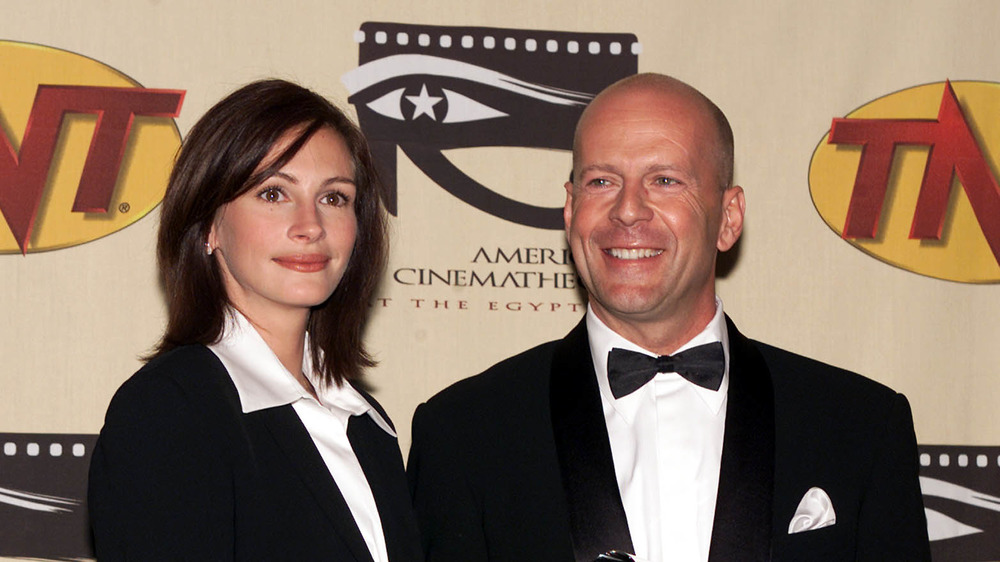 Kevin Winter/Getty Images
One of the inside jokes in 1992's Hollywood satire The Player was that Julia Roberts and Bruce Willis were the stars needed to make a hit movie. At the end of Robert Altman's film-within-a-film, Willis saves Roberts's life at the last moment.
The Player isn't the only movie Roberts and Willis made fun of themselves. In the 2004 film Ocean's Twelve, Willis makes a cameo appearance, where he mistakes Tess (Roberts character in the film) for his friend, famous actress Julia Roberts. The cameo in Ocean's Twelve is hilarious because Willis talks to Tess as if she was his real-life close friend. To make matters even funnier, according to Hollywood.com, Willis was the first choice to star in the Oceans 11 remake. 
Another reason why it's easy to understand the friendship between Willis and Roberts is that they are both devoted to family. Roberts and her husband Danny Moder have three children, Hazel, Finn, and Henry. Willis is a man surrounded by daughters; he and his first wife, Demi Moore, share three daughters who are all young adults: Rumer, Scout, and Tallulah. The Die Hard star married Emma Heming in 2009 and the couple shares two grade school-aged daughters, Evelyn and Mable. All five of the Willis girls are adorable, and while we don't know for sure, we like to imagine they get along great with Julia Roberts, too.