Who Miranda Lambert And Elle King Reminded Fans Of At The ACM Awards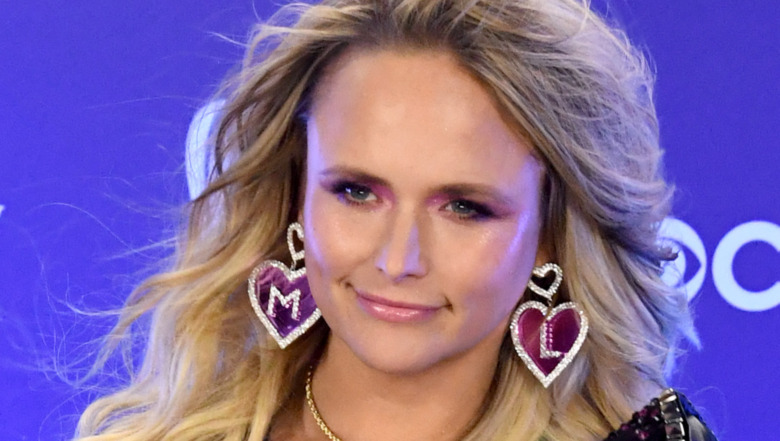 Kevin Mazur/Getty Images
On April 18, 2021, the Academy of Country Music Awards aired, a tribute to a reopening Nashville and the restart of live music performances after more than a year of lockdown and cancelations due to the coronavirus pandemic. The show started off with a bang, with Miranda Lambert and a pregnant Elle King performing their new duet, "Drunk (And I Don't Wanna Go Home)." The two walked the red carpet in their performance looks, with E! News saying the singers have "fringe-ship" goals.
The play on words was in reference to their outfits, which were matching in almost every way. The two women wore what looked to be black jumpsuits decked out in rhinestones topped with rhinestone-encrusted black leather jackets. However, it was the other decoration on the jackets that caught fans' attention. Lambert and King wore jackets decorated with long fringe on the sleeves. King chose to go with a bright blue-colored fringe, while Lambert opted for a magenta-colored one. The almost floor-length fringe reminded some fans of another iconic superstar, however.
Miranda Lambert and Elle King's outfits reminded some fans of an iconic wrestler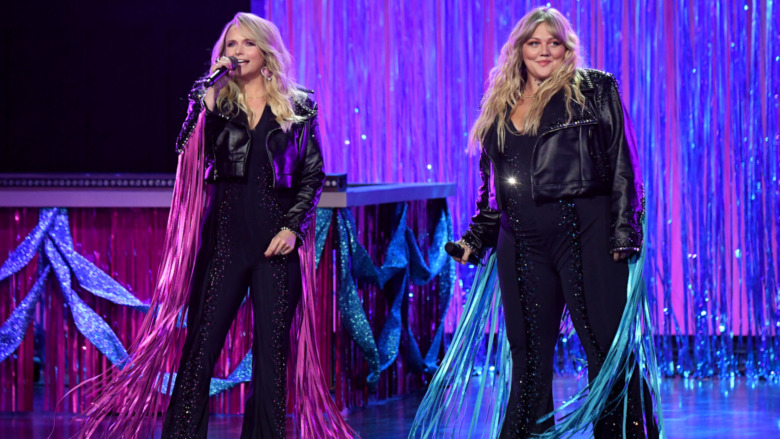 Kevin Mazur/Getty Images
Miranda Lambert and Elle King's fringe-tastic looks reminded some fans on Twitter of another iconic figure who liked to wear fringe — wrestler Randy Savage, aka Macho Man. For those unfamiliar with the WWE, Savage was one of the most well-known wrestlers of all time, rivaling Hulk Hogan, per ESPN. He made a name as a villain (a "heel," in wrestling-speak), and his larger-than-life personality made him a household name. He was known for his outlandish outfits, wrap-around sunglasses, and gravelly voice that he used to spit out insults. And while he had many different iconic looks throughout his career, there's none more noticeable than his fringe jackets.
Fans of Lambert and King took to Twitter to point out how their fringe jackets reminded them of Savage's Macho Man looks. "This opening of the ACMAwards brought to you by Macho Man's fashion choices in the '80's! Love the look," one Twitter user wrote. "Randy 'Macho Man' Savage is loving @mirandalambert and @ElleKingMusic's outfit!," another penned. "We have a feeling Macho Man Randy Savage would approve of @mirandalambert and @ElleKingMusic's jackets," a third account wrote.
Although Savage died in 2011, we're sure he would have appreciated the comparison to the country queens' look.