Gabby Barrett's Life Has Completely Changed Since Welcoming Her Baby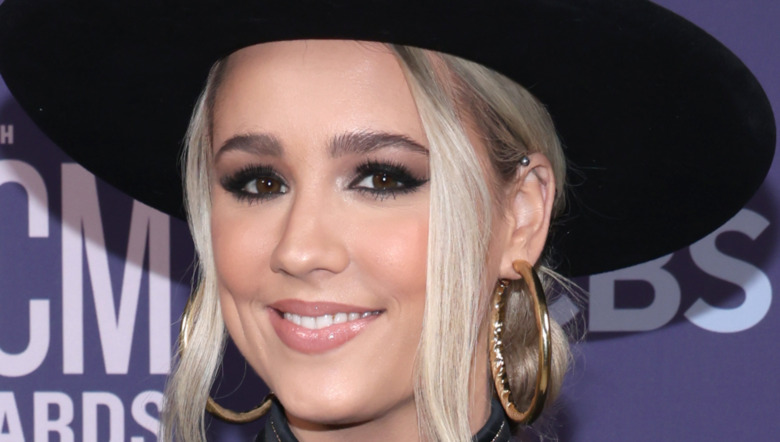 John Shearer/acma2021/Getty Images
Gabby Barrett may be one of American Idol's most popular contestants in recent years, but these days she's idolizing another dream. Although music is still on her mind, the country music star is taking on family duties also, as a new mom to baby girl Baylah May. Barrett told People in April 2021 that although her priorities have certainly changed since Baylah entered the world on Jan. 18, 2021 — she's loving having her along for the ride. "It's a whole new world, honestly. It's so true all the cliché sayings — when you have kids, everything changes in your world; just flips upside down," she shared. 
Barrett was just 18 years old when she featured on the hit reality show. Not only did she reach the top three on American Idol — and gain a recording contract shortly after — but she also met her future husband there, fellow contestant Cade Foehner. She and Foehner got engaged back in March 2019 and married in October of that year per USA Today. They're the first Idol couple to not only tie the knot and have a baby together, which is pretty cool. "She's just my whole world now. She's the sweetest," Barrett told People. 
So how did Barrett adjust to performing at the ACM Awards on April 18? We reveal her reaction after the jump.
Gabby Barrett was excited to perform again
Despite a little hiatus from performing, Gabby Barrett was back to belting out ballads at the 2021 American Music Awards. Proving as a new mom that comfort is key, Barrett glammed up a pair of high-waisted skinny jeans and paired it with a shimmery high neck blouse. Donning a white cowboy hat to complete the look, she put on a performance of "The Good Ones," per Billboard. 
Her husband and former American Idol competitor, Cade Foehner, strummed by her side at the legendary Bluebird Cafe in Nashville. Barrett told People about attending the event, "Ive had the fair share of sweatpants and big 'ole t-shirts, especially when I was pregnant and after and all of that, so I am excited to be dressed up and have my hair done and makeup done."
Already on an ACM high, Barrett was announced on April 9 as New Female Artist of the Year by host Keith Urban. Foehner sweetly filmed and shared her reaction to Facebook, congratulating his wife for being the ultimate mama multi-tasker. "What y'all don't see, is right after this video she went to feed and put down our baby because I guarantee you that little one is always on her mind," he said. "What you don't see is the way she makes this home and world of ours go round."