Steven Yeun: Who Is The Famous Actor Married To?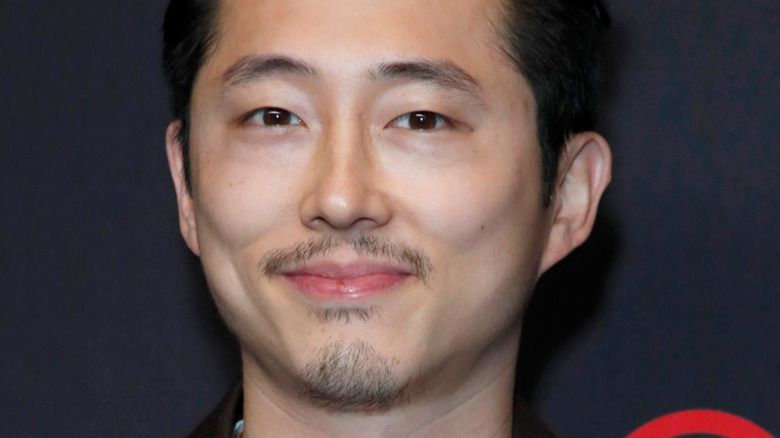 Shutterstock
Steven Yeun became an unlikely romantic hero in a world filled with death and gore on The Walking Dead, and fans were devastated when his character was killed off. However, becoming one of the zombie apocalypse's many casualties possibly worked in his favor, as he went on to become the first Asian American entertainer to be nominated for an Academy Award in the Best Actor category. He earned his much-deserved Oscar nod for the indie film Minari, which sees him portray a Korean immigrant who moves his family to a farm in rural America (via Variety).
Yeun charmed television viewers with his portrayal of Glenn Rhee on The Walking Dead. His character's compassion and loyalty made him a fan favorite, and his romance with Maggie Greene (Lauren Cohan) was one of the bleak series' bright points. In fact, Yeun and Cohan were so convincing as an on-screen couple that Cohan had to dash the dreams of their shippers during a 2013 Rolling Stone interview. "There are entire websites dedicated to the proof that Steven and I are in a real relationship. Which is always funny, because it's not," she said.
In reality, Yeun was dating someone he had met long before he landed his life-changing role, and she would turn out to have a connection to the movie that provided him with the material he needed to prove that he's potential Oscars material.
Steven Yeun's wife is related to 'Minari' director Lee Isaac Chung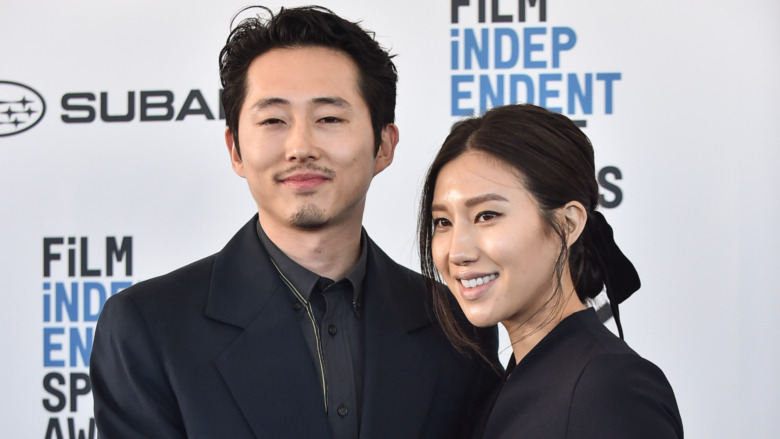 Shutterstock
According to Martha Stewart Weddings, Steven Yeun and his wife, Joana Pak, began dating in 2009. Yeun was in Chicago pursuing a career in comedy at Second City, while Pak was attending school at Columbia College. Yeun happened to be with a friend who knew Pak when he spotted her smoking a cigarette on the street. Introductions were made, but Pak was dating someone else at the time (via GQ).
A year later, Pak walked into the café where Yeun was working as a self-described "really sh***y bartender." For six months afterward, they saw each other every day. Their relationship survived the long-distance test when Yeun moved to Los Angeles, then Atlanta, to film The Walking Dead. He popped the question in August 2015 and the couple wed in December 2016. Their son Jude Malcolm was born in 2017, and they welcomed a daughter in 2019. However, they have not yet shared her name (via People).
Unlike her husband, Pak seemingly prefers to be behind the camera — she runs a freelance photography business called Jo Pakka. The visual artist is an Arkansas native (via Us Weekly), and her home state just happens to be the setting of her husband's Oscar-nominated film. Pak is also related to the director of Minari, Lee Isaac Chung. While speaking to KNWA, Pak's brother revealed that Chung is their cousin. So if Yeun wins an Oscar, the ensuing celebration will be a family affair.