This Is How New Yorkers Really Feel About Andrew Cuomo
Shutterstock
The following article includes claims of sexual harassment and misconduct.
Since the beginning of 2021, New York Governor Andrew Cuomo has experienced a swift downfall. Once heralded as one of the leading heroes in the fight against COVID-19, the formerly popular career politician was revealed to have allegedly deliberately undercounted coronavirus deaths in nursing homes in order to beef up stats in the state, per The New York Times. As news of the COVID-19 controversy came to light in February 2021, Cuomo faced yet another hard blow, with a number of women coming forward with claims of sexual harassment and misconduct initiated by Cuomo against them.
In due course, the praise and popularity Cuomo had once basked in was replace by a looming shadow of castigation. Media personalities like John Oliver dragged him over the coals, calling the governor everything from a bully to "Business Frankenstein" to simply a "colossal a**hole." His fellow Democratic cohort called for his resignation. But how do New York State residents feel about Cuomo? 
More New Yorkers than ever think Cuomo is guilty of sexual harassment — but do they want him to resign?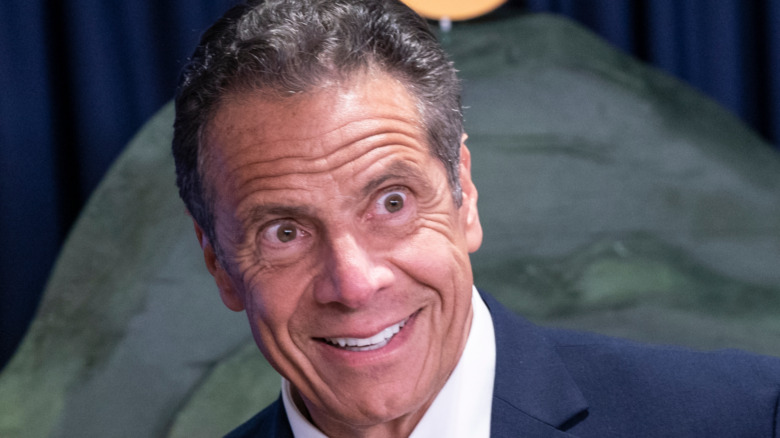 Shutterstock
As the New York Post reported on April 19, 2021, a survey conducted by Siena College found that more New Yorkers than ever believe Governor Andrew Cuomo is guilty of multiple allegations of sexual harassment brought forward by nearly a dozen women, many of whom were former employees. (Per the poll, 44% of respondents, all registered voters, stated they believed the allegations against Cuomo to be true.) Despite this, the Post also noted that "another 53% of those surveyed said they are satisfied with the way Cuomo has addressed the allegations and subsequent apology." Additionally, "a majority of New Yorkers continue to say both that he should not resign ... and that he can effectively do his job as governor," according to the Siena College poll. That being said, 57% of respondents would "prefer to elect someone else" over Cuomo if he were to be re-elected in 2022.
News of the sexual harassment claims first hit the media in February 2021, when one former Cuomo aide, Lindsay Boylan, published a lengthy essay on Medium detailing the years-long campaign of alleged misconduct by Cuomo. After Boylan went public with her story, a number of other women also came forward. In addition to former staffers, the women also included a Bloomberg journalist and current employees for the governor's office. As of April 2021, per ABC News, more than eight women have accused Cuomo for sexually inappropriate behavior.
If you or someone you know has been the victim of sexual assault, you can call the National Sexual Assault Hotline at 1-800-656-HOPE (4673) or visit RAINN.org for additional resources.