What We Know About The Latest Joe Exotic TV Series
Remember in early 2020 when nobody could stop talking about Tiger King, Netflix's docuseries about the world of "big cats" and the Tiger King himself, Joe Exotic? Well, saddle up for another wild ride, folks, because it looks like we're not quite done with Joe — or his arch nemesis Carole Baskin. In April 2021, Deadline reported on the latest casting news for the upcoming scripted series about the bombastic tiger owner (one of two upcoming series, actually), giving fans a fuller picture of what the show will eventually look like. And to say we are excited would be an understatement.
In case you need a refresher on some of the bonkers details, the Netflix docuseries followed the flamboyant and abrasive Joe Exotic — real name Joseph Allen Maldonado-Passage (né Schreibvogel) — who owned and raised tigers at his park, Greater Wynnewood Exotic Animal Park. The series' central tension was between Joe and rival Carole Baskin, who owned Big Cat Rescue, an accredited animal rescue park that rescued mistreated "big cats." Baskin accused Joe of animal abuse. Joe accused Baskin of murdering her husband. Then, it got uglier.
So here's where we are with the new show.
There are two series in the works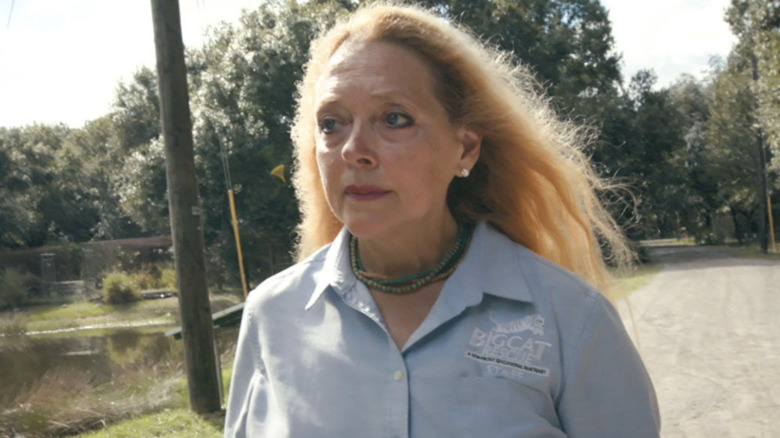 Netflix
Tentatively titled Joe Exotic, UCP's upcoming series will star Kate McKinnon as Carole Baskin, and Hedwig and the Angry Inch's John Cameron Mitchell as Joe, per Deadline reported. It is slated to air on NBC. (This series is not to be confused with the other Joe Exotic series coming up, which is being developed by Amazon and will star Nicolas Cage as Joe Exotic.)
Of the project, Mitchell said (via Deadline), "I'm thrilled to take on the role of this modern folk antihero. Joe and I are the same age and like him, I grew up queer in Texas, Oklahoma, and Kansas so I feel like I know a little bit about this guy and his desperate attempt to conquer an inhospitable world." Netflix's Tiger King is just one of many documentaries and profiles on the enigmatic erstwhile zoo-owner and his bitter rivalry with Carole Baskin. The Joe Exotic series starring Mitchell and McKinnon is based on the Wondery podcast of the same name, and focuses on the personal war between Joe and Baskin.
The Cage series uses the Texas Monthly article, "Joe Exotic: A Dark Journey Into the World of a Man Gone Wild," by Leif Reigstad, as its source material, per Variety. Unfortunately, as of this writing, there's no word yet on when either series will drop. So we'll all just have to sit tight and hope Joe Exotic — who, as of this writing, is behind bars — doesn't throw a monkey wrench into the process in the meantime.