The Real Meaning Behind 'Kiss Me More' By Doja Cat Featuring SZA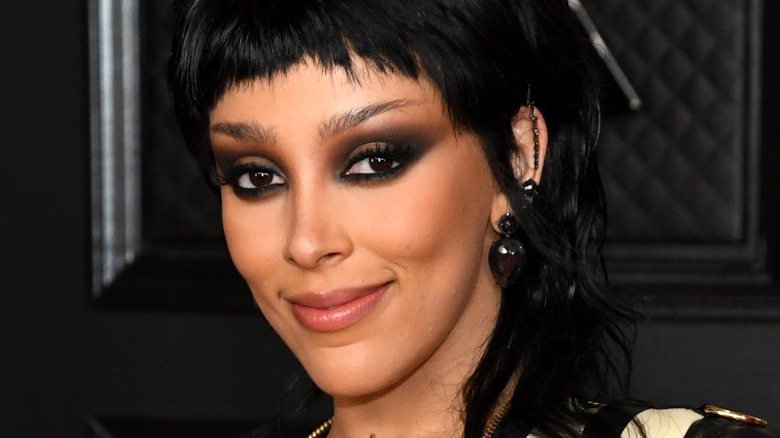 Kevin Mazur/Getty Images
Is there a bop that Doja Cat fans could possibly want to listen to more right now than "Kiss Me More?" 
On April 9, 2021, the charismatic Doja Cat gifted us with a summer 2021 beach playlist staple in "Kiss Me More." The song, featuring none other than SZA, is the first track off the "Say So" singer's third album Planet Her (it dropped alongside an extraterrestrial music video... theoretically on that very planet) which, per Pitchfork, is "set for a summer 2021 release via Kemosabe/RCA." That would be controversial producer Dr. Luke's record label. That dark shadow aside, the track could not be more bright, catchy, or pure fun, and sees the two singers combining their strengths. Both stars sing and rap their own verses, and Doja Cat certainly delivered on the hype after cryptically tweeting back in January that fans should comb through the artists she follows on Twitter. "Following them for a reeeeaaaaasssoooonnn Guess why," she wrote. Well, now we know, and clearly, fans are vibing.
"Kiss Me More" debuted at No. 7 on the Billboard Hot 100, and its spacey, sensual music video featuring both artists has earned 29 million YouTube views as of this writing. So it could surely skyrocket even higher and maybe even be an early Song of Summer contender. So what is the infectious sun-kissed (pun intended) tune about? 
Scroll down to find out the real meaning behind "Kiss Me More." 
Doja Cat and SZA's Kiss Me More is about stating what you want from a partner
What is "Kiss Me More" by Doja Cat featuring SZA about? With opening lyrics, "We hug and, yes, we make love / And always just say goodnight ... Can you kiss me more?" it sees two music icons stating their needs romantically. Especially in the tongue department; "Boy, you write your name, I can do the same," Doja raps. As Genius explained, she's bragging she's a good smoocher, though it takes two to tongue-tango. "The boy is bold enough to not only move his tongue... but moving it as if he was trying to write his name," one Genius user deduced. "Doja states that she is also a bold kisser." 
According to Genius, SZA raps the line, "All my b***hes feel like I dodged the county," which implies that, "SZA's friends feel ... she would have felt imprisoned in a relationship with the subject." So she "dodged" a bullet by not being in "relationship jail" with him. Instead, they're simply in bed, as its trippy music video depicts. Sure, the lyrics are a little... visual, but it sees its singers empowering themselves by demanding outright what they want.
Doja Cat told SZA for V Magazine, "I'm starting to learn what I'm falling into is a lot of the house, disco, vintage-y essences — that's where my heart kind of lies. But I still am doing s**t that I don't understand. It's still really fun!" 
"Kiss Me More" is just that; pure fun!