The Truth About Colman Domingo's Husband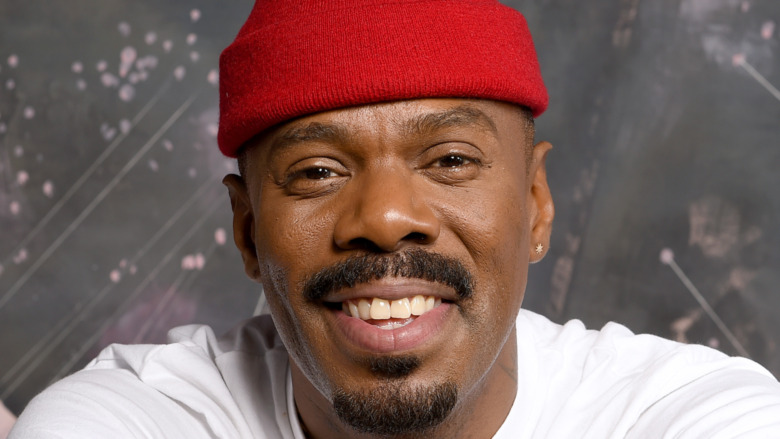 Fred Hayes/Getty Images
Euphoria actor Colman Domingo, one of the standout stars in Ma Rainey's Black Bottom, may seem like a late bloomer to audiences, but he's been steadily working in Hollywood for decades. 
Per his official website, Domingo "is a Tony, Lawrence Olivier, Drama Desk, Drama League and NAACP Theatre Award nominated, OBIE and Lucille Lortel Award winning actor, playwright, director and producer." His nominations and accolades reflect his commitment to challenge Hollywood's perception of what roles he can and cannot play. "I want to just keep creating," Domingo told Entertainment Weekly about his visibility in television and films in the last few years. " ... I feel like if I'm willing to do the work, I'm willing to fly in, fly out, and they're [the production team] willing to do that too, we can make it work."
Making it work seems to be one of Domingo's strengths when it comes to his marriage, as well. Domingo met his husband Raul Aktanov at a Walgreens in 2005, he told GQ. It was love at first sight, except for the part neither had the chance to introducing themselves, but the two later reconnected on Craigslist and the rest was history. The pair got married in 2014 after nine years of dating, but there's a lot more to know about Domingo's husband besides their first encounter.
Colman Domingo's husband is his biggest supporter
Part of Colman Domingo's success on screen can be attributed to the support he gets from his husband Raul Aktanov. In an interview with GQ in February, Domingo revealed that Akantov's support was evident from the beginning of their relationship. Akantov "showed up to nearly every one of Colman's performances in the [play he was in at the time] with a bouquet of white roses," and told him that he needed to "understand everything" about what Domingo's job entails. Raul worked as an assistant costume designer when Domingo got a casting call during their first year of dating.
As much as Akantov is enamored with his husband's work, Domingo is, too, grateful for him. "We are deeper into our relationship now than we've ever been, and I expect that to grow," Domingo explained to the Advocate in 2019. "You're along for each other's ride through life, and you have to be unafraid of changing directions. It helps that my husband and I want nothing more for ourselves than to be the best persons we can be and allow ourselves to be free and unafraid, and help each other grow in our own spaces."
While the circumstances of their first meeting was coincidental, Domingo could not fathom meeting Akantov in any other situation, telling GQ that "it's supposed to be like this."