Body Language Expert Noticed Prince William's Eyes Doing This One Notable Thing At Prince Philip's Funeral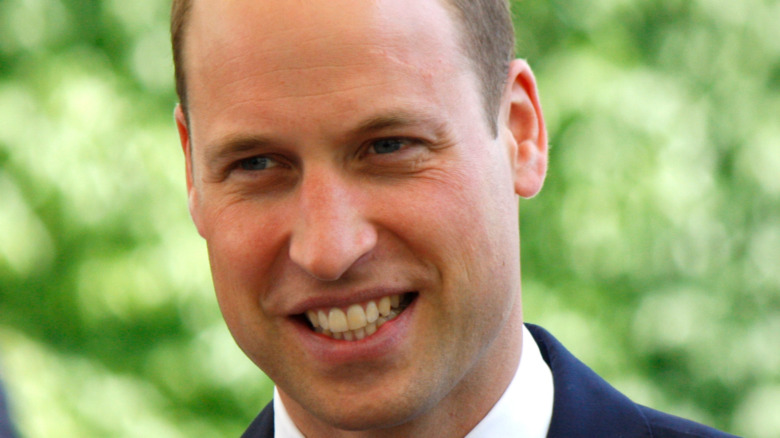 Shutterstock
All eyes were on Prince William and Prince Harry at Prince Philip's funeral on April 17. The service marked the first public appearance that the brothers had made together in more than one year. Emotions were running high as the royal family bid farewell to their patriarch, but there was even more going on behind-the-scenes, as William and Harry have been on the outs for quite some time. The Duke of Sussex previously described his relationship with William as "space," when talking to Oprah Winfrey about the aftermath of his decision to step down as a senior member of the royal family alongside his wife, Meghan Markle, according to Harper's Bazaar.
Various experts tuned in to analyze different aspects of William and Harry's public appearance at their grandfather's funeral. Nicki Swift caught up with body language expert Damali Peterman, Esq., a conflict resolution expert, lawyer, mediator, as well as the CEO & Founder of BreakthroughADR, to chat about what she noticed when analyzing William's eyes. Keep reading to find out what Peterman had to say.
Prince William was seen clenching his teeth at one point during the funeral procession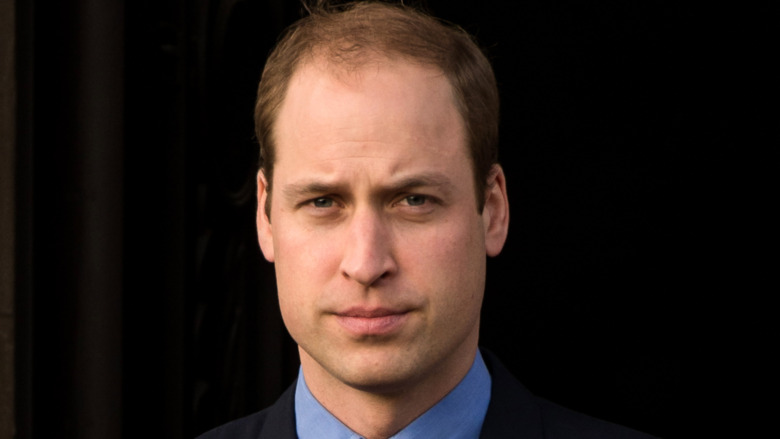 Richard Stonehouse/Getty Images
Damali Peterman, Esq., told Nicki Swift that she paid particularly close attention to the future king of England during the televised funeral proceedings for Prince Philip. "First glimpse of Prince William ... stoic, serious expression like the rest of the royals," Peterman said. She also made note that these family members did not wear face masks while outside, "therefore [it was] easy to see [people's] faces." Zeroing in on William, Peterman said that there was "nothing to report." From there, the piping sailors piped traditional commands, according to BBC News. During this time, Peterman noticed some changes in William's face. 
"There was a shot of William clenching his teeth. [You] can tell from [seeing the] muscle jumping on the side of his face. [This] can have several meanings, [from] trying to stay awake, [to] trying not to show emotion, [to someone] processing information. There is no way to tell with certainty [why William was doing so]," Peterman told Nicki Swift. William was part of the funeral procession, walking behind his grandfather's casket from the grounds of Windsor Castle to inside St. George's Chapel. However, it wasn't until he was inside the chapel that Peterman noticed a change.
Prince William was blinking rapidly during a reading of Ecclesiasticus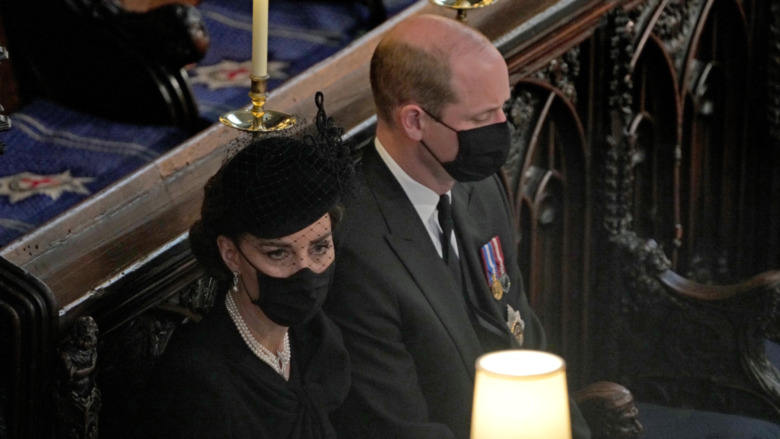 Wpa Pool/Getty Images
Once inside St. George's Chapel, Prince William put on a face mask, so it wasn't as easy to read his facial expressions. However, there was one point when William, who was seated next to his wife, Kate Middleton, showcased a "rapid and frequent blinking," according to Damali Peterman. This occurred during the reading of Ecclesiasticus. Peterman told Nicki Swift that this sudden change "could [have been] due to many things," including "trying to stay awake, trying not to cry, trying to focus, trying to maintain stoicism, [or] processing data."
Peterman reminded us that "body language is not a monolith," adding "there is no one way that is universal for everyone. Each person has their own baseline for what is natural to them in terms of body language. I have no idea of what Prince William's blinking baseline is. That being said, there is a reason why there are many sayings and adages about the eyes." She then gave a few examples, one of which was the "eyes reveal what the heart conceals." Read on to find out what else William's eyes may have revealed during this particular moment.
A multitude of things could have caused Prince William's change in blink rate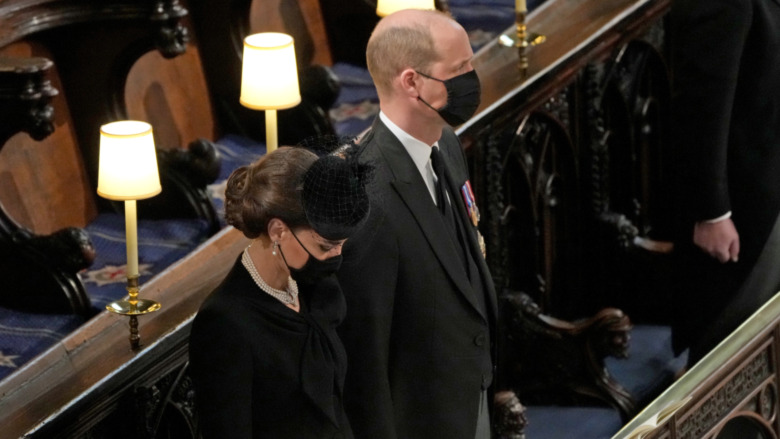 Wpa Pool/Getty Images
Prince William's rapid blink rate could have been attributed to a number of things, including "stress, nerves, or trouble," Damali Peterman told Nicki Swift. Since the change in blind rate happened during a reading, it's possible that William felt particularly emotional during that time. Whether it was the reading itself, or perhaps the realness that his grandfather had died — in that moment, William showcased emotion through his eyes. Peterman explained that "changes in one's blinking can occur when someone is comfortable or relaxed," as well. That said, it is entirely possible that William had a moment where he felt less tense when this happened. Perhaps there was a moment of relief, or just an overall calm that took place.
"You can learn and see a lot in one's eyes. Just think about it for a moment. You can ask someone how they are doing, they can say OK, but something in their eyes reveals otherwise," Peterman explained. "Eyes give a glimpse into one's emotions and are harder to mask than other facial expressions. The eyes reveal how one feels. That is why oftentimes at funerals and other events, some people wear dark sunglasses to hide their eyes," she added.
Prince William appeared relaxed when chatting with Prince Harry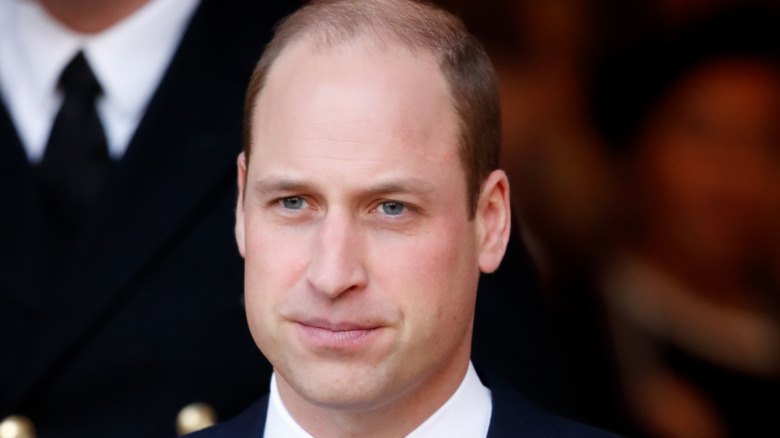 Max Mumby/indigo/Getty Images
Damali Peterman paid close attention to Prince William's interaction with his younger brother, Prince Harry, after they had filed out of St. George's Chapel. After being apart for the procession into the chapel, the brothers came together while walking back to nearby Windsor Castle. This was something that people are still talking about today. During this time, Peterman noticed that William's "body language and walking stride was more relaxed." She told Nicki Swift that it appeared as though the two brothers were getting along with "no conflict between them." This may have been a potential sign that the two will be able to mend their broken relationship.
Ultimately, however, Damali concluded that William's eyes and over all body language "did not reveal anything outside of the norm of what we have come to expect from the royals." She added that this wasn't really surprising, given that William "was born into a duty that was on full display during his grandfather's funeral."