How Jake Paul Celebrated His Big Win Against Ex-UFC Fighter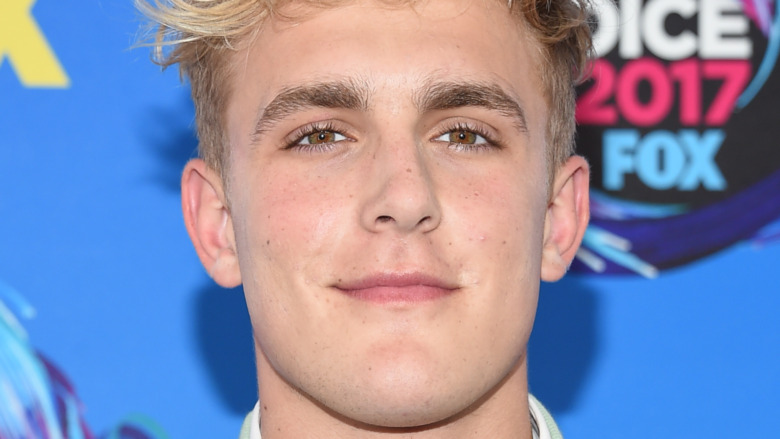 Shutterstock
Controversial social media sensation Jake Paul is certainly a man of many surprises. Just add the now-pro boxer's shocking April 2021 first-round knockout of ex-UFC fighter Ben Askren (per Yahoo! Sports) to the list of bizarre headlines Paul has appeared in. (That list includes the 2020 FBI raid on his house for alleged COVID-lockdown restriction violations, Gigi Hadid dressing him down on Twitter, and his friendship-turned-sudden feud with Aaron Carter.)
At the Triller Fight Club on April 17, Paul's swift knockout victory at the pay-per-view event arrived as a major surprise to many, given his opponent's veteran history as a UFC competitor. "Askren ate these punches from Lawler but couldn't take one punch from Jake Paul," tweeted Barstool Sports, alongside footage of Askren in his last successful professional MMA outing. 
Moreover, Paul's nascent boxing career began by combatting fellow YouTube stars Deji and AnEsonGib. In his second pro match ever — versus ex-NBA star Nate Robinson — Paul delivered a sound second-round knockout to earn his Askren fight. Given that Paul has seemingly earned part of his living by irritating a whole lot of people, many viewers were rooting for Askren to get his hand raised.
"I didn't let the MMA community down, I let the world down," Askren confessed to journalists following his loss. "People f**king hate Jake Paul and they wanted to see me make him miserable and I didn't do that." Meanwhile, let's take a look at how Paul handled his biggest pro-boxing victory to date.
Jake Paul took a bath in money to commemorate major boxing win
Jake Paul celebrated his April 2021 boxing win against Ben Askren exactly how you would imagined — bathing in money ... literally. "1.5 million PPV buys... $75 million dollars generated," Paul captioned an Instagram photo of himself on his front lawn covered in stacks of dollar bills. Per The New York Post, Paul's much-watched bout solicited $75 million in pay-per-view buys, which meant millions for him on top of his $690,000 "fight purse."
Although Paul didn't waste time following his knockout win to gloat — "Ben Askren is a joker," he announced in his post-fight interview – he also paid touching tribute to his deceased bodyguard, Shamir "Shadow" Bolivar. "This is for Shadow ... who passed away 10 days ago," Paul said. "He told me I would knock him out in the first round."
Who will meet the ex-YouTuber next in the ring? Retired UFC fighter and professional commentator Chael Sonnen offered insider scoop back in a December 2020 tweet, writing, ".@jakepaul doesn't trust many in the media to spread the word.... I was told 'Ben then Dillion,'" the latter referring to MMA superstar Conor McGregor's training partner Dillon Danis. Danis, for his part, enthused, "it's on 100% send me the contract let's do this i'm gonna put this c**t out cold" in an April 18 Instagram.
Yikes — Paul's record is 3-0 now, but is he ready for this next challenge? Let's grab some popcorn and see!