Ronda Rousey Reveals Big News About Her Family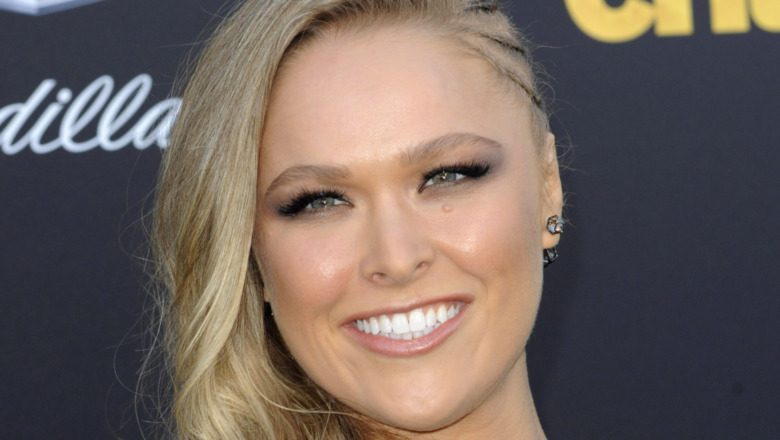 Shutterstock
The week of April 19 was full of surprising announcements for WWE star and former UFC fighter Ronda Rousey. Despite WWE president Nick Khan saying on April 7 per Bleacher Report that "Ronda is gonna be coming back at a certain point in time," it looks like that time won't necessarily be soon. In an appearance on "Table Talk" with D-Von Dudley, the veteran fighter shared tantalizingly, "I actually waited until this moment to tell everybody ... I'll come back when I feel like it."
Her decidedly indecisive statement surely has fans of her career speculating. Rousey, who began her MMA career with a bronze-winning judo showing at the 2008 Beijing Olympics, per WWE, was the first female fighter signed to the UFC and the first woman inducted into the UFC Hall of Fame in 2018. During her UFC tenure, she went on an undefeated tear before making the crossover into pro-wrestling and similarly dominating in that arena, defeating people like Stephanie McMahon.
Along the way, Rousey has also had a string of enviable roles in blockbuster films like "The Expendables 3" and "Furious 7." The accomplished multifaceted talent, however, paused from her momentous career in 2019 to start a family with husband Travis Browne. "We planned on, after WrestleMania, me and amazing husband here, would go off and start trying to start our family," Rousey said on her YouTube channel (via People). On that front, in April 2021, Rousey and Browne returned to her YouTube to share some wonderful news.
Ronda Rousey expecting first child with Travis Browne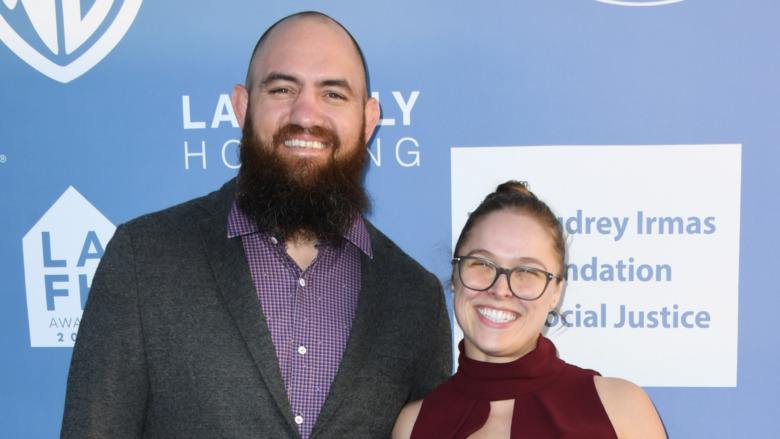 Jon Kopaloff/Getty Images
In a cozy April 21, 2021 vlog on her YouTube channel, Ronda Rousey, snuggled with husband Travis Browne on the couch, announced, "I've been pregnant since January — so 4 months, baby bump! I can't hide it anymore so it's time to show it off." Makeup-free and wearing her hair down, a relaxed-looking Rousey teased to fans that there was "much more to the story" but wouldn't divulge specifics just yet. While the baby's gender is also a secret for now, Rousey did reveal the expected due date was September 22, 2021.
Rousey's untold pregnancy journey could focus on the steps toward conceiving. In 2019's first season of "E!'s Total Divas," Rousey alluded (via Sportskeeda) to concerns that the stressful impact of her pro-wrestling career upon her fertility. "You know, we're not taking ovulation tests," Rousey shared. "But, I'm also not on the road 200 days a year and taking power bombs every night. So, I'm sure that helps."
Taking things nice and easy certainly paid off. Per People, Rousey told YouTube viewers in 2019 the meaning of motherhood to her. "I could look down at this beautiful child and be like 'F*** everything, I don't care about anything else ...' And you'll never see me again. Or, I could be like my mom, who ... won the U.S. Open six weeks after giving birth." We know which route her fans are rooting for her to take — stay tuned and see, we guess!