The Surprising Way Anya Taylor-Joy Got Discovered
Pascal Le Segretain/Getty Images
When "The Queen's Gambit" hit Netflix in October 2020, it was an instant hit. Variety reports that the series was watched by 62 million members in its first 28 days alone. Though Netflix's "Bridgerton" was technically watched by more users, Forbes reported that "The Queen's Gambit" still took the crown (pun intended), according to the streaming service's top 10 charts.
Part of the show's massive appeal came from its breakout star, Anya Taylor-Joy. In "The Queen's Gambit," Taylor-Joy plays the part of Beth Harmon, an orphan chess prodigy on a journey to become the World Chess Champion, while struggling with drug and alcohol dependency problems. The actor's "magnetic" performance captured audience attention, garnered critical acclaim, and netted her a Golden Globe. 
"Thank you for being part of this journey, thank you for trusting me with Beth," she said in her acceptance speech on February 28, 2021 (per Deadline). The leading role was Taylor-Joy's first in a more conventional serial drama, but it was by no means her first ever. She previously made a splash in the 2015 Robert Eggers horror film "The Witch" in addition to appearing in M. Night Shyamalan's movie "Split" and its sequel, "Glass" (via IMDb). But how did Taylor-Joy break into the movie business in the first place? The story may surprise you.
Anya Taylor-Joy started out as a model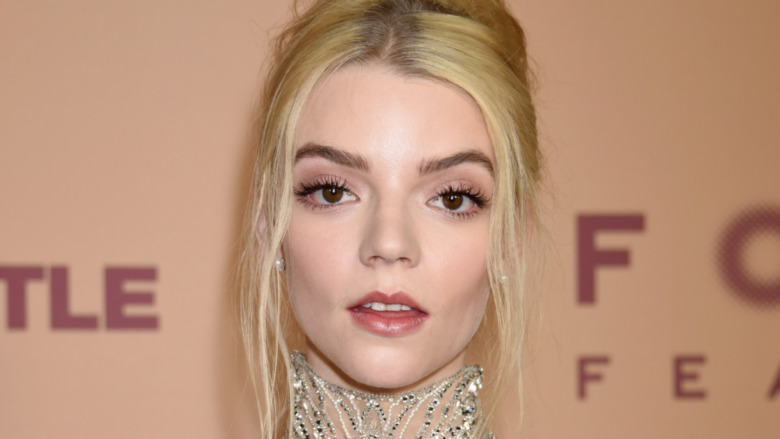 Shutterstock
Anya Taylor-Joy stands at 5 feet 8 inches tall and boasts the kind of uniquely angular, high cheekbones that models would kill for. Therefore, it's no surprise to learn she worked as a model before making the jump to acting! According to Hollywood Insider, she started modeling at 16 years old after she was "basically scouted in the street" while walking her dog in heels. 
In a 2020 appearance on "The Late Late Show with James Corden," she revealed that as she walked the dog, she sensed a car was following her. Reacting on instinct, Taylor-Joy picked up the dog and began to run from the car, up until the moment that the driver called out, "If you stop, you won't regret it." Though she stopped, Taylor-Joy made sure to add, "I don't think other people should do this, because that's a line from every horror movie ever." Luckily for her, the driver happened to be the head of a modeling agency, who helped launch Taylor-Joy's career.
Despite her time modeling, Taylor-Joy always wanted to be an actor. Speaking to the Daily Mail of the moment she first walked into Storm Model Management (after that fateful scouting experience), she thought, "I want to be an actor." Thankfully she did — otherwise "The Queen's Gambit" might have turned out very differently.