The Truth About Ellen DeGeneres' Feud With Joan Rivers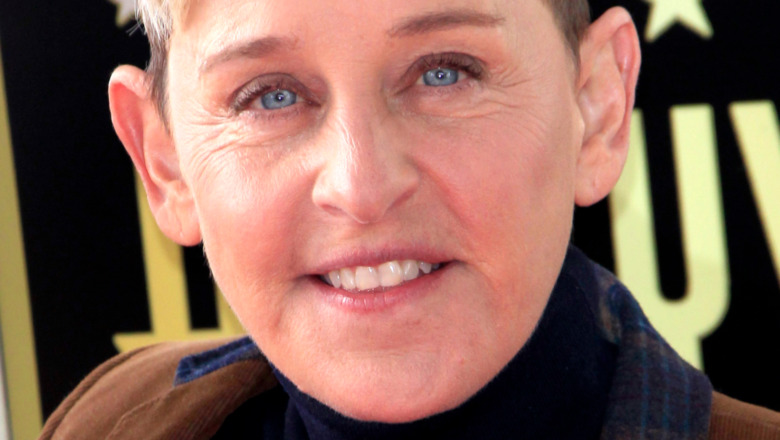 Shutterstock
It's long been rumored that Ellen DeGeneres and the late Joan Rivers didn't exactly see eye-to-eye. Comedian Kathy Griffin lifted the lid on their supposed drama in 2018 during her "Laugh Your Head Off" comedy tour when she claimed, per Variety, Joan supposedly always felt "shunned" by DeGeneres. She also claimed "The Ellen DeGeneres Show" host refused to do a tribute to Joan following her death in September 2014.
"One of the things that really hurt Joan, and we talked about it at our last meal together, was that Ellen always shunned her and Ellen thought she was vulgar and not funny," Griffin claimed. She then recalled how she called DeGeneres on the phone "comic to comic" after Joan's death and told her, "'I think you need to let go of your hatred for Joan Rivers. She's passed away, just do a f**king tribute, be cool.'" But she claimed DeGeneres wasn't interested and supposedly replied, "'there's a difference between mean and funny.'" 
Notably, DeGeneres did share a tribute on Twitter, writing, "Joan Rivers will always be a pioneer. She paved the way for a lot of comedians. I'm very sad she's gone."
But what really happened between Joan and DeGeneres? Joan's daughter Melissa Rivers is revealing the truth about their apparent "feud," so keep scrolling for the details.
Melissa Rivers spills about Joan Rivers and Ellen DeGeneres' supposed feud
Shutterstock
Melissa Rivers denied the supposed drama between her mom Joan Rivers and Ellen DeGeneres on an April 2021 episode of the "Behind the Velvet Rope" podcast. Host David Yontef asked outright if the two really had a feud, to which Melissa replied, "No, they didn't" before making it clear that the two weren't exactly best friends but didn't hate each other either. "My mother thought she was very funny. My mother thought she was a really good talk show host. There was never any animosity, but you know not everybody in Hollywood is friends," she said, "But there was nothing bad."
Melissa also shared that she had a good experience with DeGeneres when she appeared on "The Ellen DeGeneres Show" to promote her first book. "She was lovely to me. She told me how much my mom meant to her because my mother was one of the first people to come out and support her when she came out. And she remembers that," Melissa shared. "She brought it up to me. She's like, 'Your mother was one of the first ones to back me up.'" The former "Fashion Police" producer went on the show in May 2015, eight months after her mother's death, and she and Joan also appeared on DeGeneres' long-running daytime show together in 2009.
Well, it looks like we can put those long-standing feud rumors to rest once and for all!