Travis Barker Once Had A Crush On Another Kardashian Before Kourtney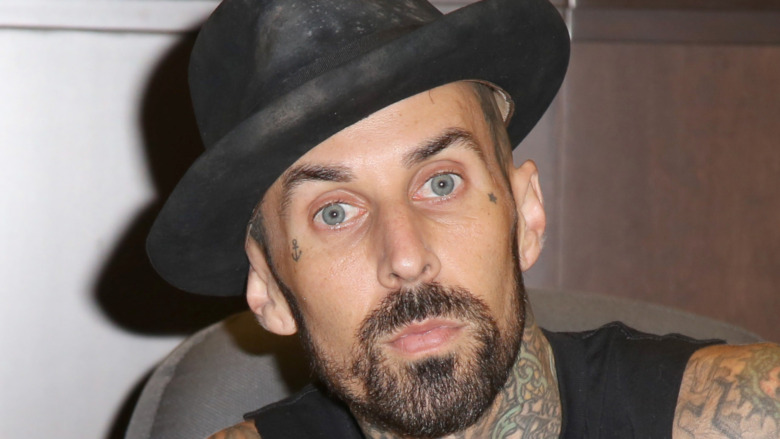 Shutterstock
Don't tell Kourtney Kardashian, but before becoming involved with her, Travis Barker admitted that he used to crush hard on one of her sisters. 
Speculation about the relationship between the Blink-182 drummer and Kourtney dates all the way back to 2017. After all, they both live in Calabasas, California and were often spotted out and about together. Just before making it Insta official in February, a source had confirmed to Us Weekly that Barker had spent time at Kris Jenner's Palm Springs house and added, "Kourtney and Travis are officially a couple. They have been close friends for years and have been dating for a couple months. Travis is very smitten with Kourtney and has been for a while.
Kourtney's ex, Scott Disick, is apparently not too pleased about the situation — possibly because this might not be just a fling. A source further explained to People, "Scott was pretty shocked when he found out that they are dating, and he can tell that they have moved very quickly," the source continues. "His kids love Travis, which is also hard for Scott. Kourtney and Travis are like a family with the kids. Scott is having a hard time with this situation." 
While Barker and Kourt might be serious now, it turns out he used to be smitten with one of her sisters. 
Travis Barker revealed he and Kourtney's sister were 'flirtatious'
Travis Barker told Us Weekly that back in the day, Paris Hilton and Kim Kardashian came to see one of his bands shows in Amsterdam. He said, "How could you not stare at Kim? Mind you, I enjoyed hanging out with Paris, but I love curvy girls. Kim was eye candy. I was no way disrespectful to Paris, but I couldn't keep my eyes off Kim!" 
"I had a crush on her and we were flirtatious but nothing ever happened," Barker explained. "She was so kind and polite, I just felt like being a perfect gentleman around her. It was a trip!"
Fortunately for Kourtney Kardashian, Barker swore things weren't weird afterwards — mostly because he and Kim never hooked up, despite there being some chemistry between them. Barker explained, "When I see her, I give her a hug and wish her the best and there's no awkwardness. Because God knows, when you hook up, s**t gets awkward!"
He added that they also hung out platonically, and even advised her about how to handle reality TV, having been on a show of his own ("Meet the Barkers" with ex-wife Shanna Moakler). He recalled, "Kim was like, 'I really want to do this reality show,'" he recalls. "I gave her the best advice I could but I still remember the conversation like yesterday: 'I think my family is interesting and it could be something.' Well, you were absolutely right!"
Soon, they might all be one happy family.