What Jane Fonda's Time In Jail Was Really Like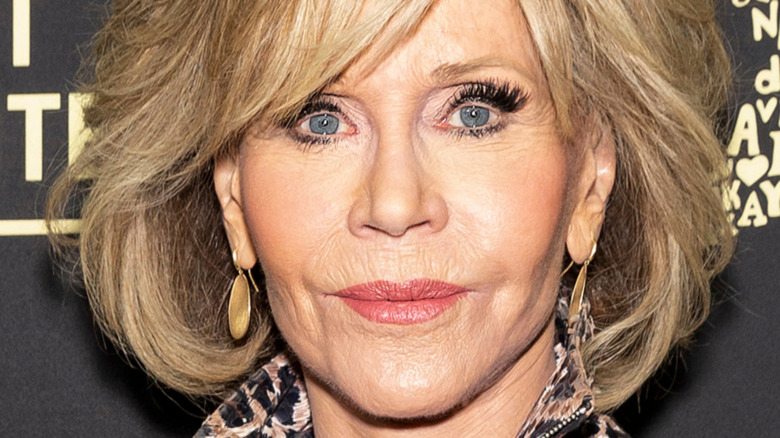 Shutterstock
Jane Fonda has had quite a career in Hollywood, and she's been candid about many aspects of her life — including her ex-husbands. The actor has also been one of the most vocal advocates for causes that she believes in. According to The Hollywood Reporter, as of this writing, Fonda has been arrested five times in her life. The actor would participate in what she called "Fire Drill Fridays" to raise awareness for climate change and anti-fossil fuels movement. Most of the protests in recent years took place in Washington, D.C., and there are plenty of photos of Fonda rocking a bright red jacket and smiling when police put her in handcuffs.
Fonda is not the only celebrity to spend time in prison, but at least her stint wasn't quite as bad as Martha Stewart's. Fonda spent time behind bars a few times. Once was in the 1970s (via The Washington Post) when police booked her on drug smuggling charges, and that's when authorities took her iconic mugshot. In an interview with The Hollywood Reporter, Fonda shared that she spent one night in the slammer after her fourth arrest. The actor told the publication that she didn't even remember what the charges were for but though it could have been for "[e]ngaging in civil disobedience" or "disturbing the peace." 
So, how did she end up in that situation?  According to Fonda, "After the third arrest, they gave me a court date in November. And because I was arrested again before my court date, that's when they said, "Well, you're going to have to spend the night in jail."
Inside Jane Fonda's time behind bars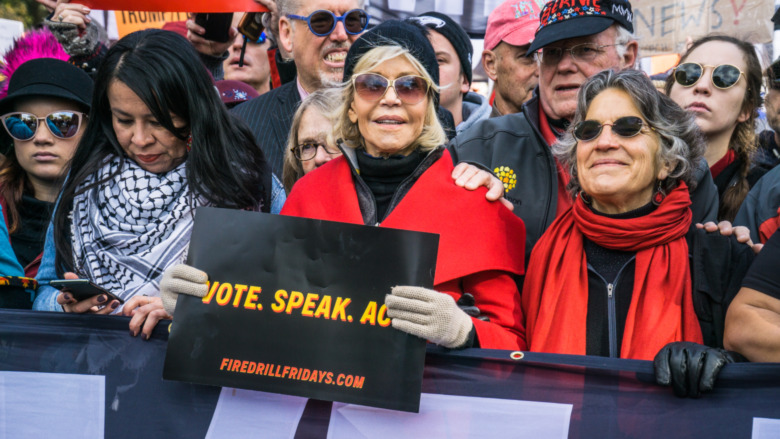 Shutterstock
Jane Fonda was pretty candid on her stay behind bars and she shared the experience with The Hollywood Reporter in 2019. At the time, Fonda was older, which is why the experience was a little more challenging. "Well, you know, I'm a white movie star. What are they gonna do? I wasn't treated very well back in 1970 but I didn't have a hit TV series behind me," she said when asked how her stay was. "But I was treated fine. The conditions are not great, frankly, and you have to sleep on a metal slab. And I'm almost 82 years old and I hurt."
Fonda also shared that she was in jail for 20 hours, and she was in her own private cell for seven hours. "All of the cells had multiple people in them except mine. In my cell, it was just me and the cockroaches," she said. When she did get to mingle with the general prison population, she listened to their stories. But the actual overnight wasn't the most challenging part for the actor. "But you know, the most disturbing part of it was seeing the people in jail and realizing that this country doesn't choose to put enough resources into social safety nets and mental health services because so many of the people are there because of poverty and racism and mental health issues." 
It seems Fonda was inclined to make her prison stint more about shining a light on the treatment of others rather than focusing on her own stay.