What WeWork Founder Adam Neumann Is Doing Now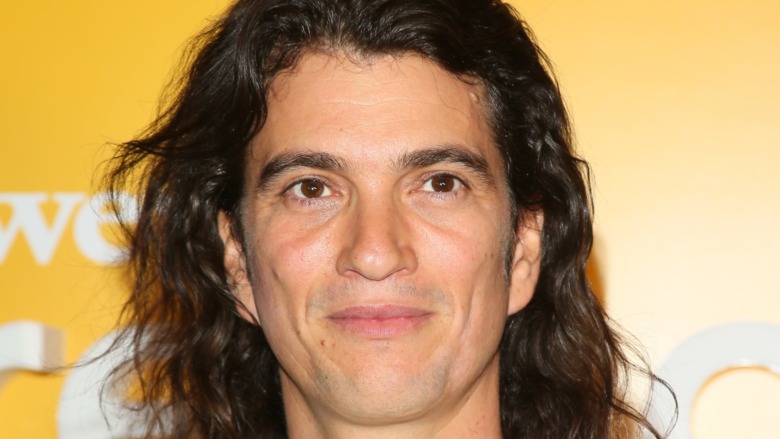 Jean Baptiste Lacroix/Getty Images
This article contains spoilers for "Generation Hustle."
As the hype for the new HBO Max docuseries "Generation Hustle" continues to grow since its April 21 debut, viewers have turned their attention towards the almost ungraspable epilogue after the credits roll. While each episode focuses on the exploits of a standalone alleged scammer — some of them who are interviewed on camera in the present day — with their supposed cons ranging from frat house Ponzi schemes to elaborate, psychologically twisted Hollywood hoaxes, the thing they all have in common is how capitalism gives them a vehicle for their rackets, no matter what the scale. And allegedly, the most large-scale of them all is the story of WeWork founder Adam Neumann.
In the Neumann episode of "Generation Hustle," former WeWork employees and journalists who covered the rise and fall of the self-proclaimed tech company (whose main focus, to wit, was real estate and property) parceled together the story on the rise and fall of Neumann's conglomerate. In the end, Neumann managed to walk away from the company he created amidst an imploded IPO and employee layoffs numbering in the thousands — and did so with no legal repercussions at the time of this writing. So what has happened since Neumann made his 2019 exit? And could he one day face the consequences of the reported wreckage he left behind? Read on after the jump to find out.
Adam Neumann has remained mum since his departure from WeWork
Shutterstock
For those unfamiliar with WeWork's downfall, here's a quick primer. Alongside co-founder Miguel McKelvey, Adam Neumann arguably utilized the concept of the cult of personality to move WeWork into the valuation cosmos. As episode director Yon Motskin illustrated through interviews as well as footage of Neumann during WeWork's halcyon heyday, it seems the initially starry-eyed CEO first launched WeWork under the auspices of changing the world for the better.
But WeWork's failed IPO in 2019 revealed the company was worth far less than it appeared. It also exposed WeWork was hemorrhaging funds, all the while Neumann was supposedly enjoying a lavish lifestyle (his office was "outfitted with a Peloton bike, infrared sauna, and cold water plunge," Vanity Fair reported) and carrying out eyebrow-raising business practices, like leasing WeWork offices in buildings he owned, according to The Wall Street Journal. Ultimately, Neumann departed from WeWork in 2019 amid widespread scrutiny. And although WeWork is still in operation, its largest investor, SoftBank, "backtracked on an agreement to buy $3 billion of WeWork shares," later reaching a "settlement with Neumann and other investors in February [2021] to pay out about half of its original commitment," CNBC reported. Even worse, almost approximately 3,000 WeWork employees got laid off as a result, per Refinery 29. 
Neumann declined to be interviewed or involved in the project (unlike other subjects like "fake heiress" Anna Delvey, who was prohibited from being interviewed in the HBO series), but it doesn't mean the multimillionaire (or possible billionaire) has left his industry for good.
Adam Neumann's not out of the start-up game... for now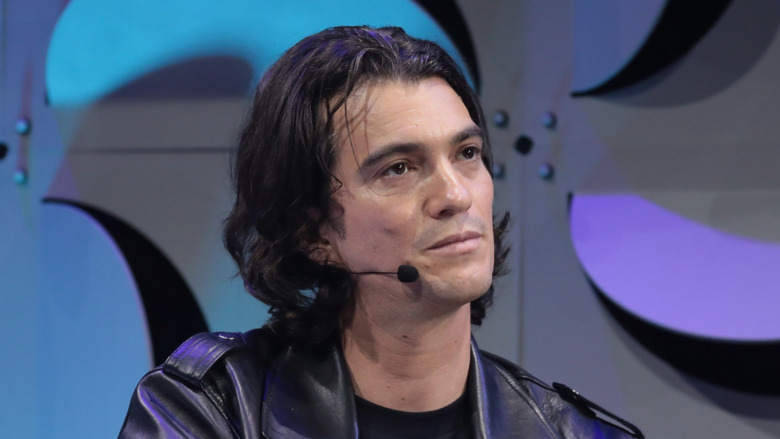 Cindy Ord/Getty Images
According to an April 2021 report by the New York Post, an insider close to Adam Neumann told the tabloid that Neumann has another venture in the works. "It involves what happened in the world because of the pandemic," the source disclosed. "He's got big plans and he's waiting for the right time to announce them." And although it seems Neumann refuses to stay away from the start-up game, there's a chance he feels his failed enterprise isn't enough to write him off entirely. As another unnamed source stated in an interview with the Post, "[Neumann] does feel he made mistakes but he also feels the media made a sensation out of certain elements of the story."
Even so, there's a chance it might never get off the ground. Per Refinery 29, authorities on both the state and federal level are currently scrutinizing Neumann's (and WeWork's) finances and past dealings under a microscope, though there is no word on whether these investigations could result in possible criminal charges. Regardless of the outcome, it seems Neumann's name and legacy will continue to be a subject of fascination for years to come.