Where Does Tony Bennett Live And How Big Is His House?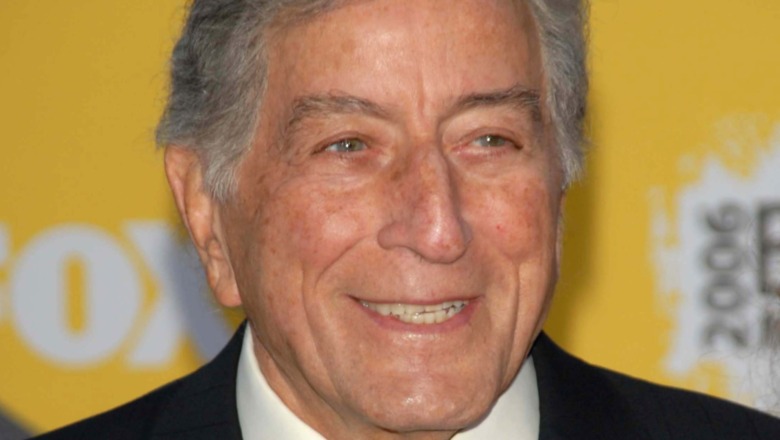 Shutterstock
There's no denying that Tony Bennett is a music industry icon. Over the course of his lengthy and impressive career, he's earned countless loyal fans, released a string of beloved songs, and earned 18 Grammy Awards along with 36 nominations. He was also given a Recording Academy Lifetime Achievement Award in 2001, saw his tune "I Left My Heart In San Francisco" inducted into the Grammy Hall of Fame in 1994, and, per IMDb, has taken home multiple Primetime Emmy Awards while also earning a Kennedy Center Honor. That's not to mention his record sales, tours, and other opportunities over the years.
Due to that kind of staggering success, it shouldn't be surprising to find out that Tony Bennett is worth a fortune. And one way that he's spent some of his hard-earned money was to buy himself a rather impressive home. In fact, the star's abode boasts something so special, that he's spent decades enjoying (and capturing) what it has to offer.
Tony Bennett's penthouse overlooks Central Park
Tony Bennett may be famously associated with Las Vegas, but it turns out that the star and his wife, Susan Crow, live in Manhattan. While we can't pin down the exact measurements of his home, we can tell you that it's big. Closer Weekly notes that from what can be seen in the photos that the crooner shares on Instagram, it's clear that the condo includes multiple bedrooms and bathrooms, as well as a kitchen, office, entertainment rooms, and so on, in addition to offering "views of the large trees in Central Park and the NYC skyline."
Indeed, along with giving Bennett a look at the cityscape, he also lives "within a stone's throw or two of Central Park," according to The San Diego Union-Tribune. In 2015, The New York Times explained that the singer "moved to his apartment on Central Park South 20 years [earlier] to be closer to" the park. While he surely loves to experience a little nature from time to time, he actually spends his time painting the park, which "he says nourishes his creativity and is his antidote to urbanity."
That kind of creative vibe is also why Bennett's home is an "art-filled pad," per the Chicago Tribune. Granted, while that may result in the walls (and floors) looking arguably cluttered in some spots, the "luxe" penthouse apparently gives off a "feeling" of "simplicity," which is exactly what you'd expect from the home of such a smooth star.