The Real Meaning Behind 'What's Your Country Song' By Thomas Rhett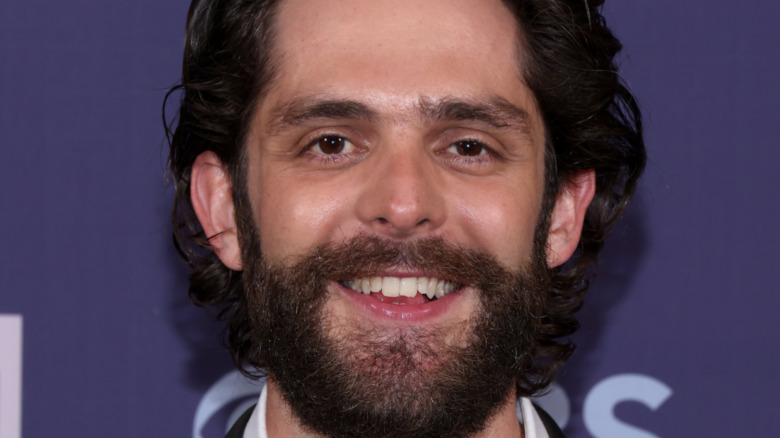 John Shearer/acma2021/Getty Images
Thomas Rhett reached a major milestone in March: His hit "What's Your Country Song" became his 17th No. 1 career single, and his 11th straight No. 1 song on the Medibase/Country Aircheck chart, per Big Machine Label Group CEO Scott Borchetta.
"I can hardly wrap my mind around seventeen ... what an unreal way to kick off this new chapter of music," Rhett said in a statement published by CMT.com. "I'm so grateful to the fans and radio for reacting to this one right away after I played a little of it on Instagram basically a year ago – it's crazy to see it all come full circle."
Rhett and his co-writers penned the song while in a hotel room in Dallas, TX, and it all started from a realization that Rhett had. "It was one of those days we were scrolling through our phones and I had found this concept idea for 'What's Your Country' or 'Where's Your Country.' And I got that idea just from, I guess, just all my years of traveling on the road ... and I think I just kinda noticed that everybody had a little bit of country inside of them, whether they knew it or not," he said in a November 2020 statement, per iHeartRadio.
So, we know where the idea for the hit tune came from, but what is the real meaning behind "What's Your Country Song" by Thomas Rhett? Keep scrolling to find out.
"What's Your Country Song" is all about discovering your country anthem
Shutterstock
Thomas Rhett's hit "What's Your Country Song" uses lyrics from multiple country songs to hit a sentimental spot within the listener. Through the lyrics, he offers different scenarios and asks his audience which one of those scenes may bring back memories — and maybe a country song to go with them.
In the first verse, he asks (per Genius), "Did you grow up on a tractor? / Did your daddy let you drive? / Are you whiskey bent and hell bound? / Even though your mama tried / Did you cruise down a backroad / With your Dixieland Delight? / Are you on the Chattahoochee / On a barefoot blue jean night?" There are several possible song references found in just the first verse, such as "Cruise" by Florida Georgia Line, Sam Hunt's "Body Like a Back Road," and "Chattahoochee" by Alan Jackson.
In the chorus, he wonders if any song in particular resonates with the listener. "When you're rolling down a little two-lane highway / And you turn your radio on / Tell me which one hits you baby / Yeah what's your country song?" he sings.
In his statement to iHeartRadio, Rhett said he hopes "What's Your Country Song" will "inspire the listener to remember that those songs were for them, and hopefully they take them back to a really memorable moment in time."