Why Black Ink Crew Season 9 Will Be Unlike Any Other In The Show's History - Exclusive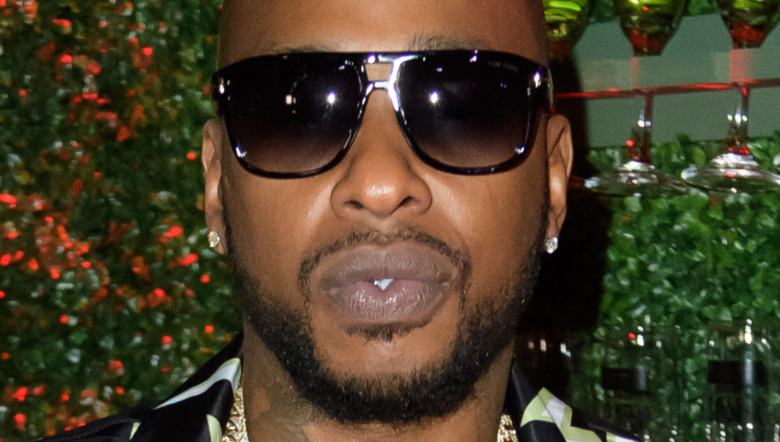 Jason Koerner/Getty Images
VH1's "Black Ink Crew: New York" is back for a ninth season, and Black Ink owner Ceaser Emanuel is excited for fans to see new episodes of the hit series. Just like the rest of the world, the "Black Ink Crew" cast members have been dealing with the coronavirus pandemic, which has impacted their lives and businesses in a multitude of ways, all of which will be shown on Season 9.
Speaking to Nicki Swift, Emanuel revealed, "It's a whole different 'Black Ink.' Before, we never really touched on current events, on stuff that's happening right now. But this time around that's all we're doing is covering what's happening right now. And what's basically a problem with everybody." In fact, as the VH1 star explained, viewers will be able to relate to almost all of the trials and tribulations faced by the cast in brand new episodes. "We touch almost every subject that you could possibly think of that everybody's going through. So everybody could really connect with this season of 'Black Ink Crew.'"
Nicki Swift sat down with Ceaser Emanuel to find out how "Black Ink Crew: New York" Season 9 is unlike any other in the show's history.
'Black Ink Crew: New York' addresses the pandemic
Ceaser Emanuel is ready for fans to watch new episodes of VH1's "Black Ink Crew: New York" Season 9, especially as the show will address the ongoing coronavirus pandemic. As he told Nicki Swift, "You can expect a lot of different-ness in 'Black Ink.' Like a lot of people are used to us at Black Ink as just being the crew that tattoos and parties. But this season, we're dealing with a lot of issues that are basically right next to home. We have to deal with the COVID situation." He added, "Especially being tattoo artists ... we can't open up and social distancing ain't good for business per se."
Emanuel also revealed that the new season of "Black Ink Crew" addresses the Black Lives Matter movement. He said, "Then, we also have to deal with the social injustice that's going on in America right now. And also mental and financial states from going through this whole COVID thing. It puts us all a lot at, basically, unease."
How VH1 kept the cast of 'Black Ink Crew: New York' safe
While the coronavirus pandemic has been challenging for the tattoo artists at Black Ink, Ceaser Emanuel is grateful that he was able to get back to work and film Season 9 of "Black Ink Crew: New York." 
"And the fact that VH1 was willing to go through so much extremes to make sure that we were safe and to get the show back on, man, ain't no better network than that," he told Nicki Swift. "We get tested two, three times a week. None of us are in danger. We all stay regulated and they keep us in a bubble, so none of us really have to worry about any of those COVID things. ... I'm just glad that we're back to some type of normalcy and I just can't wait for America to get back to normal."
"Some of my crew members, they didn't want to come outside the house," Emanuel explained. "Puma, he really didn't want to come out the house, which I could understand because he has a family and kids he got to protect ... but honestly, I'm glad that I'm going through it with the people I'm going through."
You can catch all of the drama on "Black Ink Crew: New York Season 9" on Monday nights on VH1.