Fashion Expert Dishes On The Bold Statement Amanda Seyfried Made At The Oscars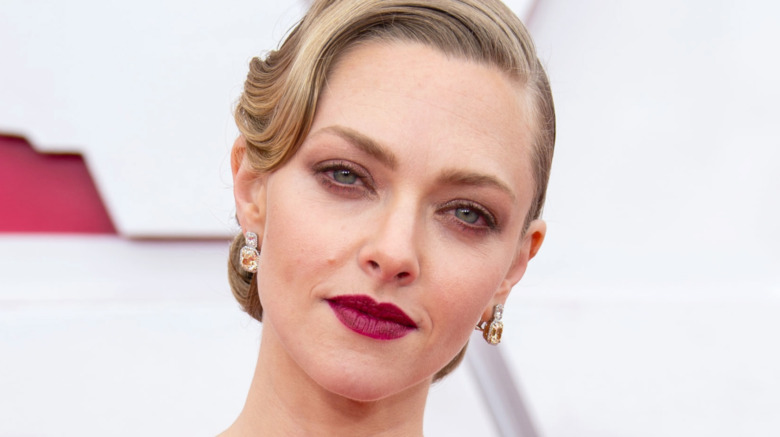 Handout/Getty Images
Another year, another Oscars. Although the ceremony looked a bit different this year thanks to the COVID-19 pandemic — taking place in Los Angeles' Union Station instead of the typical Dolby Theater haunt — the event still marked something of a return to normal compared to the other award shows we've seen since coronavirus changed everything over a year ago.
Part of that return to normal came from the red carpet, which actually happened in person — and without masks! Carey Mulligan stunned in gold, Andra Day's saucy look caught the internet's attention, and Zendaya, as always, did what she needed to do. And one look that still has our jaws fully on the floor came from one Amanda Seyfried.
Seyfried, nominated for Best Supporting Actress for her role in "Mank," stepped out in a gorgeous red gown with a plunging neckline. The look was so stunning that we just had to have an expert weight in, so Nicki Swift spoke to Cindy Conroy, a fashion expert and television personality for her take. When it came to Seyfried's look, Conroy did not mince words.
Amanda Seyfriend did not come to play on Oscar night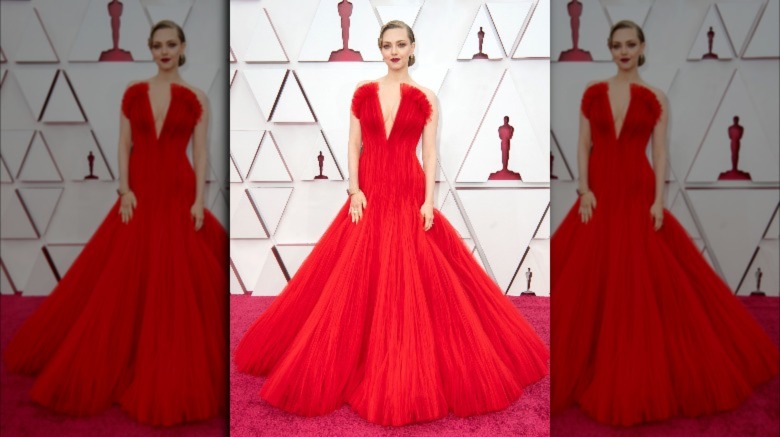 Handout/Getty Images
Nicki Swift spoke to Cindy Conroy for some hot takes on the Oscar red carpet, and she was just as floored with Amanda Seyfried's gown as we were.
"Oh la la! Words can hardly describe the sheer beauty," Conroy glowed. "Setting our hearts ablaze in a red structured gown, Amanda Seyfried proves that art can truly come to life." We have to agree!
Conroy went on to explain some of the inspiration behind the gown. "With sumptuous detailing just above the bust, a plunging neckline that screams glamour and intricate lines that draw the eye down the length of the gown, Amanda gives Old Hollywood in a very effortless way," she explained. "Ever romantic in a jaw-dropping number, it's as if she floated to the Oscars – and I'm all for a whimsical entrance."
Then, Conroy made a bold statement about the look. "A far cry from what Amanda wore at the 2019 Vanity Fair Oscar Party, it signifies she's not playing this Oscar season," she said. "She has come to win." Whether or not Seyfried takes home any gold trophies, she already won the red carpet.