Body Language Expert Noticed Regina King Did This One Thing In Her Opening Speech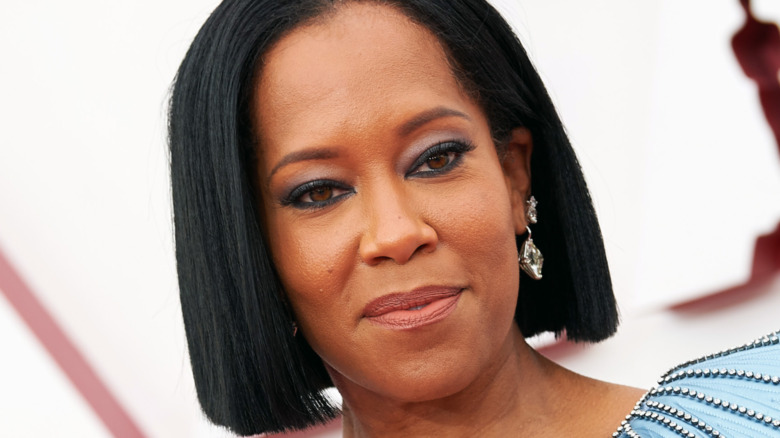 Handout/Getty Images
The Oscars looked a bit different this year — but after a year of COVID-19 restrictions, what doesn't? Instead of airing from the Dolby Theater in Los Angeles, which has hosted every ceremony since 2001, the awards took place in Union Station. While the change of location was something of a contentious decision on Twitter, the new locale also provided the opportunity for some new visuals — namely, a truly cinematic introduction from Regina King.
The cameras followed King as she walked through the atrium of the station and onto the awards stage. While the first shot of the 2021 Oscars was definitely a feast for the eyes, it was King's words when she took the stage that really captured people's hearts.
"I know that a lot of you people at home want to reach for your remote when you feel like Hollywood is preaching to you," King said, "but as a mother of a Black son I know the fear that so many live with, and no amount of fame or fortune changes that, okay?" King was clearly emotional as she spoke, so Nicki Swift reached out to Mark Bowden, a human behavior and body language expert and a panelist on The Behavior Panel, for his take on the speech.
Regina King flexed a specific muscle in her face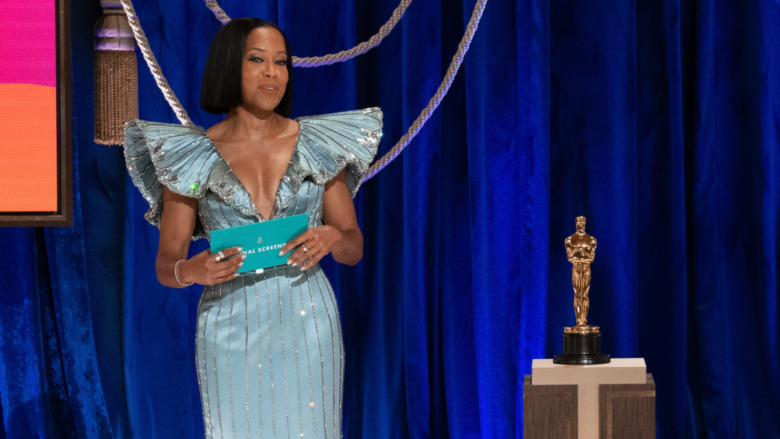 Handout/Getty Images
According to body language expert Mark Bowden, Regina King flexed her "grief muscle" during her emotional introduction to the 93rd Academy Awards. Bowden told Nicki Swift that when King shared her experience as a mother to a Black son, "she displayed the grief muscle in her forehead showing her sincere concern for her son in these current times." Bowden continued, "This framed what was a more serious and heavier atmosphere than usual for the awards."
So what is the grief muscle? "The grief muscle is when the center of the forehead furrows in a way that denotes a true feeling of grief or sorrow," Bowden explained. "This is a universal facial gesture that Charles Darwin first wrote of in his book Expression of Emotions. It is hard to fake this gesture." So although King is an Academy Award-winning actor, her emotion during her Oscars opening seemed to be very, very real.