The Real Reason The Oscar Acceptance Speeches Are Longer This Year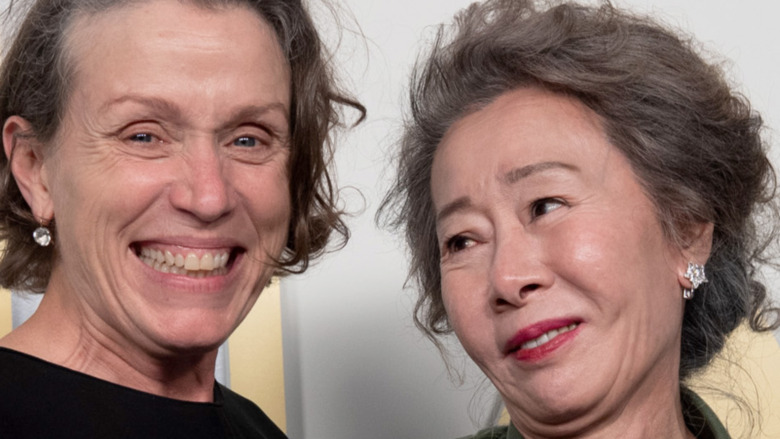 Handout/Getty Images
Despite being delayed for two months, the 2021 Academy Awards still had to make some changes in response to the COVID-19 pandemic. And so the team of producers, including director Steven Soderbergh, decided to embrace the unusual circumstances by changing some long-held Oscar traditions. "We're going to announce our intention immediately," Soderbergh told the Associated Press of their opening scene. "Right out of the gate, people are going to know: 'We've got to put our seatbelt on.'"
Not only was there no audience allowed, but producers also chose to hold the awards in a Los Angeles rail station designed in the 1930s, rather than the Dolby Theater. "All of us this year have taken advantage of the opportunity that's been presented to us to really challenge all the assumptions that go into an award show," Soderbergh explained. The director also described the Oscars ceremony as being more like "a three-hour movie" than a TV event. "It's going to feel like a movie in that there's an overarching theme that's articulated in different ways throughout the show," Soderbergh added. "So the presenters are essentially the storytellers for each chapter."
And the actors who have won those coveted "chapters" don't have to worry about one big thing: being played off when their emotional acceptance speech takes too long.
Nominees can speak at length, but not through Zoom
Handout/Getty Images
According to i news, nominees for the 2021 Oscars will be given more time for speeches than usual. Anyone who's up for an award will have "pre-recorded 45 minutes of material with producers," sharing their personal journey to the Academy Awards. Acceptance speeches "will not be cut off by an orchestra" if they get too long, as well, avoiding the chaos of any overlapping noises.
As Quartz reported, Steven Soderbergh and his fellow producers are trying to prevent the technical mistakes that plagued the Golden Globes in February. Another change to the broadcast was banning Zoom: nominees are reportedly allowed to call via satellite link, which the producers can control, but not through the common video chatting software.
"It's not going to be like anything that's been done before," Soderbergh said, per i news, comparing the venture to "trying to build an airplane while it's in the air". He also claimed that their aim was to "strip away the self-importance of it without becoming snarky or insincere." "We want it to be joyful, and we do want people to rebuild their relationship with going to the movies," the director added.