How Chloe Zhao Made History At The Oscars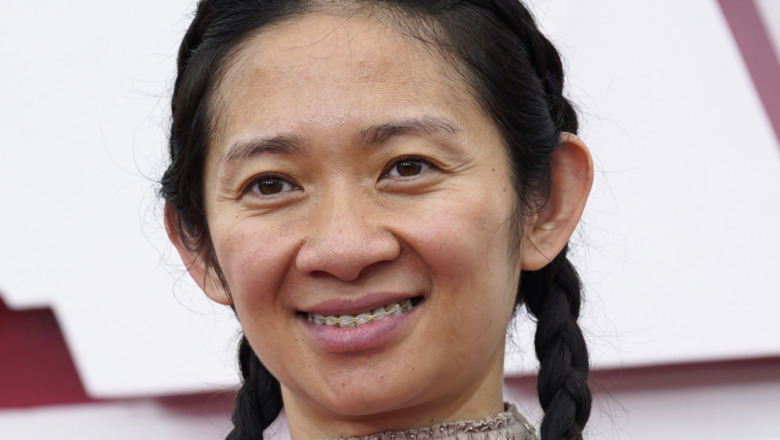 Pool/Getty Images
This year's award season has been all about embracing the times and diversity — and the 93rd Academy Awards have been no different. Chinese-born filmmaker Chloe Zhao has not only become the first woman of color, but also the second woman ever to win Best Director at the Oscars. Zhao received critical acclaim for her work on "Nomadland," which featured real-life nomads alongside 2020 Oscar-winner Frances McDormand, and tells their personal stories from the road. Zhao told NPR that she was looking for "authentic moments" and "some kind of truth" when working on the film, which she echoed in her Best Director acceptance speech.
The award was presented to her virtually from Seoul by last year's winner, Bong Joon-ho, who directed "Parasite." "This is for anyone who had the faith and the courage to hold on to the goodness in themselves and to hold on to the goodness in each other no matter how difficult it is to do that," Zhao said. "And this is for you, you inspire me to keep going. Thank you inspire me to keep going. Thank you. Thank you."
Zhao was born in China and lived in Beijing until she was 14, at which time she moved to London for boarding school and then Los Angeles for high school, per 9 Honey. After getting her bachelor's degree in political science, she studied film at NYU where she began creating her now-renowned cinematic style of blending fiction with documentary, per The Guardian. Her first feature film was "Songs My Brothers Taught Me" in 2015, which she also used non-actors.
Only five women have been nominated for Best Director in Oscar history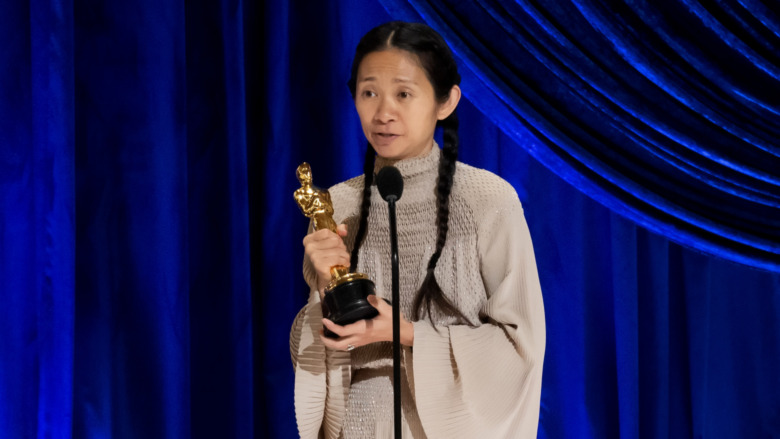 Handout/Getty Images
Before Chloe Zhao scored Best Director at the Oscars, Katheryn Bigelow took home the award for "The Hurt Locker" back in 2010. At the time of her celebrated win, Bigelow said, "I hope I'm the first of many [women], and of course, I'd love to just think of myself as a filmmaker. And I long for the day when that modifier can be a moot point," per Metro.
While it took 11 years before another female director took home the top prize, only five women have been recognized with a nomination in said category in all of Oscars history: Lina Wermüller for "Seven Beauties" in 1976, Jane Campion for "The Piano" in 1994, Sofia Coppola for "Lost In Translation" in 2004, Bigelow in 2010, and Greta Gerwig "Lady Bird" in 2010. But this year, two women were nominated — Zhao and Emerald Fennell for "Promising Young Woman" — adding to the historic moment. But with little recognition on the film front, does that mean there's simply fewer women in the field? Not exactly. A 2020 report from the San Diego State University found 16% of the top 100 highest-grossing films were directed by women, per CNBC.
Next up, Zhao will make her Marvel cinematic universe directorial debut with "The Eternals," featuring Angelina Jolie and James Marsden — a far cry from her small-budget film "Nomadland." While women are still vastly underrepresented or recognized for their achievements, hopefully Zhao's historic win will pave the way for more female filmmakers.